[Image: Shawn Demmons and Nya emcee Trans Day of Visibility 2017 at SOMArts, San Francisco.]
Yesterday I attended the annual Trans Day of Visibility celebration in San Francisco. I saw many of the same familiar faces from last year's event, including emcees Shawn Demmons and Nya (pictured at the top of this post). This year's theme was "Love and resistance". A short film produced by the SF LGBT Center featured submitted photos of trans folks with their trans and cis loved ones, with voice-overs emphasizing the need to love trans people.
[Image: Representatives from the TGI Justice Project speak on stage.]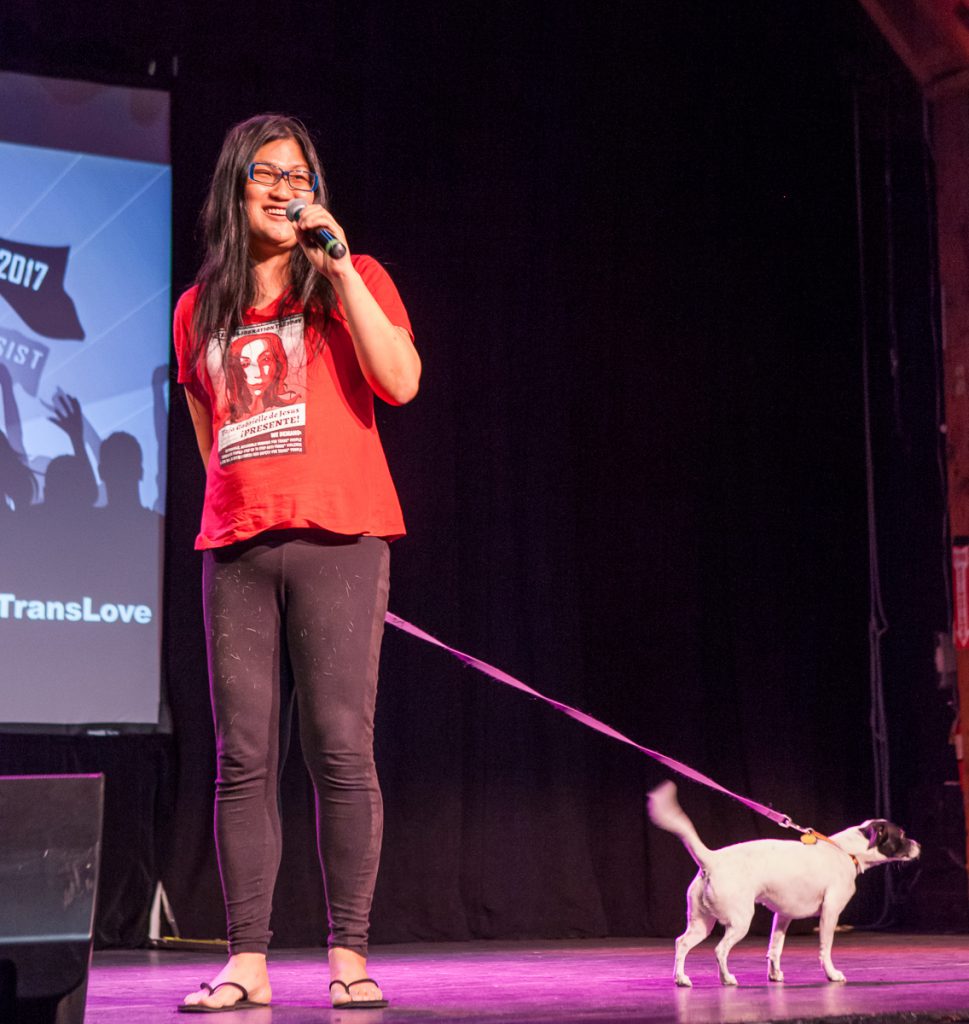 [Image: Gwen Park speaks on stage, canine companion in tow.]
Awards were given out to several organizations and individuals, including the TGI Justice Project, Tom Waddell Urban Health Clinic Transgender Clinic, Fresh! White, Aria Sa'id of St James Infirmary, and Gwen Park, who brought a sweet canine companion to the stage. (Gwen was not the only one to do so; Holy Old Man Bull, who gave the invocation, also brought a dog along.) Gwen, a talented videographer, streamed behind-the-scenes footage of this event to Facebook Live; I can be seen speaking briefly about 20 seconds into this video.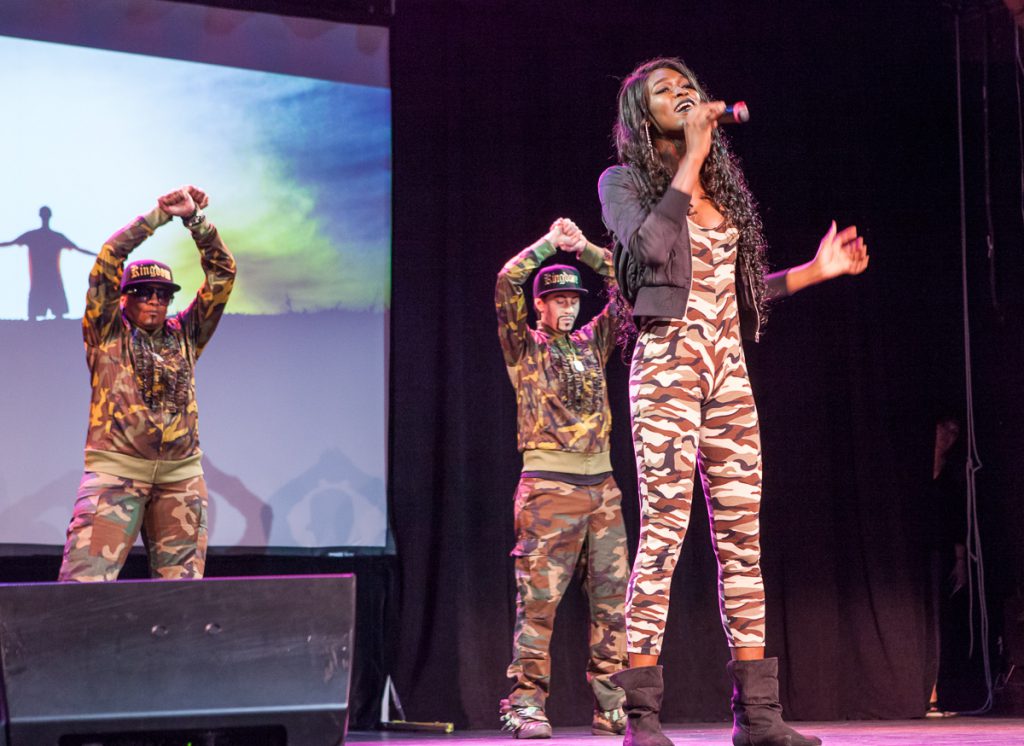 [Image: Riya performs with Momma's Boyz.]
Entertainment included performances by Riya and Ares with Momma's Boyz, StormMiguel Florez, and 10-year-old diva-in-training Emmie (who also performed at the Trans March in 2015 and 2016).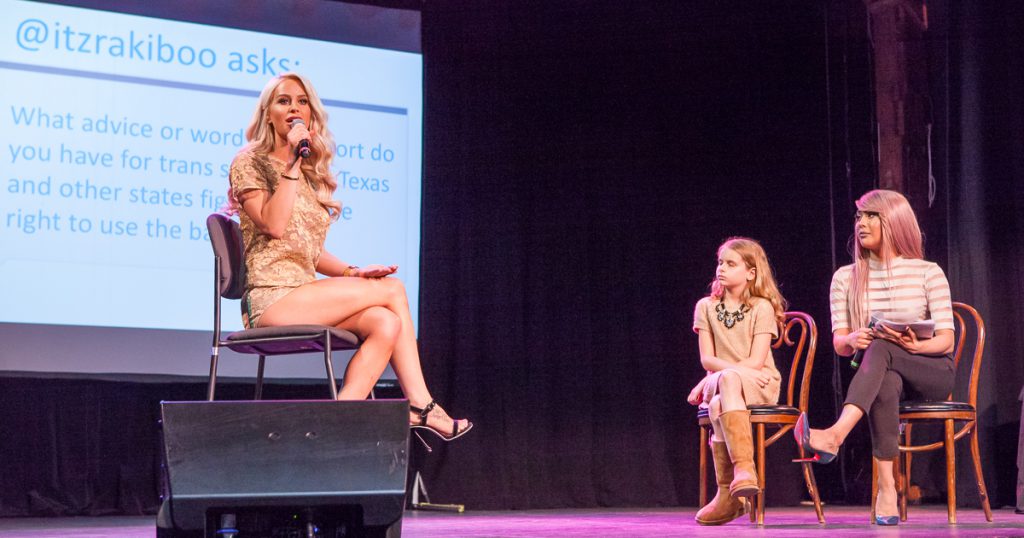 [Image: Gigi Gorgeous answers questions on stage with singer Emmie and emcee Nya.]
This year's special guest was Gigi Gorgeous, a Canadian actress, model, and YouTube personality. She answered some questions that had been submitted in advance.
I was glad to attend this event, which as always showcased the cultural and ethnic diversity of San Francisco, and centered trans people of color. I was feeling a bit depressed shortly after arrival, however. I had just walked two miles in warm weather, carrying heavy camera equipment in my backpack, and was sweating in my dress shirt. Though I didn't bother wearing a jacket and tie this year, semi-formal attire was suggested (but not required). Regardless, I would have rather worn something cooler, like a strappy tank top. But with my visible breasts, that kind of attire would virtually guarantee I'd be misread as female.
Chatting with some folks outside while waiting for the doors to open, I lamented that even at a trans-focused event in San Francisco, I still could not truly be myself. I emphasized that I didn't want to wear a strappy tank to bring out my femme side; I'm agender, and I don't have a femme side. I simply wanted to be more physically comfortable, without the emotional dissonance that comes with being misgendered.
On the other hand, one positive aspect of dressing "like a man" is that I could walk for 40 minutes in dress shoes quite comfortably, and had roomy pockets so I didn't need to carry a purse or fanny pack. Also, considering that my walk took me through the troubled Tenderloin neighborhood, and past a homeless encampment under the freeway, I acknowledge that even as a trans person of color, I personally enjoy many privileges.
In any case, once I got inside the venue I felt better. I connected with several people, talking about my work on Wikipedia to improve representation of marginalized groups. To that end, I created a category for the Trans Day of Visibility on Wikimedia Commons.
My full set of photos from this year's event is available on Flickr. Please credit me as Pax Ahimsa Gethen if you use any of them, thanks!