[Image: Pax, the author, is outdoors on a sunny day in a crowded park, back to the camera, looking over their shoulder. They are wearing round sunglasses, a faded black baseball cap, and a purple hoodie containing the words "trans march" and a star.]*
Last week's landmark Supreme Court ruling on marriage equality came just in time for the annual Pride celebration here in San Francisco. I'd attended Pride weekend festivities numerous times, often marching in the parade. I had a great deal of fun dancing on a float with the Bisexual contingent years before my transition, and singing along with the Lesbian/Gay Freedom Band while carrying the Transgender flag last year.
But each year after I finished marching down Market Street and waving to the thousands of cheering onlookers (which, I'll admit, felt awesome), I would be overwhelmed by the crowds, corporate branding, and abundance of alcohol. (I haven't had an alcoholic drink in over six years.) I felt that Pride had become a giant beer-soaked sellout, catering more to gawking tourists than to the needs of the LGBT community.
So this year, I did not attend any official Pride events. Instead, I went to the Trans March, an officially safe-and-sober event organized and run entirely by volunteers.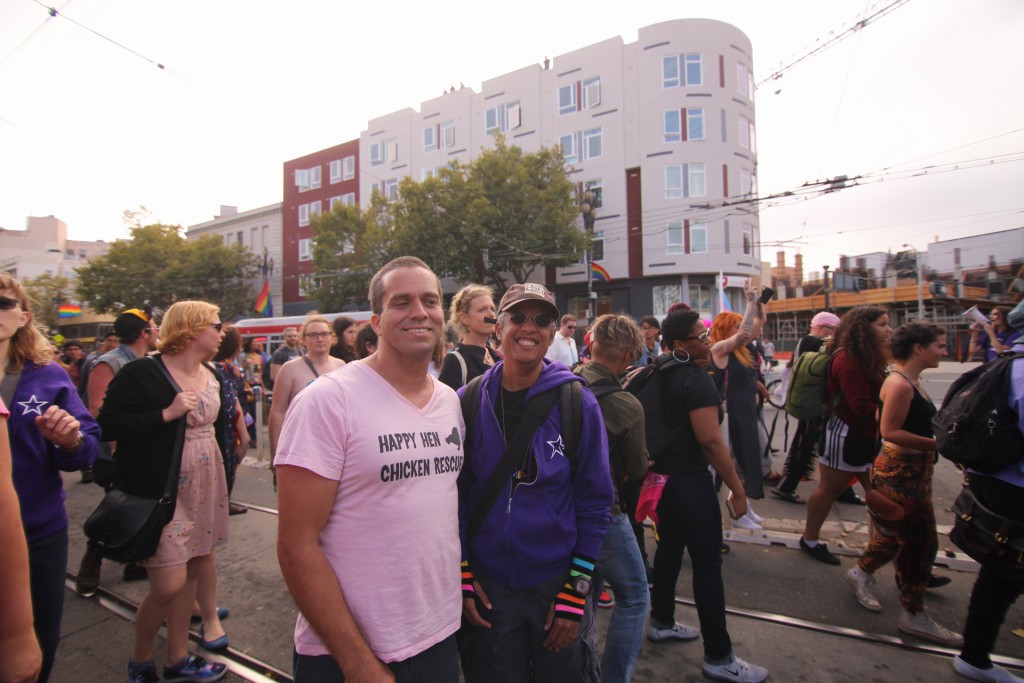 [Image: Chris and Pax, the author, smile for a photo along the route of the Trans March, on an overcast evening in San Francisco, with many other marchers in the background. Chris is wearing a pink V-neck T-shirt with the words "HAPPY HEN CHICKEN RESCUE" in black and the silhouette of a chicken. Pax is wearing a faded black baseball cap, round eyeglasses, a purple hoodie with a star, and neon rainbow striped arm warmers.]
I'd first attended the Trans March last year with my partner Ziggy. This year he was out of town, but my friend Chris came along (and also took the two photos of me in this post). I was particularly interested in getting good photos of the pre-march performances on the stage this year, as my friend Diana was playing a set.
[Image: Diana Regan plays ukelele and sings into a microphone on an outdoor stage. She has long black hair, rectangular black-rimmed eyeglasses, a black tank top with a colorful design and black polka-dotted camisole underneath, and multicolored bracelets.]
Another highlight was this adorable little girl, Emmie, singing "Popular" from Wicked.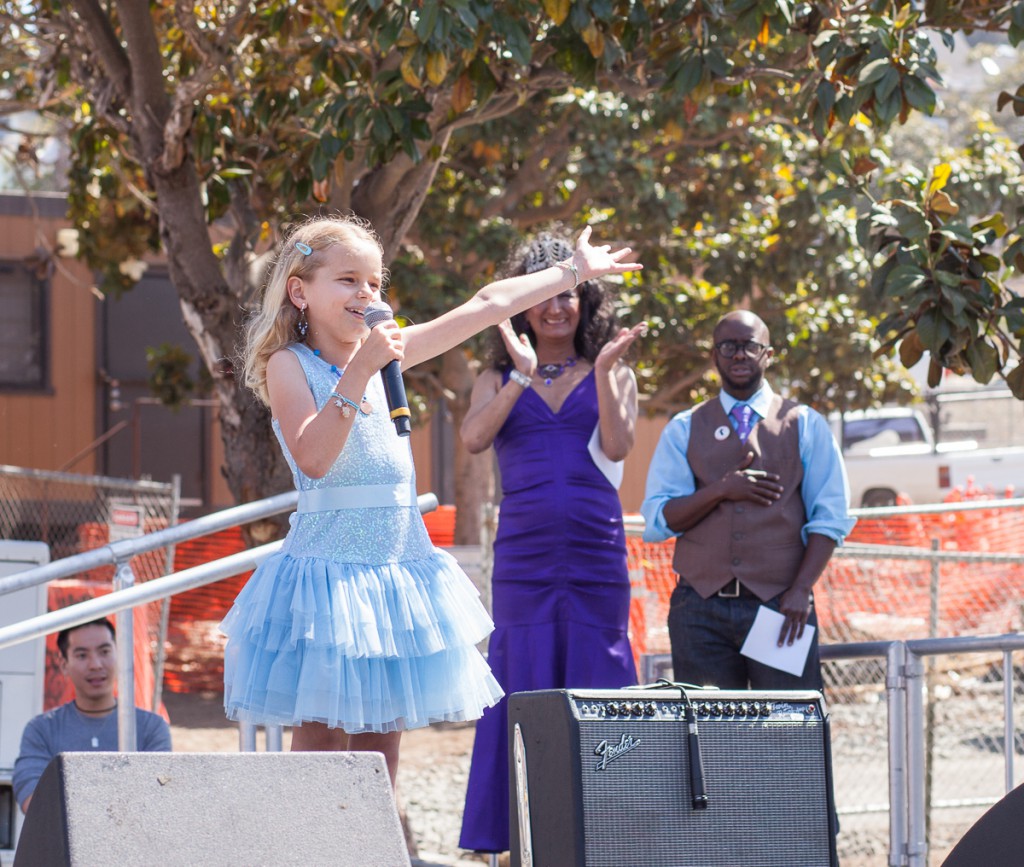 [Image: Emmie, a young girl with long blond hair and a frilly blue dress, sings into a microphone on an outdoor stage. She is smiling with her left arm uplifted, while people in the background smile and applaud.]
Dancers from AsiaSF gave an energetic and exciting performance.
[Image: A woman outdoors in the sunshine leans back with her eyes closed and her mouth open in a big smile. She has long brown hair and is wearing a silver headband, long earrings, necklace, and a low-cut sparkly white bodice with black trim.]
The headliner was Ryan Cassata, trans male singer/songwriter and activist.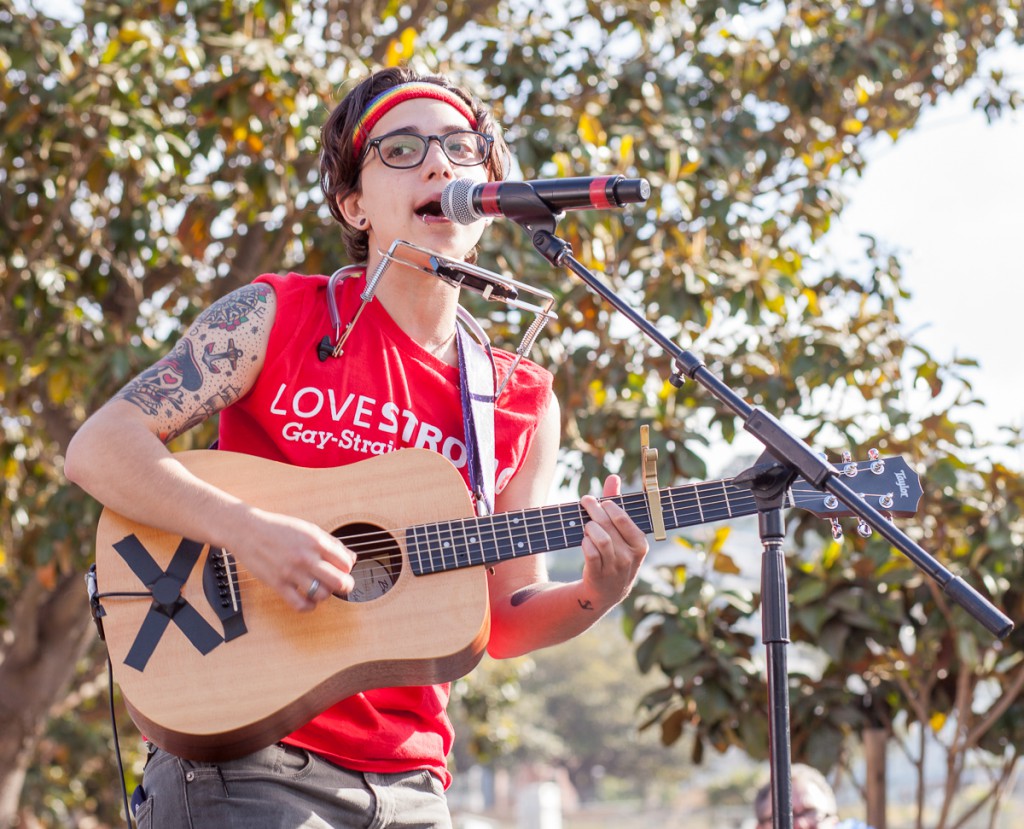 [Image: Ryan Cassata sings and plays guitar on an outdoor stage, with a harmonica around his neck. He wears a rainbow-striped headband, black-rimmed eyeglasses, and a red muscle shirt with the words LOVESTRONG and Gay-Straight (with other words obscured) in white. His right upper arm is heavily tattooed.]
But my greatest delight was a surprise appearance by the talented and inspiring Laverne Cox, trans actress and activist. She gave a great speech about the realities and hardships of being a trans woman of color.
[Image: Laverne Cox smiles while standing in the sunshine, holding a microphone. She is wearing large sunglasses, a long-sleeved navy blue top, a navy blue buttoned skort, and fishnet stockings.]
I've made all of my photos from this event available under a Creative Commons license, so they can be shared freely for noncommercial use, with attribution. I've posted the full set to Flickr (Laverne Cox photos are in a separate gallery), and uploaded a few to Wikimedia as well, to support the Wiki Loves Pride 2015 campaign.
I'm glad to live in a city where events like this can happen. Trans and nonbinary people need more visibility, so that we can get the rights, respect, and resources we need and deserve.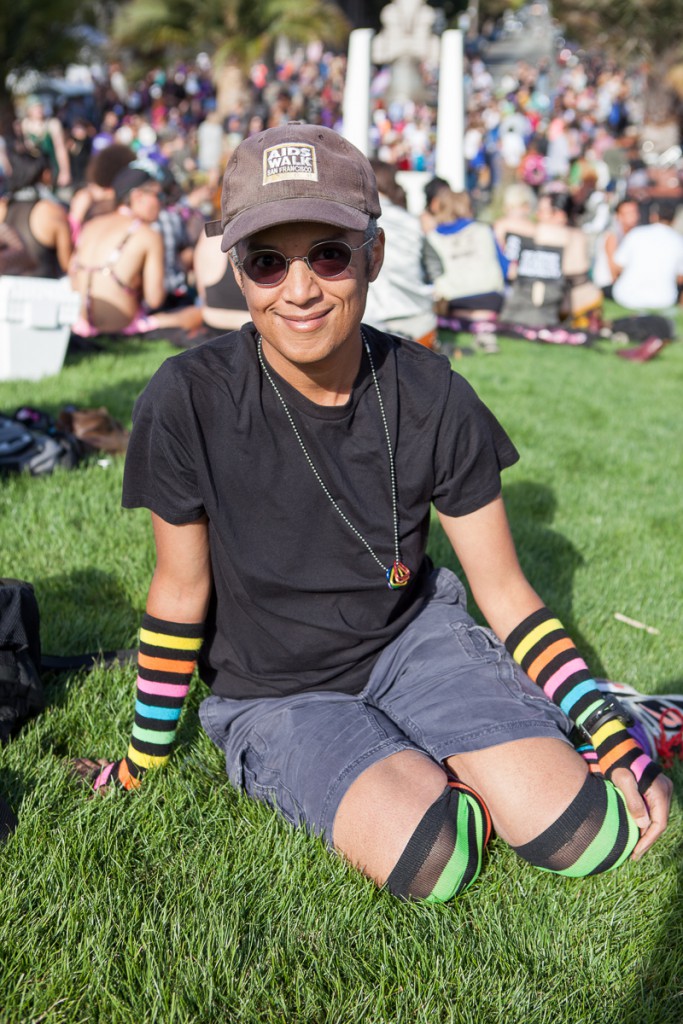 [Image: Pax, the author, is sitting outdoors on the grass in a crowded park on a sunny day. They are smiling and wearing round sunglasses, a faded black baseball cap with the AIDS Walk logo, black T-shirt and off-black cargo shorts, chain necklace with metal rainbow-colored triangles, and neon rainbow striped arm and leg warmers.]
* Inspired by Everyday Feminism, I am using extended image descriptions to make my blog more accessible to the blind and visually impaired.