I mentioned in a recent entry that I've been spending a lot of time editing Wikipedia lately. One of the contributions I'm most proud of is helping to reduce harassment by protecting user pages from editing by anonymous and new users. This change affects every registered user on the site.
The process started with an idea I submitted to the Inspire Campaign in June, which solicited ideas to combat harassment on Wikipedia. The proposal received a lot of support. So with the help of Chris "Jethro" Schilling from the Wikimedia Foundation, I created a Request for Comment ("RfC") to implement the page protection, which was posted in August. The RfC was closed a month later with consensus to implement protection, which was done via an edit filter on November 30. You can read more about the process in an article by Chris in the Wikipedia newsletter, The Signpost.
While preemptively protecting user pages has been criticized by some as against the "anyone can edit" spirit of Wikipedia, the fact is that user pages are not actually part of the encyclopedia. There's even a template saying as much, which I and a number of other editors have added to our user pages. As I said in the Signpost article and also mentioned during the most recent Bay Area WikiSalon (see video starting at 47:19), having my user page vandalized with deadnaming and misgendering felt like having hate speech spray painted on my front door. Protecting user pages doesn't prevent vandalism and stalking elsewhere on Wikipedia and on other sites, but it is an important start.
As an aside, this month's salon featured prolific Wikipedia editor Jim Heaphy giving a very informative talk about the Teahouse, a welcoming place for new editors. Some members of Jim's family came along, including Dexter, an adorable Boston Terrier. You can see the rest of my photos from the event on Flickr, as well as on Wikimedia Commons (gallery may include photos from other contributors). Please credit me as Pax Ahimsa Gethen if you use any of them, thanks.
[Image: Dexter, a brown and white Boston Terrier, sports a colorful sweater.]
The Wikimedia Foundation has indicated that addressing harassment and creating safe spaces for participation—online and off—is a priority, which is encouraging. In addition to combating harassment on Wikipedia, I've continued to work on improving the representation of marginalized groups, particularly trans people. Wikipedia has a "Women in Red" project which seeks to address the content gender gap, as fewer than 20% of the biographical articles are about women. This week, I resurrected two articles from that list, both on black women: Debbie Goddard, an atheist and humanist activist; and Monica Roberts, a blogger and trans advocate. Both of these articles had previously been written, but redirected or deleted for lack of notability. I hope that the community allows them to remain this time around.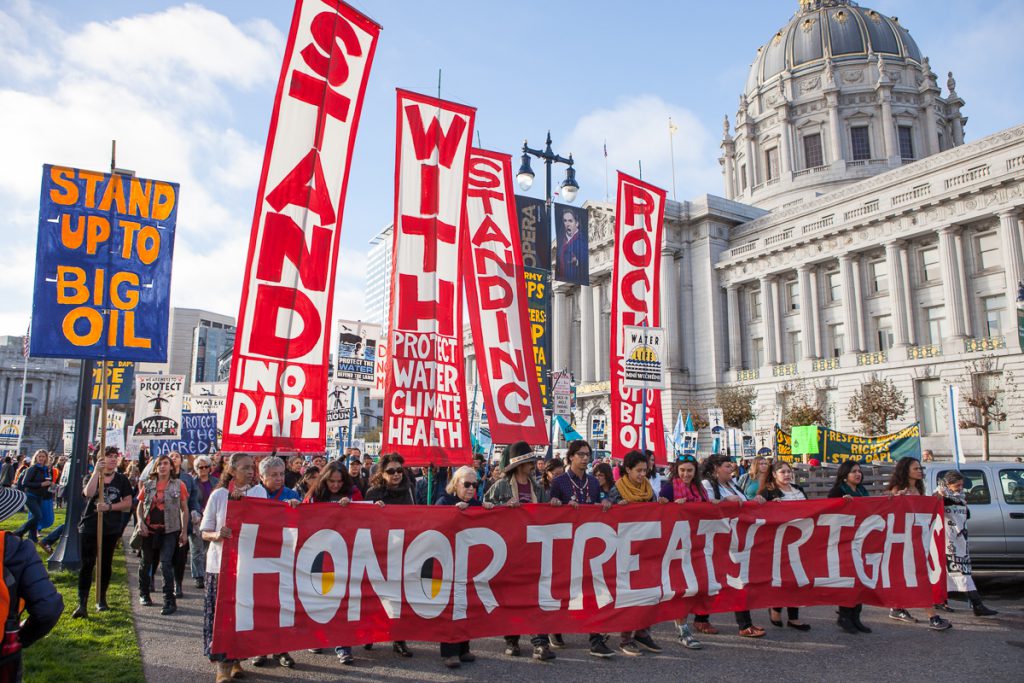 [Image: Protesters against the Dakota Access Pipeline march past San Francisco City Hall.]
I'm also pleased that the Wikimedia Foundation has used one of my photos in an article about the Dakota Access Pipeline. I've seen this particular photo used on a number of sites around the web, and I feel slightly conflicted about that, since this was of a protest in San Francisco, not at the site of the Standing Rock camp in North Dakota. Still, I am glad to help bring attention to the nationwide protests in solidarity with the indigenous people.
I hope to continue contributing productively to Wikipedia and Wikimedia, as frustrating as the process can be at times. I feel it is a good use of my writing and photography skills, and an opportunity to make a difference in this troubled world.