[Image: Protesters hold signs reading "Fuck white supremacy" and "End white supremacy".]
On Saturday I joined thousands of counter-protesters in San Francisco battling back against Patriot Prayer, a group of Donald Trump supporters who planned to hold a "free speech" rally in the city that weekend. The group claims they are not white supremacists and not racist as they have some people of color in their ranks, but as this Medium article explains, they are still oppressors. They wield their idea of free speech as a weapon against marginalized people who are not on an equal playing field, and their outspoken support of Trump validates his racism, sexism, and neo-Nazi apologism.
The rally was originally scheduled to be held in Crissy Field, a familiar destination for my longer runs. Once the park service granted a permit (which was highly controversial), police prepared with a long list of restrictions on what could be brought into the park, to the point of banning liquids other than water in factory-sealed bottles. Public transit was also rerouted, and parking restricted. Between the restrictions and denouncements from Mayor Ed Lee and Representative Nancy Pelosi, the group decided the day before the rally to cancel their plans, and announced they'd be holding a press conference (without a permit) in Alamo Square Park instead.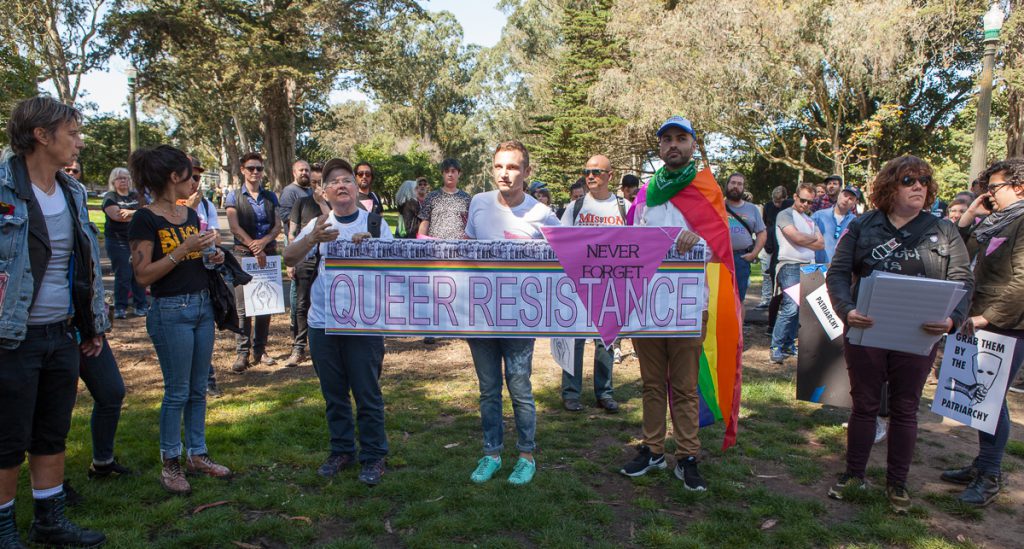 [Image: Queer protesters gather in the Panhandle in preparation for the march to Alamo Square.]
With this new information, I headed to the nearby Panhandle of Golden Gate Park to meet up with a "queer resistance" group and march to the Alamo. Other demonstrations against Patriot Prayer were being held throughout the city, including a music and dance party at City Hall and a rally and march in the Castro.
When I had mentioned to a (gay male) friend a couple of days prior that I was tentatively planning to head to the site of the right-wing rally, he tried to talk me out of it, for safety reasons. I countered that I had attended over a dozen demonstrations since the election, and wasn't sure that any of them had made a difference. But after seeing thousands of people shut down a similar "free speech" rally in Boston, I felt that joining those confronting these oppressors was worth the risk. I was also convinced by a fellow trans activist of color, Gwen Park, who urged all those physically and emotionally able to do so to meet in one location rather than spread out throughout the city. Another activist friend, Saryta Rodriguez, was visiting me that week and also wanted to attend, providing additional motivation.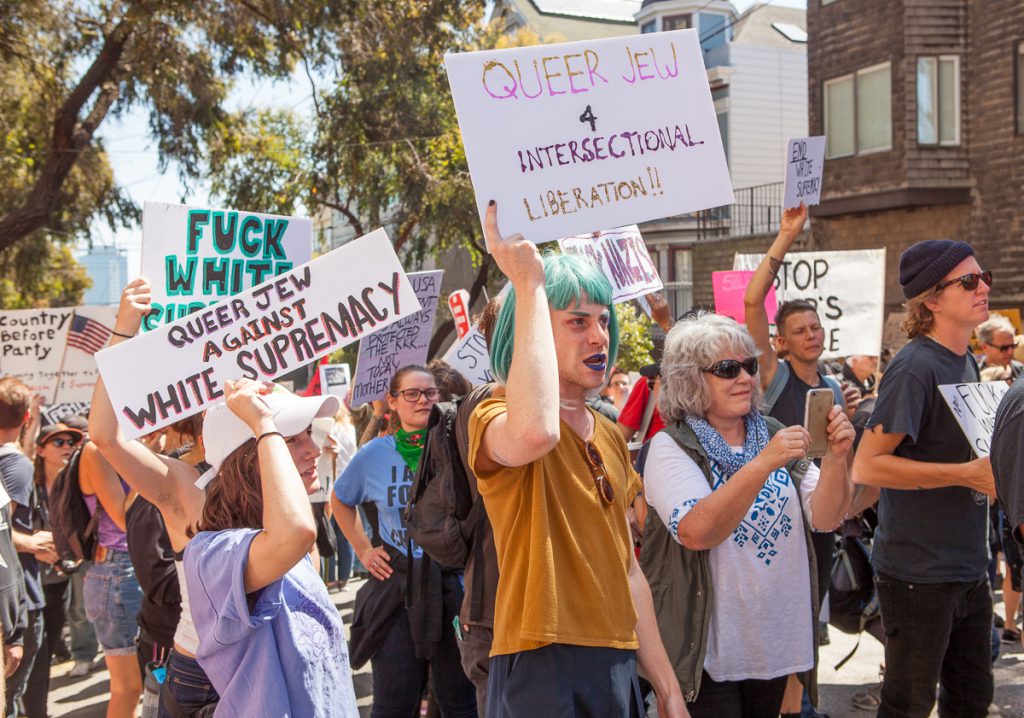 [Image: Protesters hold signs reading "Queer Jew Against White Supremacy" and "Queer Jew 4 Intersectional Liberation".]
Upon arriving at the gathering spot on Saturday, I learned that Alamo Square Park had been completely fenced in by the police, with only documented residents allowed to enter. Patriot Prayer announced they would now hold their press conference in an undisclosed, indoor location. We decided to march to the park anyway, where we joined up with thousands of other demonstrators. We had some fun chants along the way, including "We're here, we're queer, we're fabulous, don't fuck with us" and "If you're a Nazi and you're fired, it's your fault."
[Image: Protesters hold up a Workers World Party banner reading "Make Racists Afraid Again – Smash White Supremacy".]
Outside the park, the A.N.S.W.E.R. Coalition called for a sit-down in the street, and hosted several speakers. The number of speakers was a bit excessive, and some of us were getting antsy in the mid-day heat. Eventually we resumed marching, ending up in the Mission. I was unhappy with some of the marchers thanking the police who were guarding the park, and more unhappy with other marchers taunting the police who walked alongside us. I preferred to keep my distance from the police officers and try to ignore them as much as possible.
[Image: Protesters march in the street, holding various signs and banners.]
Patriot Prayer wound up having their press conference in nearby Pacifica, then returning to the city to meet with individuals at Crissy Field and other locations, under heavy police presence. Reporter Dan Noyes of ABC 7 News was accompanying them and live-tweeting their moves,  which I wasn't thrilled with even though I suppose it was under the guise of objective journalism. In any case, I was already home by the time I learned of the group's return, and did not venture out again. I did not wish to speak with or otherwise confront these people face-to-face myself; I only wanted to join a large, peaceful demonstration against white supremacy, racism, and fascism.
Another counter-protest was held in Berkeley the following day, which I did not attend. I was glad that I stayed home when I learned that black bloc counter-protesters chased and pepper-sprayed some Trump supporters there, during an otherwise mostly peaceful demonstration. I realize that some (perhaps many) progressives feel that pacifism is unwarranted or even foolish in the face of oppression, and I am sympathetic to their views. But I am still personally opposed to physical confrontation, with the exception of immediate self-defense. Punching Nazis with words instead of fists might or might not be the most effective tactic in the long run, but I will not engage in violence if I can possibly help it; naming myself Pax Ahimsa was my pledge and constant reminder to be peaceful and avoid causing harm.
My photos from the protest are on Flickr. Some are also on Wikimedia Commons (alongside photos from other contributors). Please credit me as Pax Ahimsa Gethen if you use any of my photos, thanks.