[Image: Jill Stein postcards and Stein/Baraka buttons on a table.]
*Note/reminder*: I am registered with no political party, and have not endorsed any presidential candidates in this year's election. I'm not voting for Hillary Clinton (nor Donald Trump), and that's not up for debate.
On Saturday night, I attended a rally for Jill Stein at the Berkeley City Club. While I voted for Stein in 2012 (and for Green candidates Cynthia McKinney and Ralph Nader before her), I left the Green Party when I updated my voter registration after my legal name (and gender) change in 2014. I am currently an independent (not to be confused with the ultra-conservative American Independent Party).
Despite my friend and fellow black vegan Dr. A. Breeze Harper running for vice-president with the Humane Party, I have been strongly leaning toward voting for Stein, partly because the Greens have ballot access in almost every state, and winning 5% of the popular vote would qualify the party for federal matching funds. So I attended the rally not as a supporter, but an observer, hoping to listen and talk with people about why I should support Stein, or any presidential candidate when I have lost virtually all hope in the U.S. government (and humanity in general).
As I arrived at the venue, two people outside were trying to get the attention of those entering, and offering them copies of the Workers Vanguard. I spoke with one of them, asking if, as a socialist, she supported Stein and the Green Party. She said no. I mentioned that I had met some Socialist Alternative people who supported Bernie Sanders, and were now supporting Stein. She said that those weren't real socialists, and that the Green Party is capitalist (among other things). She asked if I would buy her newspaper for fifty cents, and I happened to have two quarters in my pocket so I agreed. (I got the two most recent quarterly editions for that price.)
I spoke with her about being a pacifist. She asked what I thought about the Civil War. This took me aback, and I responded "Well, it was certainly necessary to end slavery." By this I didn't necessarily mean that we had to go to war to do so, though she understandably took it that way. When I explained how important pacifism is to me, she seemed less interested in talking with me; when I offered her my business card, she shoved it in her back pocket without looking at it, and went back to hawking newspapers.
[Image: Two people staff a table with a banner reading "Socialist Alternative – Struggle – Solidarity – Socialism".]
I entered the venue, staked out a seat and took some preliminary photos. I was then approached by a Socialist Alternative representative, offering their newspaper "to convince your friends to vote for Stein". I explained to him that I was an independent, and told him about the conversation I'd just had outside. He said that those socialists weren't being practical, and that we had to gain the support of the workers before we "marched on Washington". I pressed him about their prior support of Sanders, since he was running as a Democrat; he said that they were actually very critical of him, but he had mobilized lots of people, including many independents, and they were harnessing that energy. He mentioned that he and another socialist would be speaking at the rally, and promised that they would "bash the Democrats". I said that I didn't want to "bash" anyone necessarily, I just wanted to get shit done.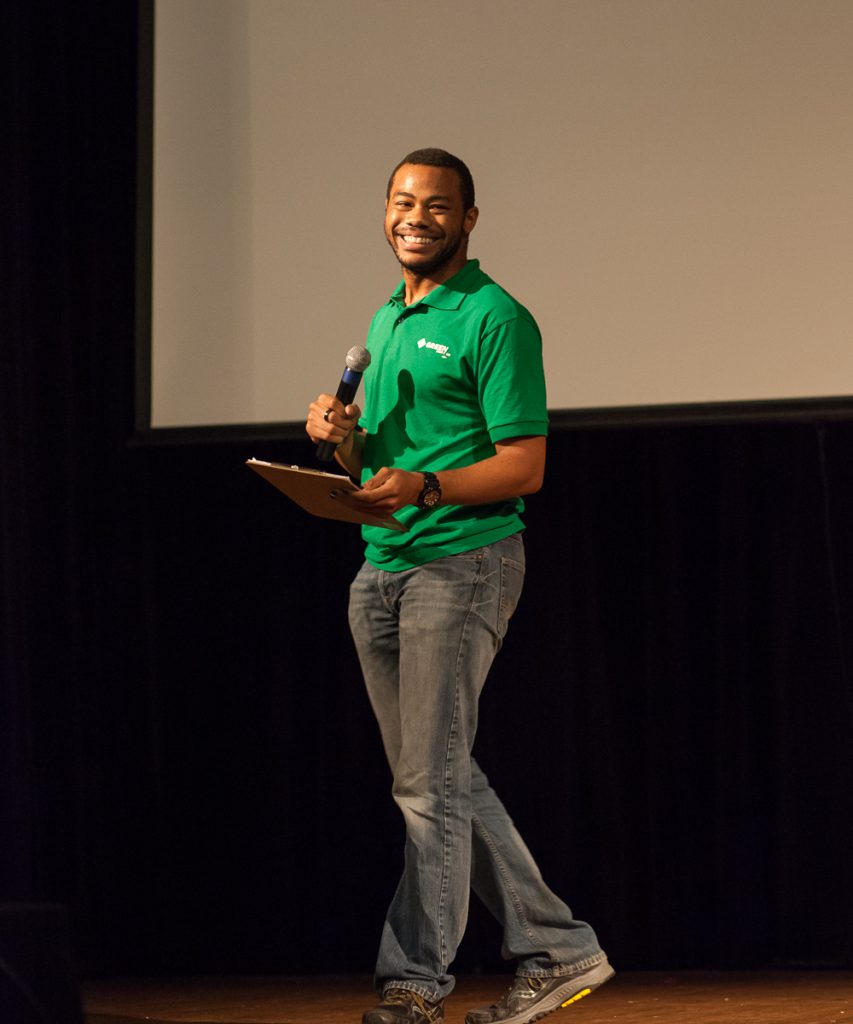 [Image: A.J. Hill smiles while introducing speakers on stage.]
So as the rally started, I felt more confused and cynical about politics than ever. The crowd was mostly white, which wasn't much of a surprise, but more than half of the speakers were people of color.  One of the speakers and event co-organizers, A.J. Hill, is a black vegan and activist with Direct Action Everywhere (DxE); though I left DxE last year, I was glad to hear animal rights mentioned at a Green event.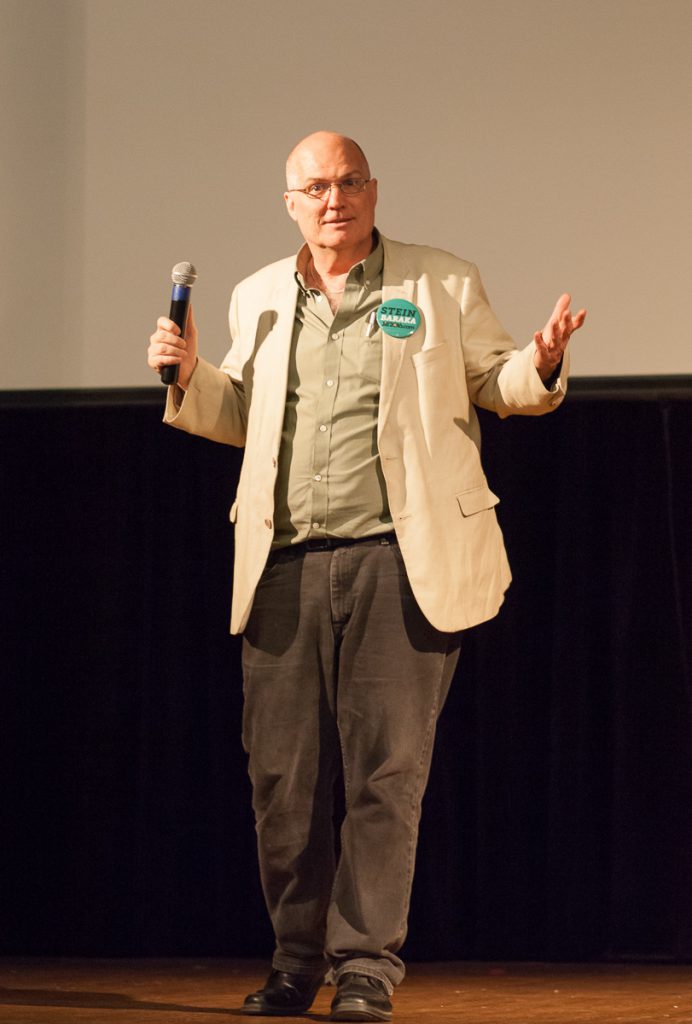 [Image: David Cobb speaks on stage.]
One of the main speakers at the rally was 2004 Green presidential candidate David Cobb, who is now Jill Stein's campaign manager. (I didn't vote for Cobb that year, opting to go with Nader instead, who was supported by many other Greens.) Cobb spoke at great length, emphasizing how he was a "mostly-straight" white man but understood the need to be anti-racist and anti-sexist. He said that people of color don't want "white guilt", they want action. He told a story about a black woman lovingly but angrily calling him a "cracker" for questioning the organizing tactics of women/of color in the movement.
While Cobb got lots of applause, and I'm sure he meant well, the length of his speech really turned me off. Good allies cede space to marginalized people to speak for themselves. After 45 minutes, I was more than ready for him to get off the stage. The next speaker, who was part Native American (but white-passing to my eyes, at least), also spoke too long; an organizer was repeatedly trying to get his attention and pointing to his watch.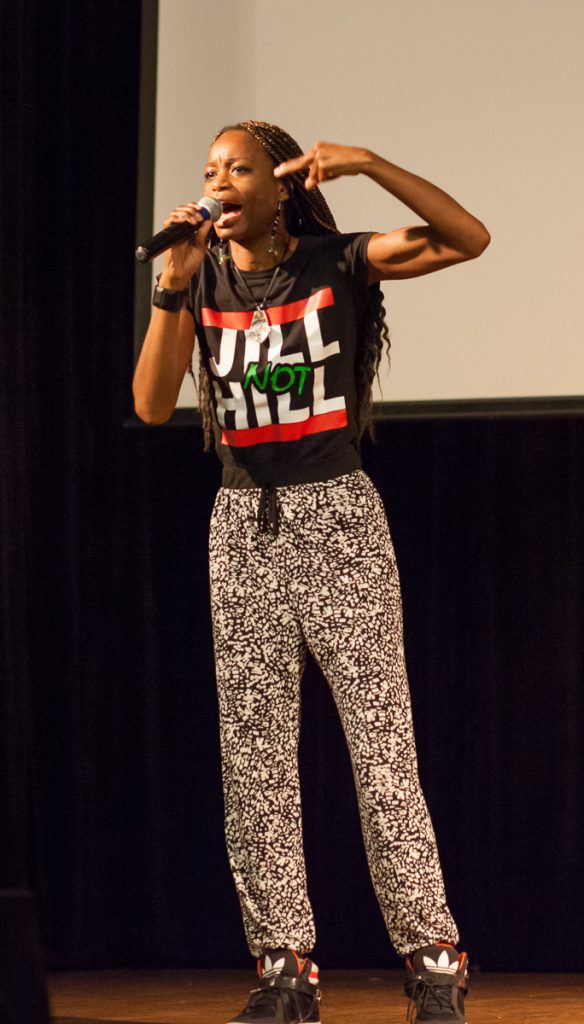 [Image: YahNé Ndgo speaks into a microphone on stage.]
The main person I came to the rally to see was YahNé Ndgo, who I watched give a powerful speech at this year's Green Party Convention. A "Bernie or Bust"er, she switched to the Green Party after the Democratic National Convention, and has been campaigning for Stein nationwide. I took lots of photos as she's such a dynamic speaker. I got a chance to chat with YahNé briefly after the rally, and told her I came specifically to see her; she gave me a hug.
[Image: Kor Element sings into a microphone on stage.]
Up-and-coming artist Kor Element gave a talk and an energetic hip-hop performance, with plenty of audience participation. Another former Bernie supporter, he wrote a song specifically for Stein's campaign.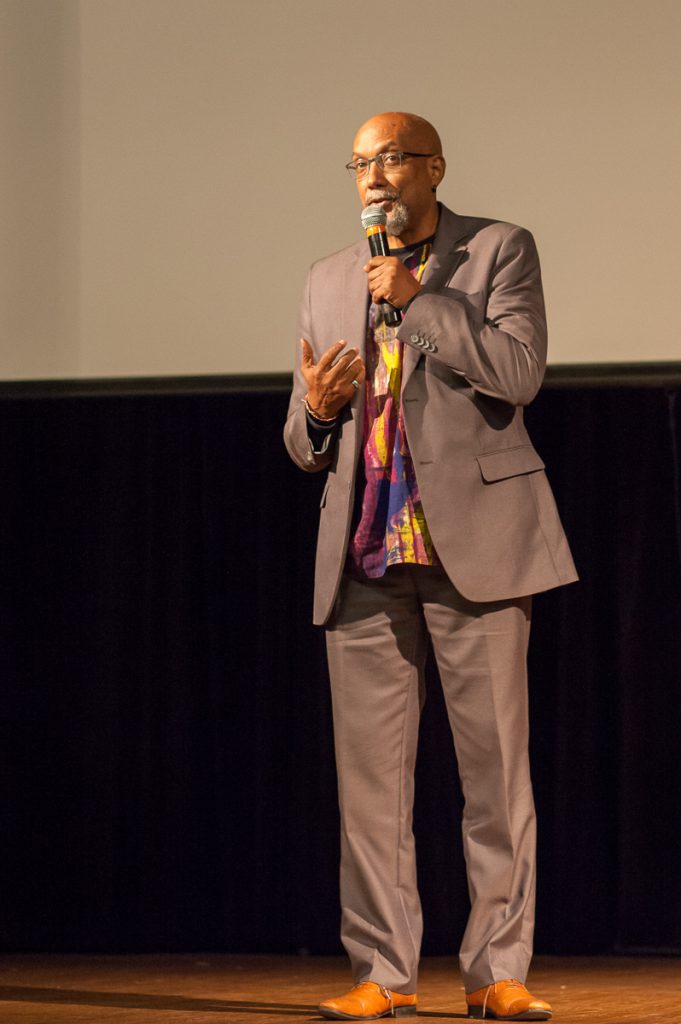 [Image: Ajamu Baraka speaks into a microphone on stage.]
At 9 p.m., three hours into the rally (and now at the originally scheduled end time), Green vice-presidential candidate Ajamu Baraka finally took the stage. Baraka announced that Jill Stein was recovering from pneumonia, and could not attend. I already knew this, but only because I had been told by the Marxist outside; I knew that Stein had a recent bout of pneumonia, but there was no mention on the web site or either of the Facebook pages for this event (one of which was titled "Jill Stein Visits Berkeley!") that she would not be at this rally. I certainly agreed that she needed more rest, and I can understand why her absence wasn't announced at the beginning of the rally as then some people might not have stuck around, but it still seemed disingenuous.
Regardless, I was personally more interested in Baraka than Stein, and was delighted to see him since he wasn't originally scheduled to speak. I got to chat with him very briefly afterward (after waiting for many people to pose with him for pictures), and thanked him for speaking truth to power. I also mentioned how I tried to find out about him on Wikipedia, and he said that when he looked at that page, he didn't recognize what he saw. I wish we'd had time to chat more about that, but many people were still waiting to talk with him, and his helpers were trying to get him out of there.
On the way home, I read part of the Workers Vanguard newspaper. I agreed with some of it, but was turned off the dismissal of Green values in one article, saying (in part) that bike paths and vegetable gardens were for rich people in developed countries, not for workers that had to live near industry, and decrying a call to "save the Earth" at the expense of the people living on it. I understood where they were coming from, but to me animals are people, and the Earth is not separate from its living inhabitants, humans included.
In any case, I'm not going to make voting decisions based on one article, one rally, or a couple of conversations. I'm definitely going to the polls on November 8, if only to vote on ballot measures and local, non-partisan offices, as I did in the primaries. Californians, today is the last day to register, so even if you hate every single person who is running for office, please at least vote on propositions that affect those living in our communities.
My full set of photos from the rally is available on Flickr. Some of the photos are available on Wikimedia Commons as well. Please credit me (as Pax Ahimsa Gethen) if you use any of them, thanks!