[Image: A protester speaks into a microphone, while standing under an umbrella in front of a banner.]
Yesterday I ventured out in rainy weather to attend another anti-Trump protest in downtown San Francisco. Unlike the one I attended last Sunday, this rally and march was organized by the ANSWER Coalition, which has mounted numerous protests against racism and imperialism. Having attended the rally against racist police that ANSWER co-sponsored this summer, I knew that they would center people of color at this rally, and not just to pander to Democrats.
I was not disappointed. The speakers condemned white supremacy and neoliberalism as much as they condemned Donald Trump himself, if not more so. Some in the audience seemed impatient at this, but this was not merely a group of Hillary Clinton supporters expressing disappointment that their candidate lost. These were people who have been fighting back against white supremacy all along.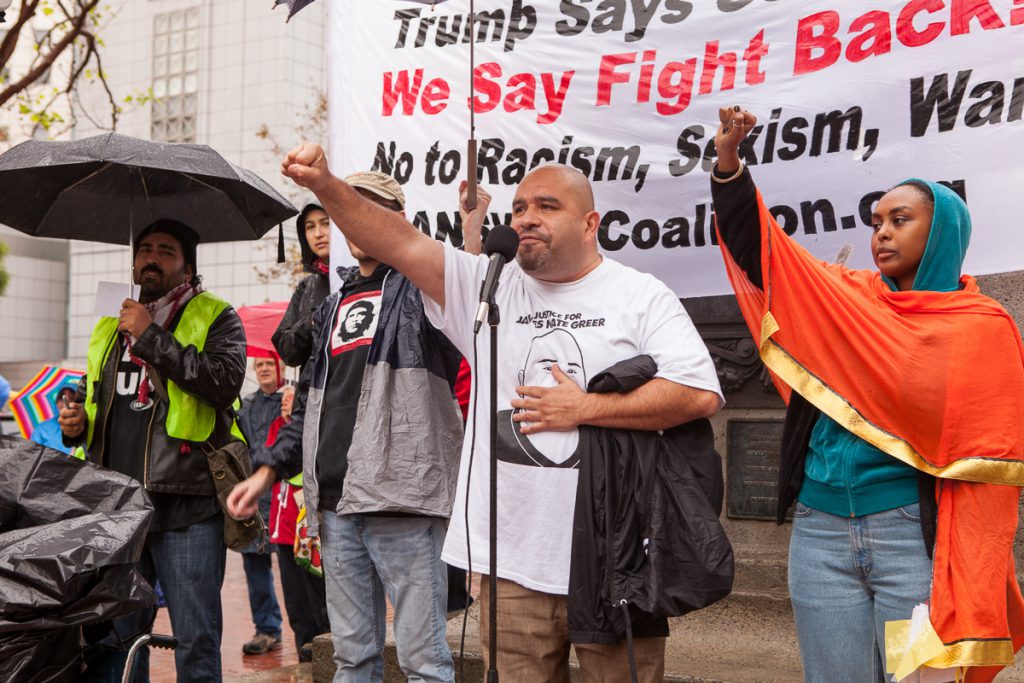 [Image: Protesters stand in the rain in front of a banner, with their fists raised in the air.]
I recognized one speaker from the Justice for Alex Nieto coalition, from another rally against racist police violence I attended this year. He pointed out that protesting, not voting, was what ousted San Francisco police chief Greg Suhr. He wore a shirt honoring another Bay Area person of color killed by the police, James "Nate" Greer. There's plenty of racism right here in our "blue" state, sadly, and that's always been the case.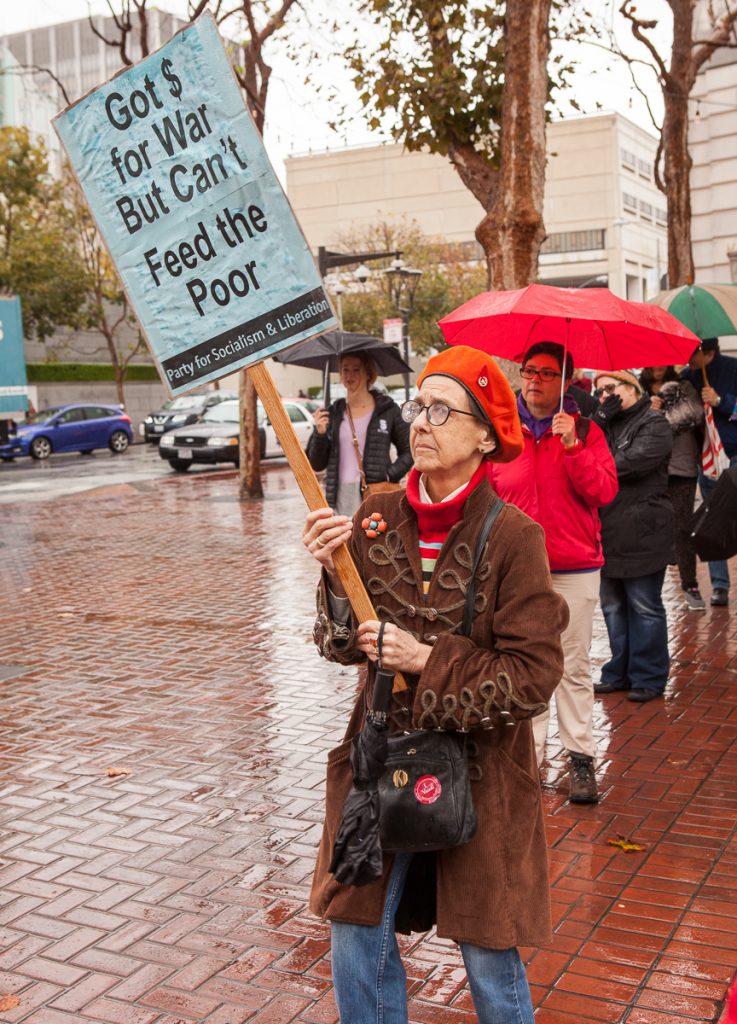 [Image: A protester stands in the rain holding a sign reading "Got $ for War but Can't Feed the Poor. Party for Socialism & Liberation"]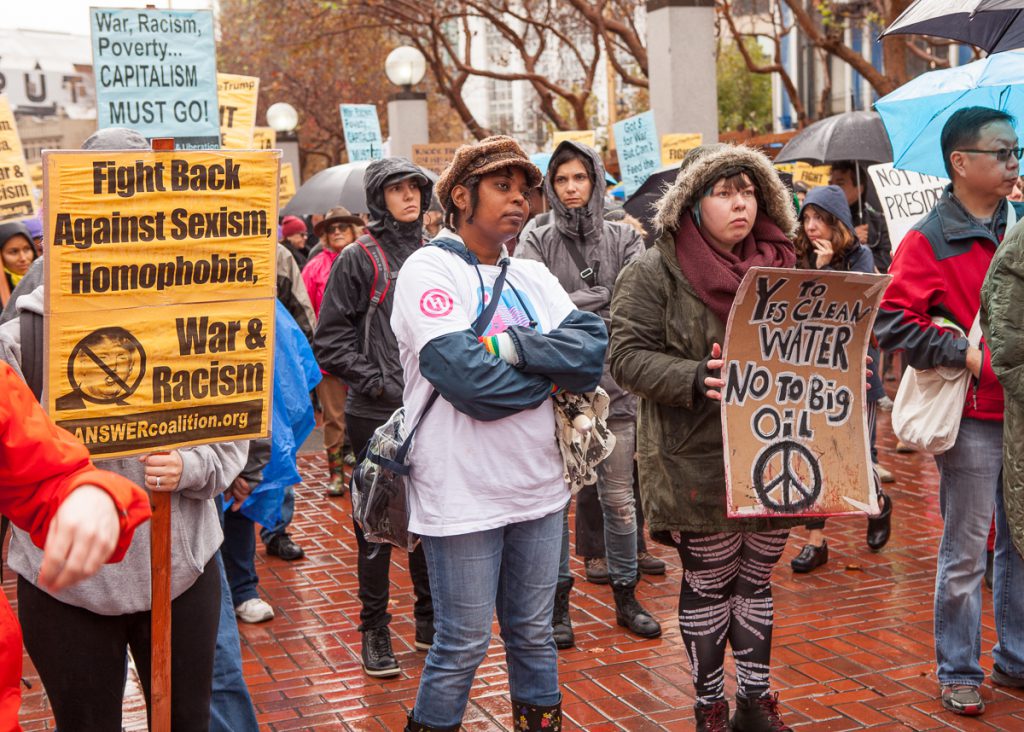 [Image: Protesters stand in the rain, holding signs.]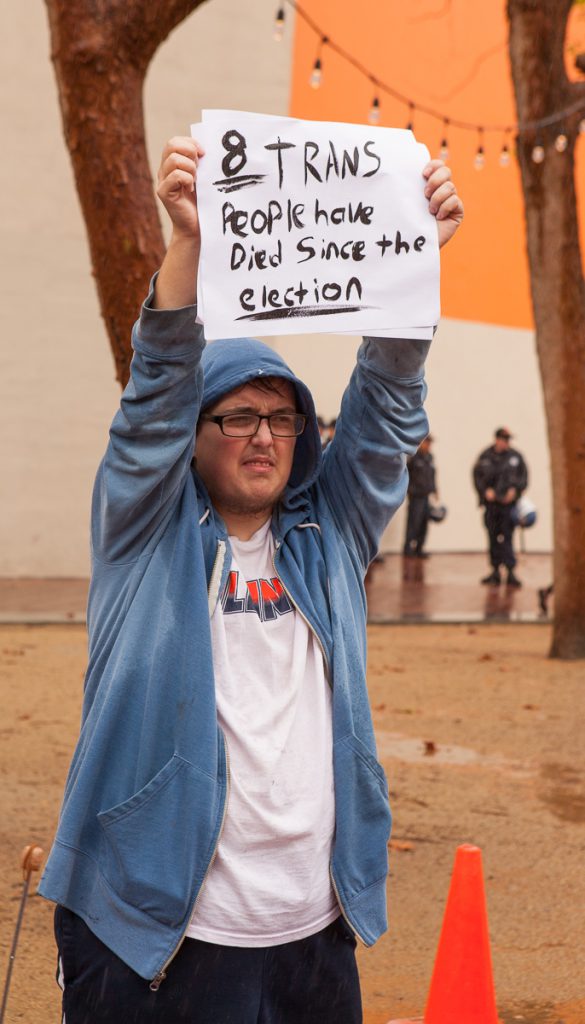 [Image: A protester stands in the rain, holding up a sign reading "8 trans people have died since the election".]
Many carried signs for socialist organizations. Other causes were represented as well. One held up a heartbreaking sign pointing out the impact of the election on trans people. I went up to them and told them I was trans, and invited them to attend today's Trans Day of Remembrance event in San Francisco.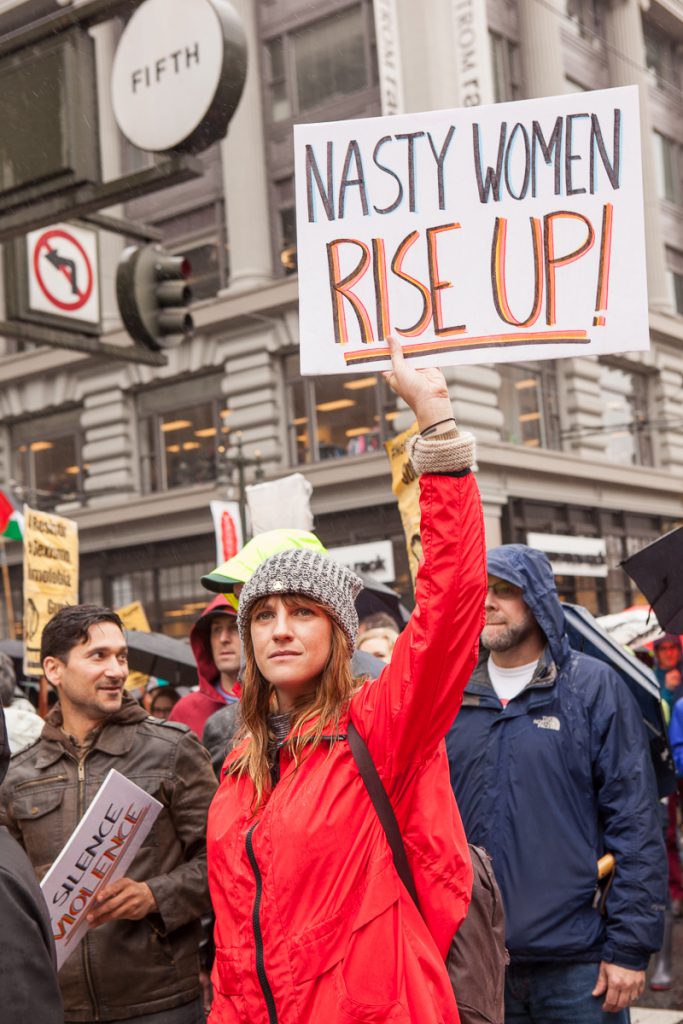 [Image: A protester stands in the street in the rain, holding up a sign reading "Nasty women rise up!"]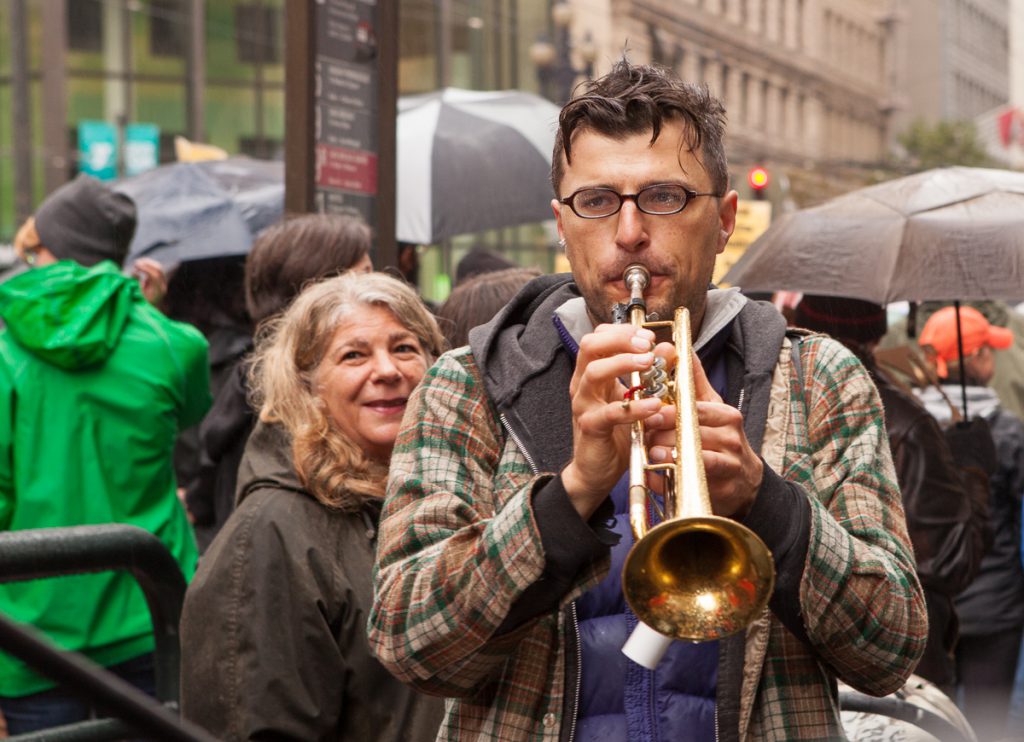 [Image: A protester plays the trumpet while standing in the street in the rain.]
After the rally at UN Plaza, we marched down Market Street. I've lost count of the number of times I've marched there, this year alone. The mood was lightened by a group of musicians, who I think were from the Brass Liberation Orchestra.
I was glad to have the company of my friend and fellow queer vegan Saryta at this rally. I encourage all vegans and animal rights activists to speak out against oppression of marginalized humans, at every opportunity.
My full set of photos from the rally is available on Flickr. Some are also on Wikimedia Commons (alongside photos from other contributors). Please credit me as Pax Ahimsa Gethen if you use any of them, thanks!