[Image: A rally attendee stands in a crowd, fist raised in the air.]
When I read the news about Alton Sterling, yet another black person murdered by the police, I didn't want to write or talk about it. I was tired of racist comments about "thugs" and "All Lives Matter," so I just linked to my friend Christopher Sebastian's Facebook status, explaining that white allies should leave black folks alone to process our pain within our own communities. I logged off of Facebook for awhile, and tried to escape the crushing reality of racism and police brutality.
Then I read that the police murdered another black man, Philando Castile, the very next day. Then I heard about a lone shooter killing five police officers after a peaceful Black Lives Matter protest in Dallas. And then I got a message from the San Francisco Food Not Bombs mailing list about a rally against racist police violence here in San Francisco. As nervous as I was about violence breaking out here too—from the police, not the protesters—I decided that I needed to attend.
I found more information about the rally on Facebook. Though this event had been shared over 7000 times, none of my Facebook friends had invited me to it; I seem to get lots of invites to animal rights protests and concerts though. Hmm… In any case, my partner Ziggy was out of town, and the couple of friends I mentioned the rally to were also out of town or unavailable. But one friend did ask me to text her after I got home so she would know I was OK, which I appreciated.
The event was co-sponsored by the ANSWER Coalition, Bayard Rustin LGBT Coalition, Justice 4 Alex Nieto Coalition, Justice 4 Mario Woods Coalition, San Francisco Black Leadership Forum, San Francisco Black Lives Matter, and West County Toxics Coalition. I didn't get the names of all of the speakers, but they included Frank Lara (the MC), Edwin Carmona-Cruz (ANSWER Coalition), Lawrence Shine (Bayard Rustin LGBT Coalition), AeJay Mitchell, Edwin Lindo (one of the Frisco Five hunger strikers), Ashley Love (Black Trans Women's Lives Matter), and members of BAYAN USA and GABRIELA USA (progressive Filipinx organizations). If anyone has names of others in my photos, please post them in a comment or send me an e-mail.
As I walked to the gathering place at Justin Herman Plaza, I passed by a group of police officers having some food in the nearby Jackson Square Historic District. I tensed up, but kept moving. I didn't see an obvious police presence once I arrived at the plaza, but saw in news reports later that they were strategically positioned on rooftops. And once we started the march, they flanked us on either side, and barricaded the entrance of City Hall. Their presence did not make me, a black person, feel any safer.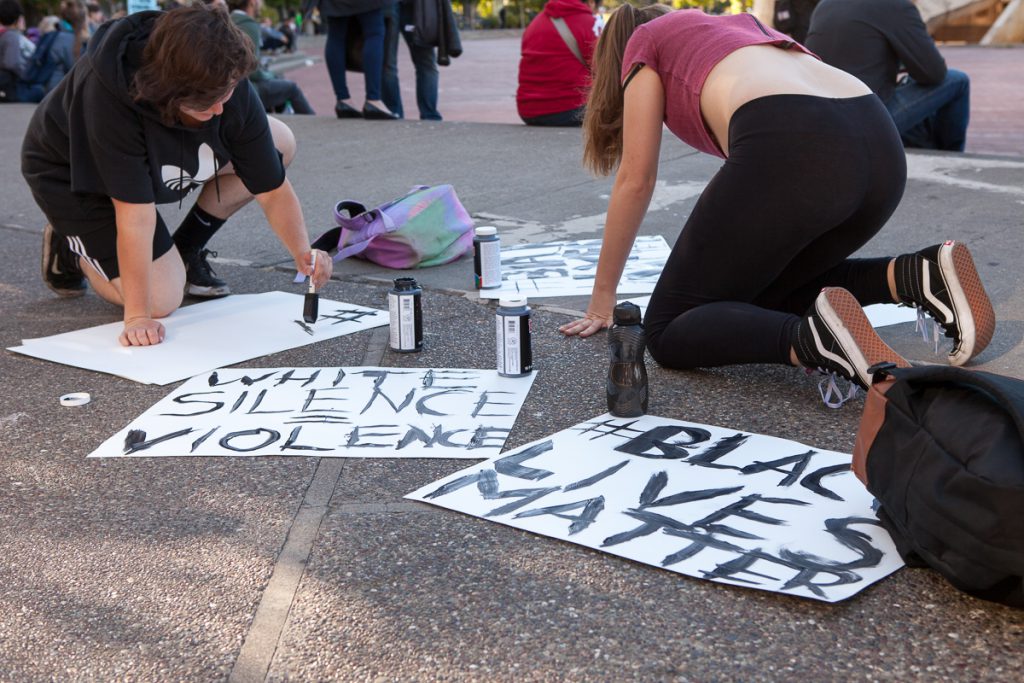 [Image: People kneel on the ground creating signs reading "White Silence = Violence" and "#BlackLivesMatter".]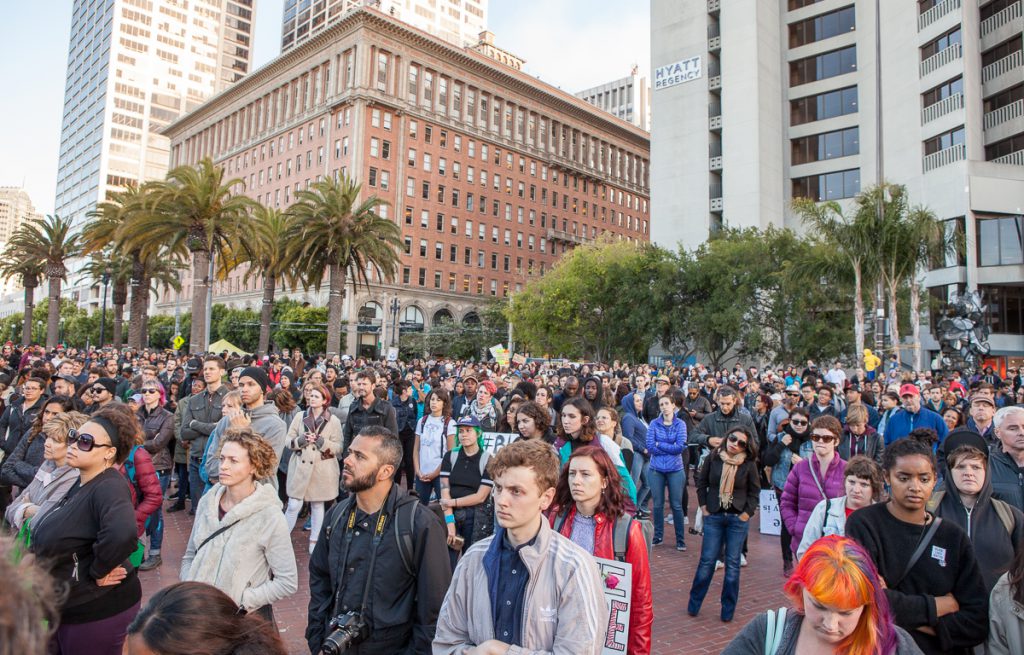 [Image: A crowd of people fills Justin Herman Plaza for a rally.]
I arrived a half an hour before the scheduled 6 p.m. start, as people were just beginning to gather. I took some photos, then parked myself directly in front of the microphone on the stage. By the time the program was underway, the entire plaza was filled with people, including many reporters and news cameras.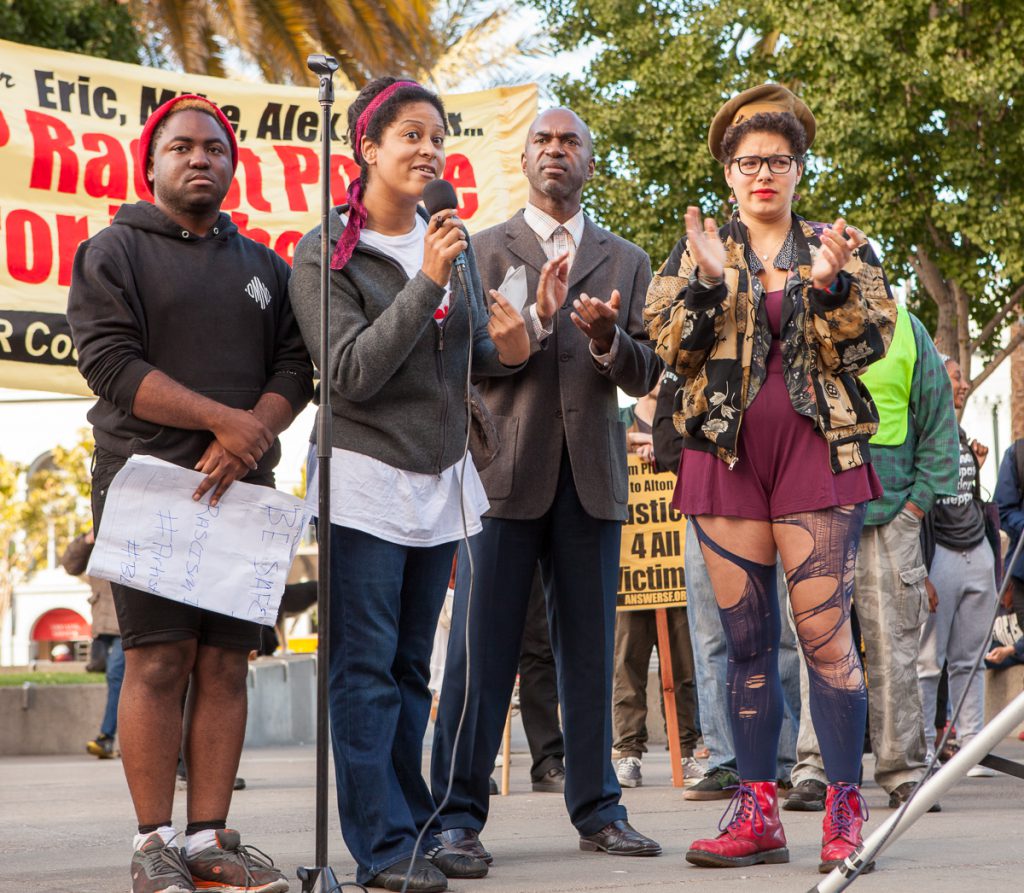 [Image: Black trans activist Ashley Love speaks into a microphone, while other black speakers stand on stage and applaud. Standing next to Ashley are actor AeJay Mitchell, and Lawrence Shine of the Bayard Rustin LGBT Coalition.]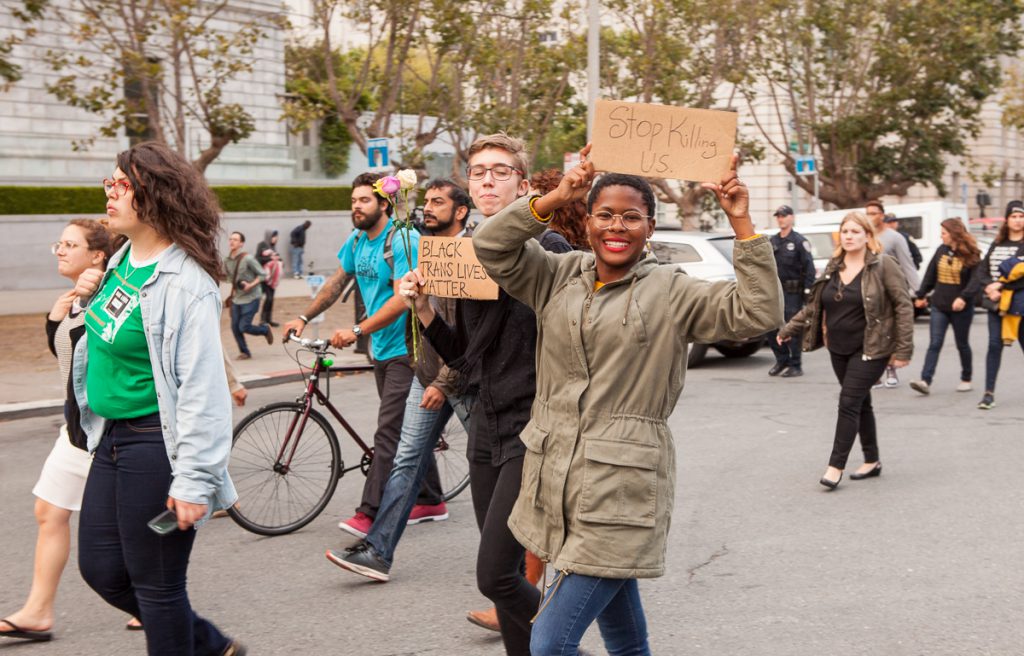 [Image: Marchers carry signs reading "Stop Killing Us" and "Black Trans Lives Matter."]
As with the other rallies I've attended over the last year, I was pleased with the support of and representation from queer and trans black folks. I saw one of the speakers, Lawrence Shine of the Bayard Rustin LGBT Coalition, during the march, and thanked him personally.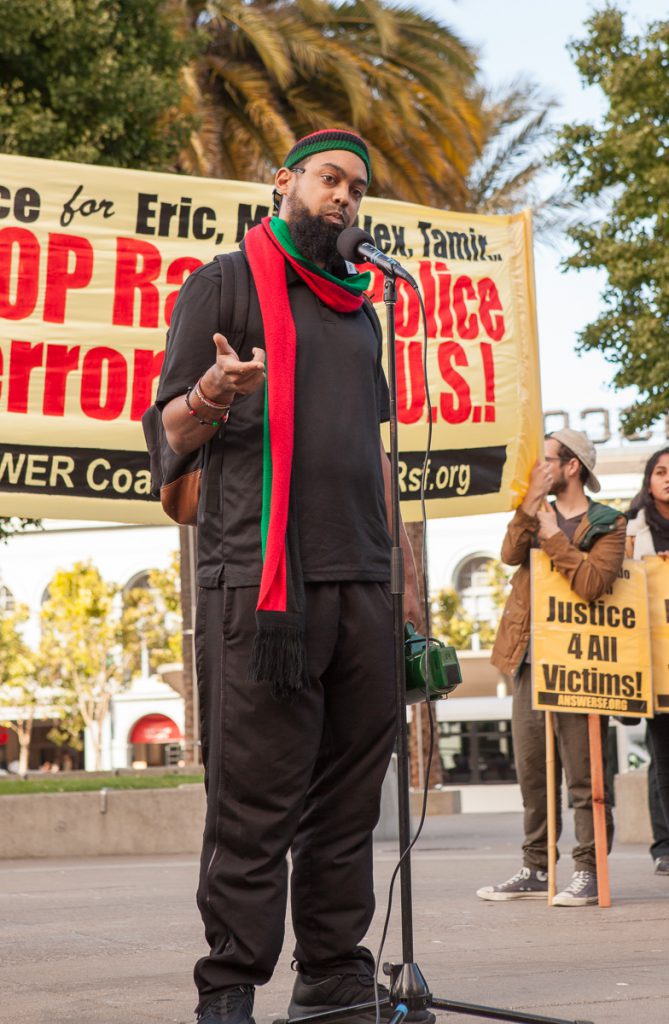 [Image: A bearded man wearing a red, green, and black hat and scarf speaks into a microphone.]
One of the unscheduled speakers was a man who, as I later learned from seeing his photo in a news report, was the person I'd heard addressing the crowd from a megaphone while Lawrence Shine was speaking on stage. He was invited to come to the stage himself, and initially declined, but later accepted. He called out all the mostly non-black folks who were in attendance just to say "I was here," and said, "This is not the work." He disagreed with speakers who called for peace, saying that we needed to go into the police stations and destroy their computers (for starters). He spoke at length about anti-black racism and the need to dismantle the police system, and I had the feeling he would have spoken all night if the MC hadn't (gently) taken the mic away from him, as others were waiting to speak.
I listened carefully to what this man said, and agreed with a lot of it. He had a brother in jail for protesting and had been unjustly imprisoned himself, so I won't blame or shame him or any other black person for wishing violence upon his oppressors. Though during his speech, I was more concerned about retribution from the police or their operatives for what he was saying.
Regardless, I am still a pacifist. I did not choose the name Pax Ahimsa*—which became my legal name two years ago tomorrow—lightly. Adopting a name that literally translates to "peace" and "do no harm" was my commitment to always remaining non-violent, no matter what. I have a lot more thoughts on that subject, which I'll share at another time.
[Image: A Filipina speaks into a microphone while others behind her hold signs expressing Filipinx solidarity with blacks.]
As the speaker noted, there were indeed a lot of non-black faces at the rally; San Francisco is only 3% black at this time. I have mixed feelings about the role of non-black allies at Black Lives Matter events. I feel it's apparent that Latinx folks are subject to much of the same police violence as blacks. People of Asian descent, on the other hand, while still affected by racism, are not targeted as much by the police, at least here in the SF Bay Area. I do appreciate allies such as the members of the Filipinx groups who took the stage to express solidarity with black folks fighting against police violence. I'm not so sure about white folks raising their fists in a black power salute, or saying "we" when things don't affect them personally though.
ETA: The Washington Post has been collecting data on police shootings. Their reports include a breakdown by race, but only white, black, Hispanic, and "other." When reviewing this data, it's important to take into account the percentage of each racial group in the U.S. population.
Once we left the plaza and began the march down Market Street, I felt grim and sad. Some others around me were smiling and laughing with their friends, but I was alone and depressed, thinking about how many times I'd marched down this street lately, for Orlando and the Trans March. While the latter was ostensibly a happier occasion, as an unofficial part of Pride weekend, most of the rallies and marches I've attended have been to protest discrimination and violence against people like me, not to be in a crowd and have a good time. As I've written frequently, I'm not just an introvert, but practically a hermit lately. I don't go to protests because I want to, but because I feel obligated to—within the limits of my physical and mental capacities—and I feel a lot of my black and trans siblings are in the same boat.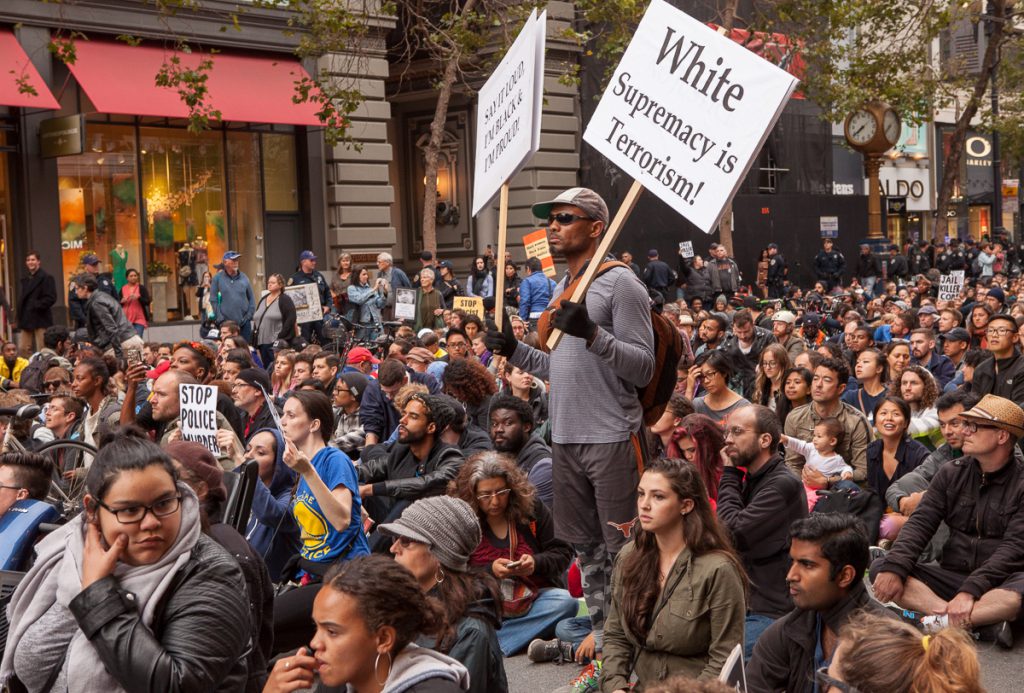 [Image: A crowd of people sit on Market Street. One standing holds signs reading "Say It Loud, I'm Black & Proud!" and "White Supremacy Is Terrorism!"]
[Image: Rally co-organizer Frank Lara reads from a list of names into a megaphone, while others watch and film.]
After walking several blocks, the march came to a halt, and people started sitting down, right in the middle of the street. I moved to the sidewalk to take photos, and located event co-organizer Frank Lara, reading the names of people killed by the police into a megaphone. After dozens of names were read, we resumed the march to City Hall.
[Image: A large group of marchers approaches San Francisco City Hall on a foggy evening.]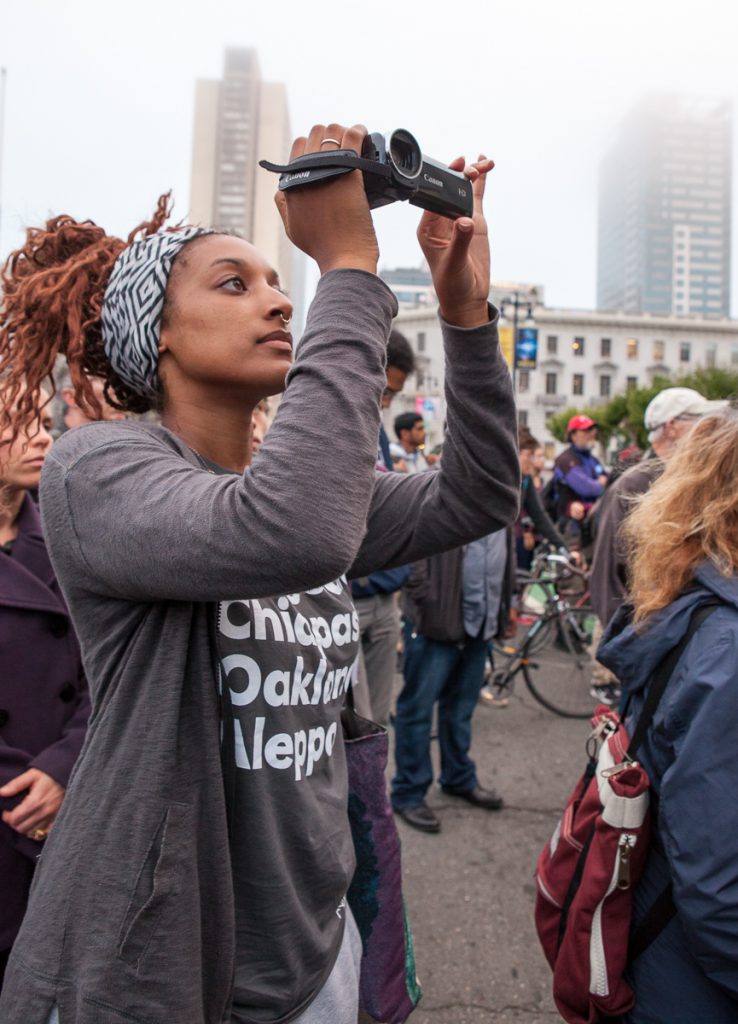 [Image: A rally attendee films the gathering at San Francisco City Hall.]
I only stayed for the beginning of the rally at City Hall. I was too far back to hear the speakers clearly, and was feeling crowded, tired, cold, and nervous about possible violence as it was getting dark. From news reports, it appears some people stayed at the rally until at least 10 p.m., with police officers continuing to barricade the entrance; there were no incidents or arrests. More protests are planned in the Bay Area and around the country this weekend.
My full set of photos from the rally and march is available on Flickr. Please credit me as Pax Ahimsa Gethen if you use any of them, thanks!
*I am aware that some may consider me taking the name Ahimsa (a term of Sanskrit etymology) to be cultural appropriation. I am willing to have a conversation about that concern with people who come from predominantly Hindu, Buddhist, or Jain cultures, but not with others, and not today.