[Image: Members of the San Francisco Gay Men's Chorus hold candles in paper cups at the vigil for Orlando in the Castro.]
When I first heard the news of yesterday's mass shooting at a gay nightclub in Orlando, I didn't have a strong reaction. I'd become so accustomed to reports of gun violence in the USA that I was somewhat numb. I knew what would follow would be more Islamophobic calls to ban Muslims, and more calls from the NRA to counter "bad guys with guns" by arming even more citizens. I didn't want to participate in those conversations.
But slowly, the horror of the massacre sunk in. While the murder of even one person is a terrible act, this was being called the worst mass shooting in US-American history. Some have argued that that dubious honor belongs to the Wounded Knee Massacre, but the impact of last night's 50 deaths and 53 injuries is hugely significant regardless.
Regardless of the gunman's background and specific motives, what cannot be ignored is that this attack took place in a gathering place for queer people, during a celebration of Latinx culture. Latina and black trans women were featured performers that night. This was our space; a space to celebrate and be ourselves. A space that, since the Stonewall and Compton's Cafeteria riots, our community had sought to make a refuge from homophobia. The freedom and safety we seek has never felt more fleeting and remote.
I learned that a candlelight vigil was taking place in the Castro that evening. I texted my partner Ziggy (who was at work at the San Francisco Opera, as he often is on weekends), asking if he wanted to join me there. He immediately asked if I knew who was in charge, as he wanted to volunteer to run sound for the event. Which he did, despite being at the end of a very busy work week. Ziggy is awesome.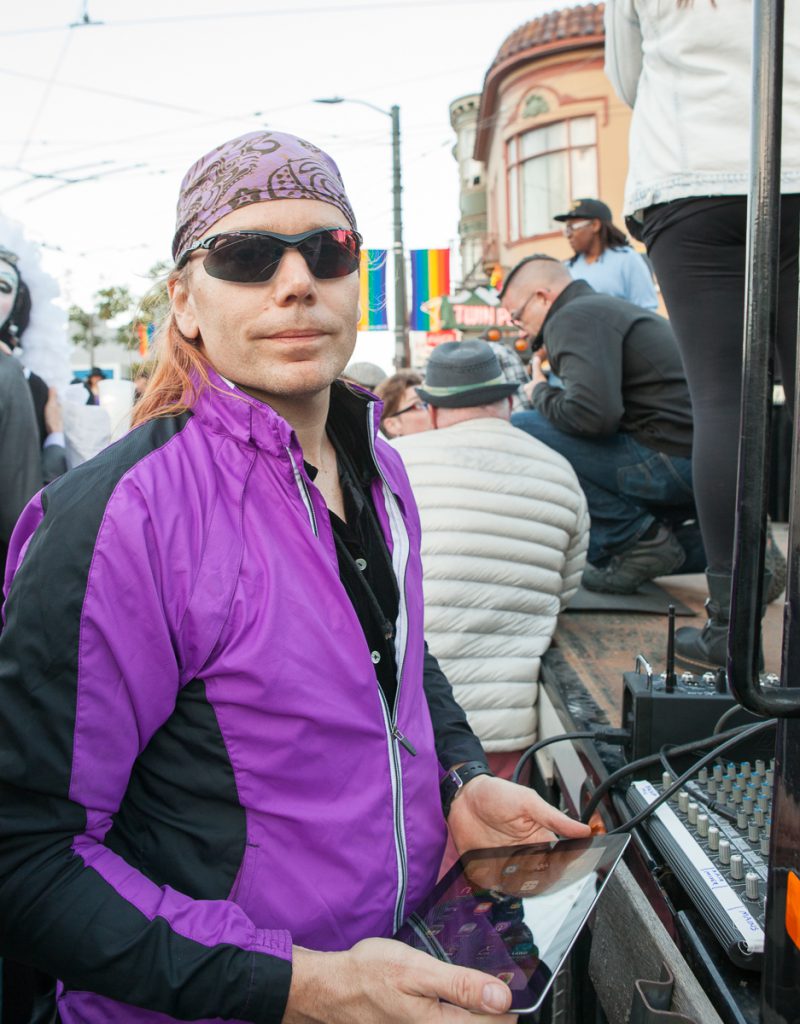 [Image: Ziggy, wearing a purple and black jacket, purple and black headscarf, and sunglasses, stands in front of a sound mixer on a stage in the Castro.]
I walked three miles to Harvey Milk Plaza, knowing that the metro would be jammed with people. I arrived half an hour before the scheduled 8 p.m. start, and quickly realized that I could not get anywhere near the front of the stage (a flatbed truck); hundreds of people crowded the street. I ended up staying behind the truck with Ziggy, taking photos of the people gathered there, watching or waiting to speak.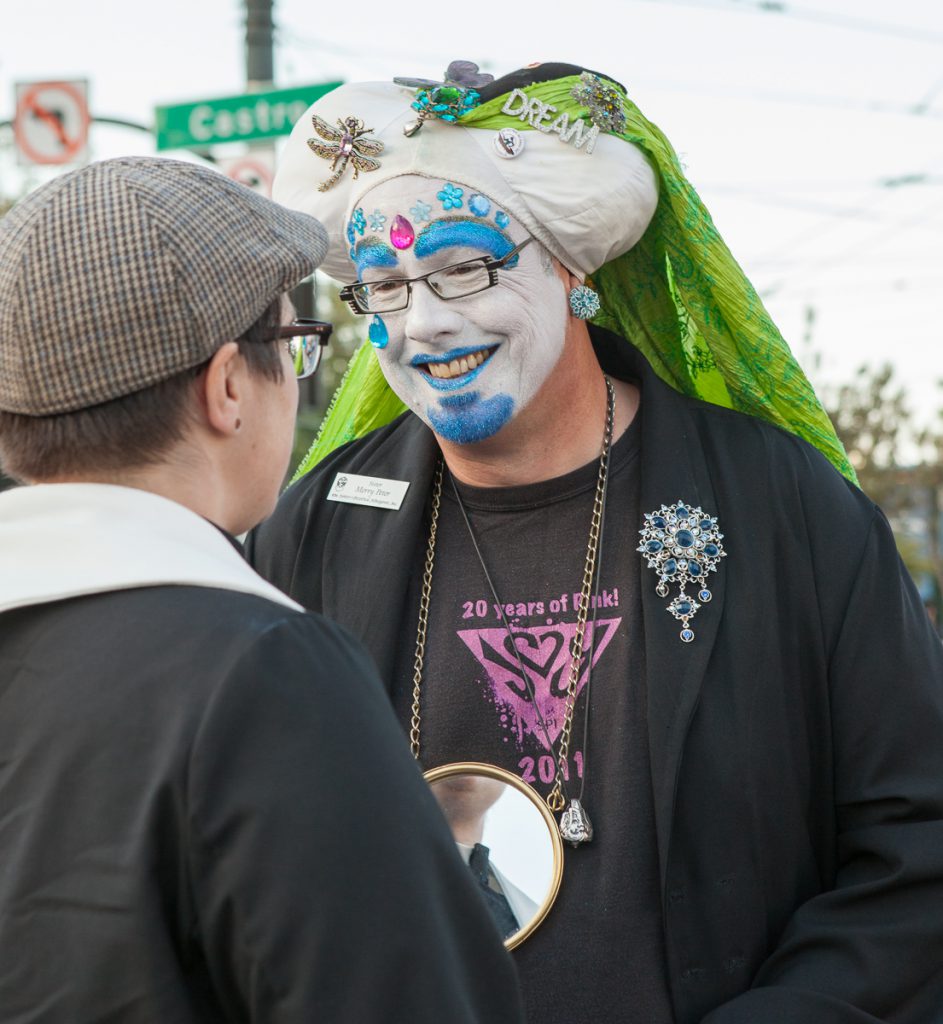 [Image: Sister of Perpetual Indulgence Merry Peter smiles while speaking with Reverend Megan Rohrer at the vigil for Orlando in the Castro.]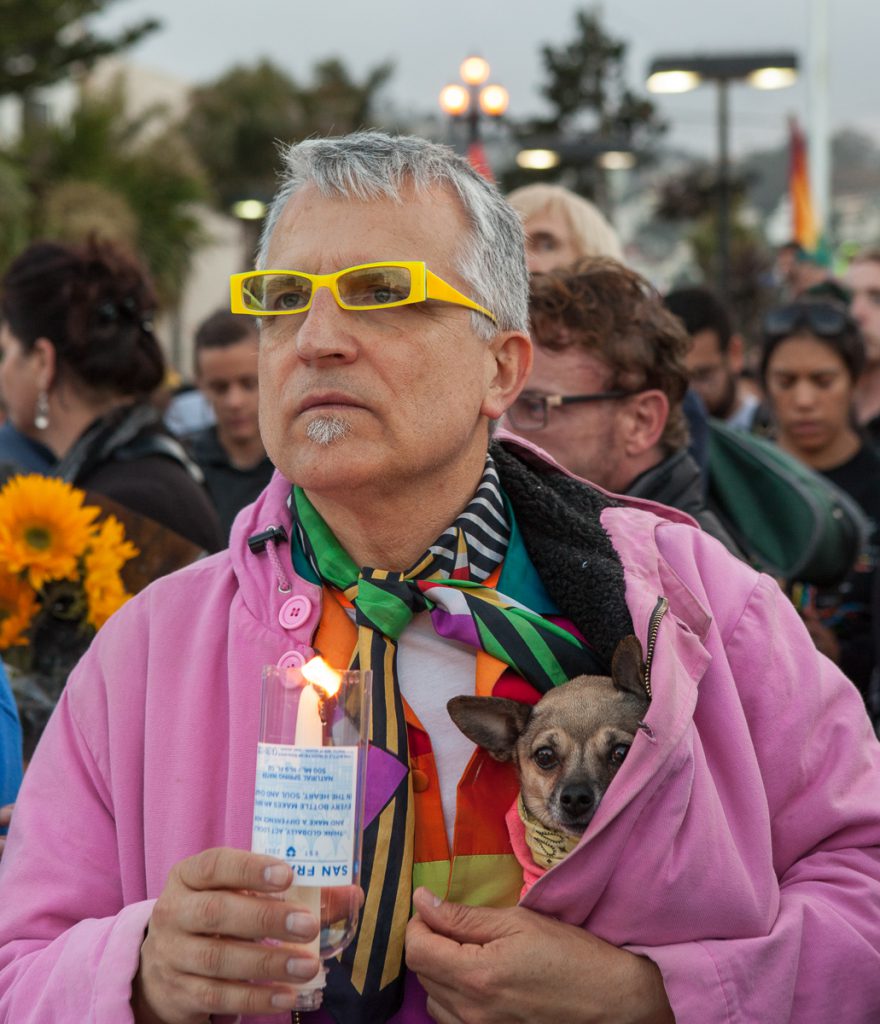 [Image: A vigil attendee wearing yellow-rimmed glasses and a pink jacket holds a candle. A small dog peeks out from under the jacket.]
[Image: Alex U Inn of Momma's Boyz stands with others at the vigil.]
While I couldn't see much of what was happening on stage, thanks to Ziggy's excellent sound production I could hear everything crystal clearly. The event opened with a stirring vocal performance by the drag king duo Momma's Boyz. One of them, Alex U Inn, later asked me where I got my purple Trans March hoodie. (It's a limited edition; you can order this year's now.)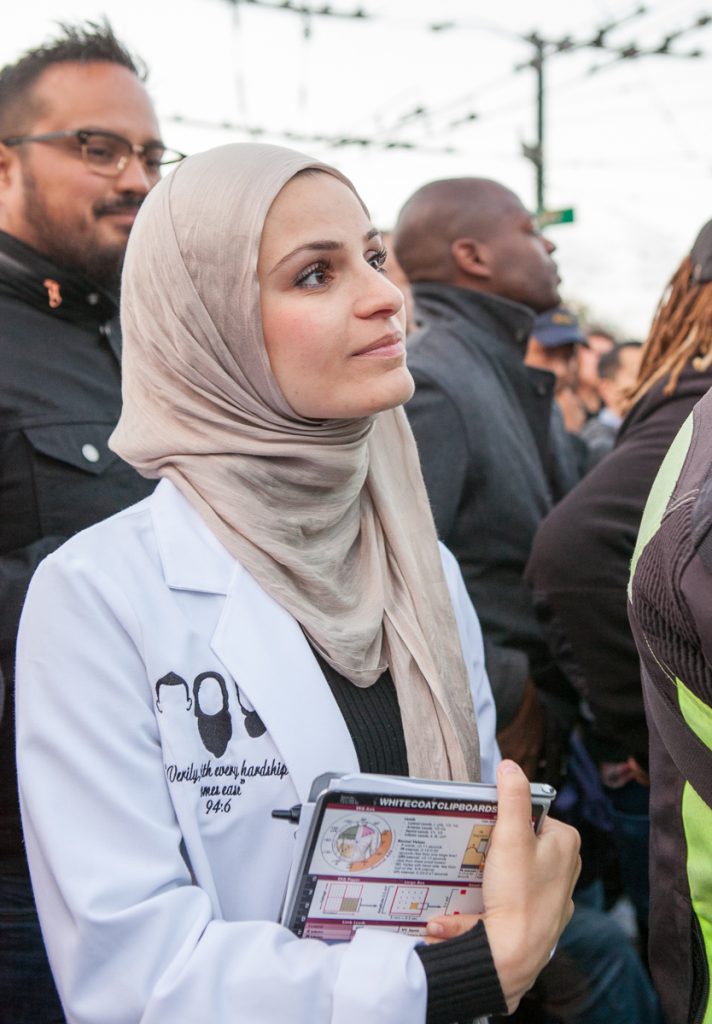 [Image: Dr. Suzanne Barakat, wearing a hijab and white lab coat, watches the vigil. On her coat is a verse from the Qur'an: "Verily, with every hardship comes ease" (94:6).]
It was made clear at this event that Islamophobia would not be tolerated. San Francisco General Hospital physician Suzanne Barakat gave moving testimony about losing her brother and members of his family to a hate crime. Clergy members, including the Sisters of Perpetual Indulgence (a real order of queer nuns), also called for not only prayers, but action.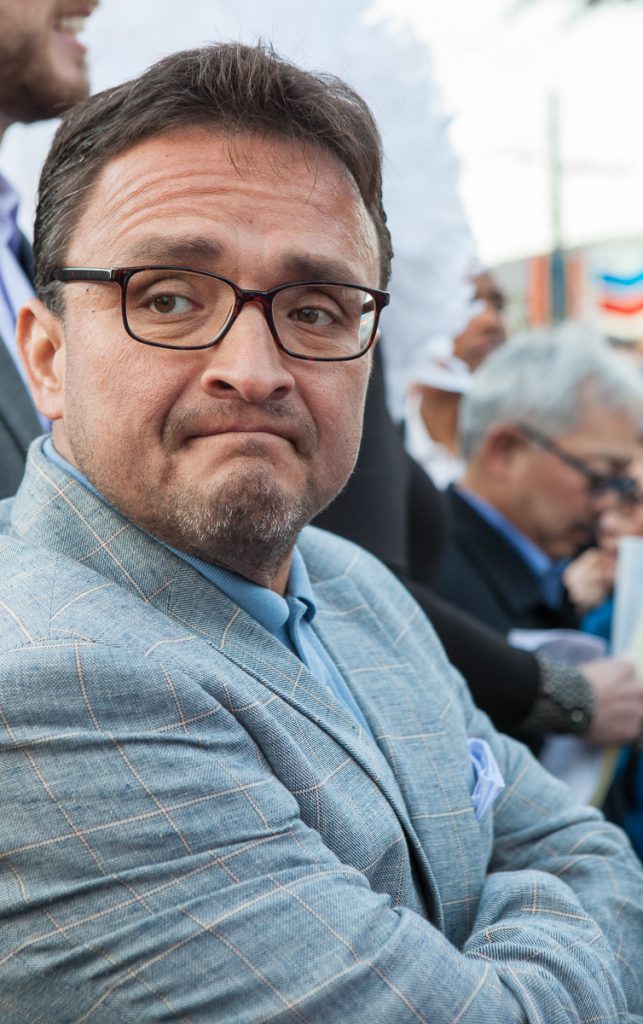 [Image: San Francisco Supervisor David Campos waits to speak at the vigil.]
Some elected officials attended, to mixed reaction. Latino supervisor David Campos was generally well-received. (A group of Latinx speakers complained that they were not initially invited to speak at the rally, and had to ask to be included.) Castro supervisor Scott Wiener got a more lukewarm reception. Then at one point, the audience began chanting "WHERE'S THE MAYOR? WHERE'S THE MAYOR??" Mayor Ed Lee (along with a few other officials) took the stage shortly after, and when he attempted to speak, the audience booed him very loudly. Although our mayor certainly has a lot to answer for, I couldn't help feeling that the booing was a bit harsh, given the solemnity of this occasion.
A highlight of the event for me was hearing former Supervisor and Assemblyman Tom Ammiano, who I'd photographed (along with several others present) previously at marriage equality rallies. Ammiano described himself as an "old queer," and he clearly gave no fucks about respectability. The first words out of his mouth were "Fuck the NRA." Then, referring to the allegation that the Orlando shooter was motivated by seeing two men kissing, he launched into a spontaneous kiss-in with the (all male) officials gathered on stage. I really wish I could have gotten photos of this moment, but I couldn't even see what was going on; hopefully someone has it on video.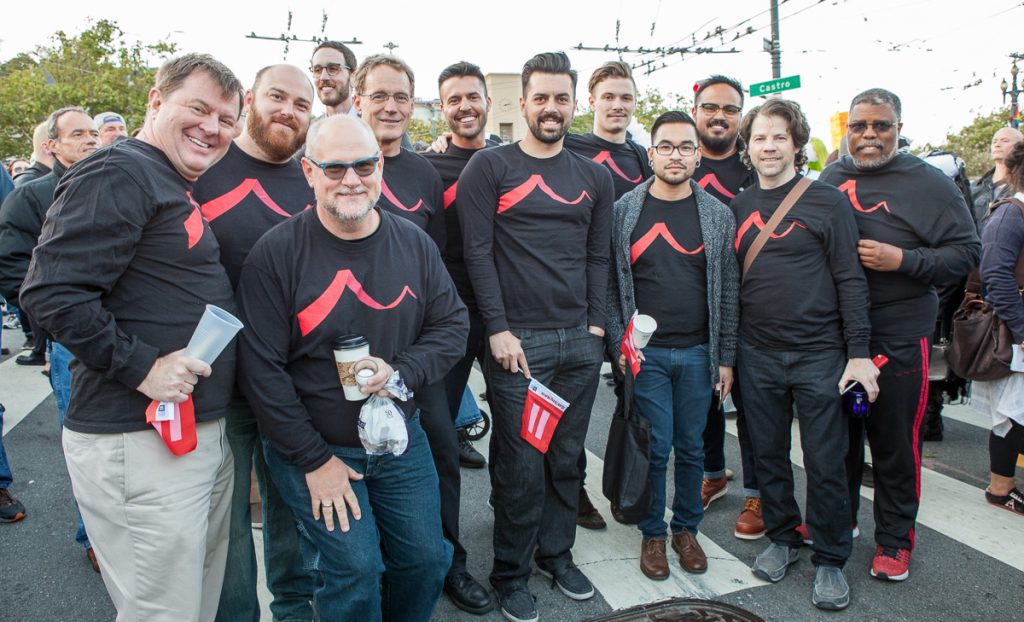 [Image: Members of the San Francisco Gay Men's Chorus pose for a group picture at the vigil for Orlando in the Castro.]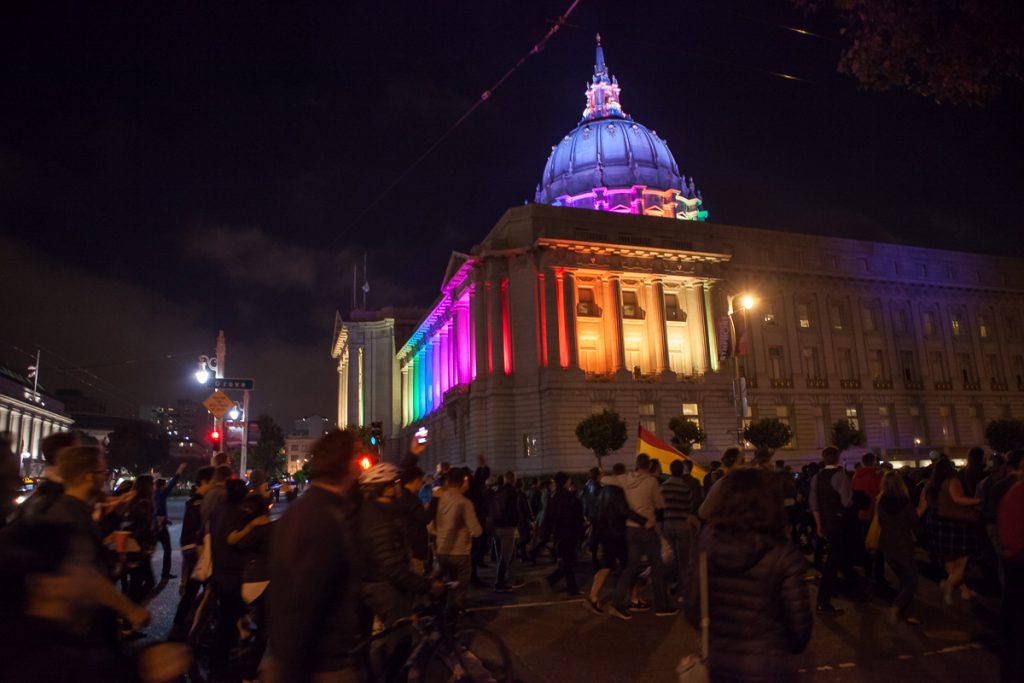 [Image: Marchers walk to San Francisco City Hall, which is lit up in the colors of the rainbow.]
Members of the San Francisco Gay Men's Chorus closed the vigil with several beautiful songs, including a sing-along and a rendition of We Shall Overcome. We then marched to San Francisco City Hall, which was appropriately lit up in rainbow colors. I didn't know that there would be a march, but was not entirely surprised, just not sure I was prepared to walk six (total) miles. But it was on my way home anyway, and probably faster than waiting for a bus, given the street closures.
I'd walked to the Castro many times before, to attend rehearsals with the Lesbian/Gay Chorus of San Francisco. As I walked last night, I thought about our 2013 performance of Harvey Milk: A Cantata. There's a line in that piece where a soloist sings while the rest of us whisper his words:
If a bullet should enter my brain

Let that bullet destroy every closet door.
We will not be silenced.
My full set of photos from the vigil is on Flickr. Please credit me as Pax Ahimsa Gethen if you use any of them, thanks.