[Image: A crowd in the Castro attends the HonorThemWithAction vigil.]
On Monday I attended a gathering in the Castro to honor the victims of the Pulse nightclub massacre, which occurred one year ago in Orlando. This San Francisco event was part of a nationwide "HonorThemWithAction" campaign. It was organized by Day of Decision San Francisco, a group that has organized a number of rallies related to marriage equality and other LGBT+ issues, so I recognized a number of people there.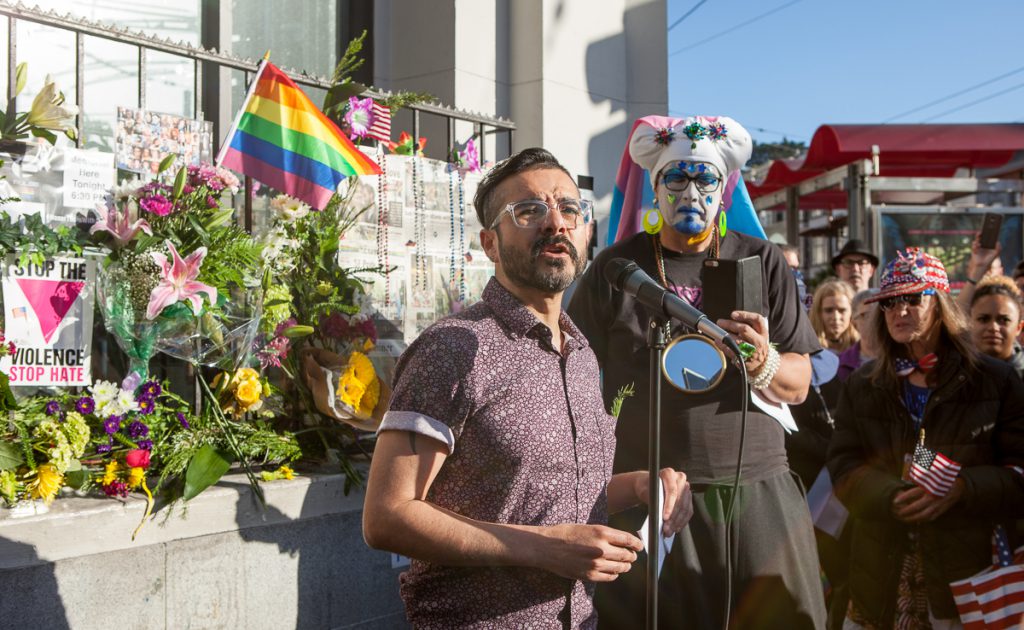 [Image: Ruben Martinez gives opening remarks, while Sister Merry Peter watches.]
Unlike last year's vigil on the night of the shooting, the street was not closed, so we crowded on the sidewalk at the corner of 18th and Castro. I was concerned that it would be a white-dominated event, but then Ruben Martinez gave opening remarks in Spanish and English. (ASL interpretation was also provided).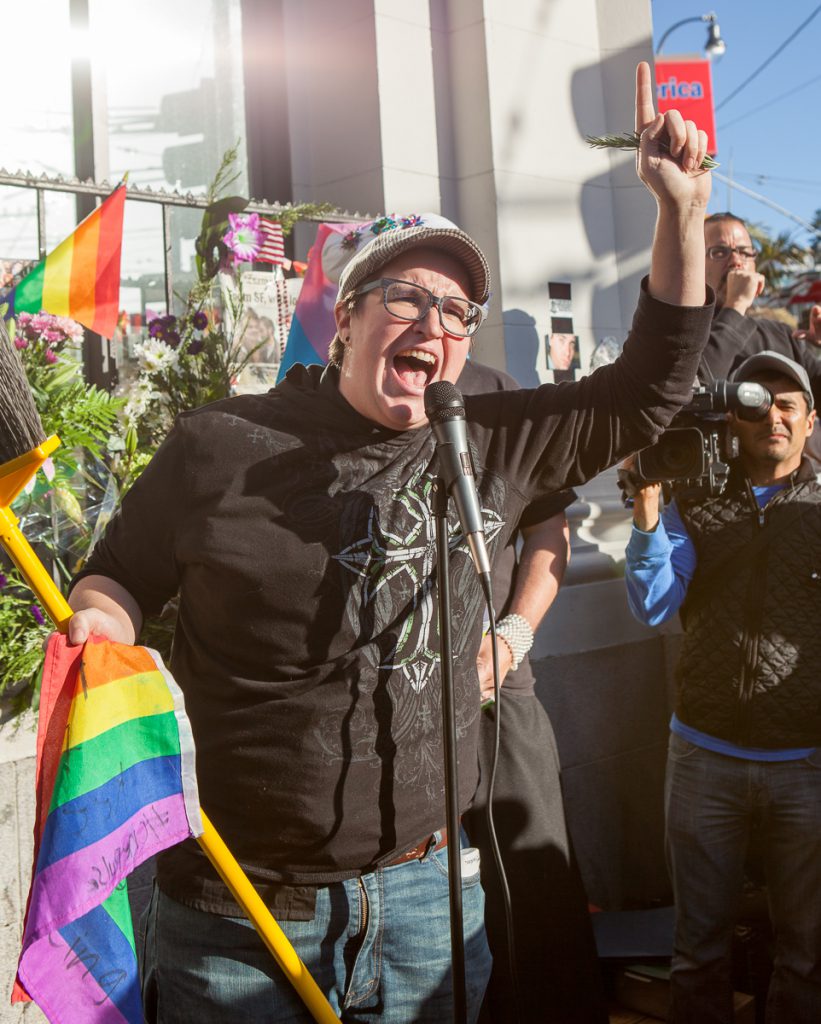 [Image: Pastor Megan Rohrer speaks at the vigil.]
Pastor Megan Rohrer then gave a blessing and other remarks, which included shouting into the microphone, "Out of the bars and into the streets!"  I recognized Megan from marriage equality events, but didn't realize that they are also openly transgender and non-binary. Their inclusive ministry is one example of why I am willing to work with (some) religious officials and organizations, despite being a long-time atheist.
[Image: Sister Merry Peter speaks at the vigil.]
Sister Merry Peter of the Sisters for Perpetual Indulgence then led  a reading of the names of the 49 killed at Pulse, also putting in a mention for victims of the Ghost Ship fire in Oakland, and for the many transgender people (overwhelmingly women of color) murdered this year. As a microphone was passed around, I read out three of the names myself, calling on my limited knowledge of Spanish to pronounce the names  correctly (as most of the victims were Latinx).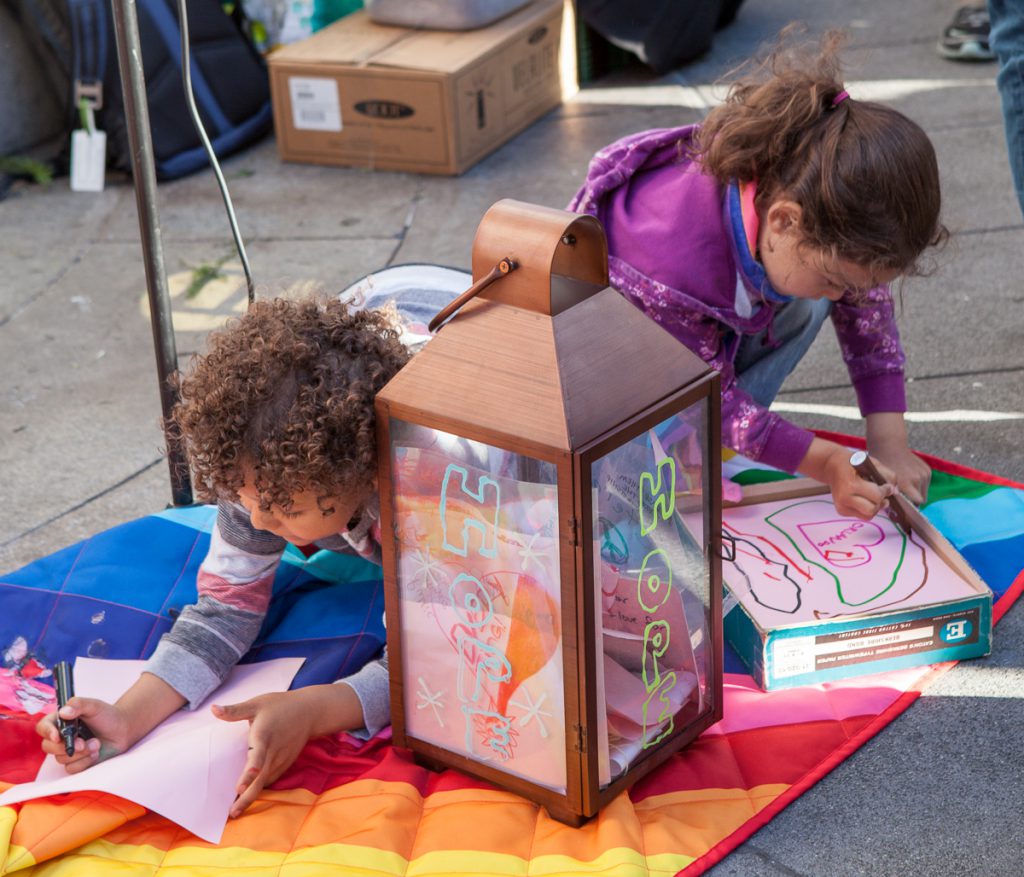 [Image: Young children draw with markers at the vigil.]
The mic was then opened to whoever wanted to speak. After listening to several others, I decided to take a turn. Here is what I said, to the best of my recollection:
Hey y'all, I'm Pax, it stands for peace (*flashes peace sign*). I'm usually behind the camera, so I think this is the first time I've taken the mic at one of these things.

I wanted to give a shout-out to all my fellow transgender and non-binary people. I'm actually agender, but I've transitioned from female to male for legal purposes, because non-binary gender identities are not seen as legitimate by 99.44% of the human population. I hope to change that.

Your genders are legitimate. Your names are legitimate. Your pronouns are legitimate. Your choice of which restroom to use is legitimate. Don't let anyone tell you otherwise. Don't allow yourself to be erased. Thank you.
A few more people spoke, including San Francisco Supervisor Jeff Sheehy (who I believe was not an invited speaker, just another attendee). Then Sister Merry took the mic again, and sprinkled the crowd with "fairy dust" (ashes from burnt offerings). Extra dust was provided in little bags for people to take with them.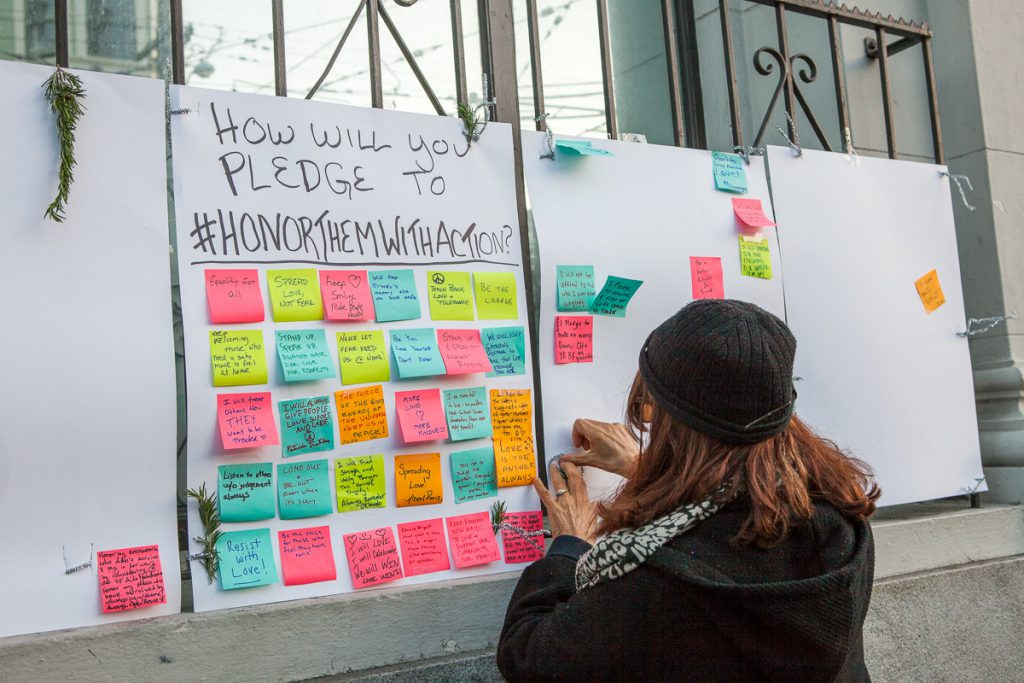 [Image: A person attaches a note to a whiteboard reading "How will you pledge to #HonorThemWithAction?]
A whiteboard was provided for people to post notes of how they would take action to honor the victims. I wrote on my note, "Honoring authentic identities with words and pictures," which is what I'm doing with this blog post. A couple of people also thanked me for my words after the event, so I was glad I spoke out.
My full set of photos from the event is available on Flickr. Some of my photos are also on Wikimedia Commons (alongside photos from other contributors). Please credit me as Pax Ahimsa Gethen if you use any of my photos, thanks.