[Image: Participants in the Indivisible SF "Flashmob for Truth" stand with Russian dolls resembling Donald Trump, Mike Pence, and Jared Kushner.]
On Saturday I attended yet another anti-Trump rally in San Francisco, organized by Indivisible SF as part of the nationwide March for Truth. While rebranded as a "flashmob" since the organizers weren't able to get a permit to march on the street, we did have a "sidewalk procession" from the Powell Street cable car turnaround to Justin Herman Plaza.
[Image: Protesters gather at Powell and Market, holding signs.]
The original purpose of the March for Truth was to protest the lack of transparency regarding alleged Russian interference in the presidential election and Trump's tax returns. But Trump's recent stated intention to withdraw from the Paris Agreement was also criticized. A few signs also referenced the silly "Covfefe" tweet.
[Image: A protester holds a sign reading "Truth Not 'Covfefe'".]
Organizers led the crowd in a singalong of John Lennon's "Gimme Some Truth" (played through a woefully inadequate speaker, but they did pass the bucket for donations to get better equipment). This was repeated midway through the march as well as at the end. St. Gabriel's Celestial Brass Band provided excellent music for the event.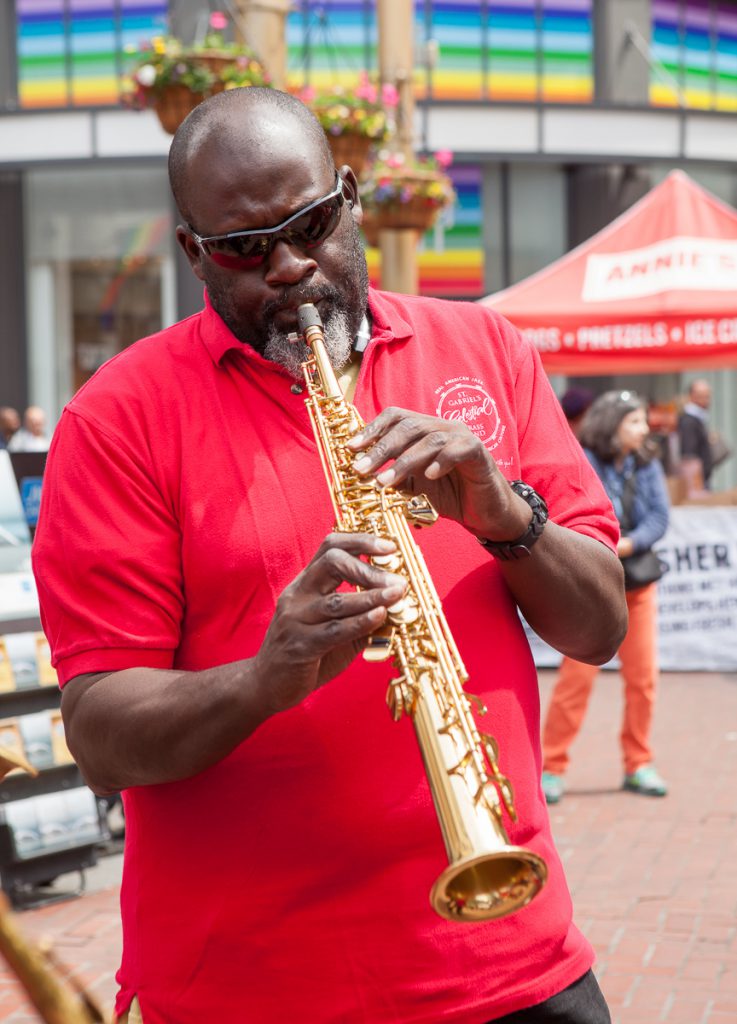 [Image: A member of St. Gabriel's Celestial Brass Band plays a soprano saxophone.]
Upon reaching Justin Herman Plaza, organizers dressed like FBI agents unveiled a set of Russian dolls, representing Trump, Mike Pence, Jared Kushner, Carter Page, Michael Flynn, and Vladimir Putin. Each was given a "Department of Corrections" name and number, in hopes of their impending arrest. As I posted on Facebook today, I'm not a fan of the prison-industrial complex. But if Trump is ultimately found guilty of high crimes, I think a suitable punishment for him would be house arrest and revocation of all Internet access.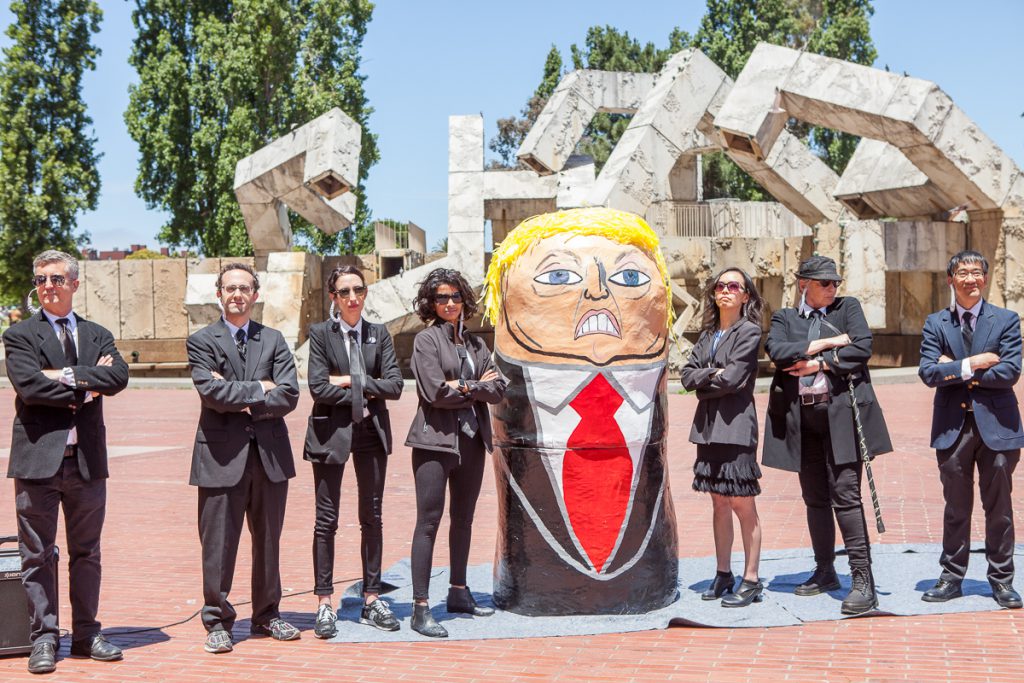 [Image: Protesters dressed like FBI agents stand with a Russian doll resembling Trump.]
[Image: A protester lifts a Russian doll resembling Vladimir Putin out of a Russian doll resembling Michael Flynn.]
While I enjoyed the creativity of the costumes and Russian dolls, I couldn't help feeling depressed during the march itself. I've lost count of the number of these protests I've attended, and I'm honestly not sure they're making any real difference. After all, we're in an era where a politician can flat-out assault a reporter, with multiple witnesses, and still be elected to Congress the next day (yes, I know there were absentee ballots involved, but that doesn't account for all of the votes). And meanwhile the bigot-in-chief merrily tweets away, using the tragic death of others to appease his base and advance his own agenda.
For now, I'm just going to continue documenting the resistance, but I think real civil disobedience will be necessary to put a stop to this administration. As always, I cannot and will not condone violence, but safe, polite marches in liberal cities are not going to be enough. (When our mostly-white marchers waved at tourist buses passing by, I raised my fist in a power salute. For whatever that's worth.)
My photos from the event are available on Flickr. Most are also on Wikimedia Commons (alongside photos from other contributors). Please credit me as Pax Ahimsa Gethen if you use any of my photos, thanks!