[Image: Activists Joshua Allen and CeCe McDonald speak in front of a screen showing their images and the words "black excellence tour".]
Yesterday I was still feeling very shaky and sleep-deprived after the election results, and was tempted to either stay home and rest or go out to join a demonstration. But I had committed to attending the Black Excellence Tour, featuring black activists CeCe McDonald, a trans woman who was imprisoned in a men's facility for defending herself, and Joshua Allen, a gender non-conforming organizer and abolitionist.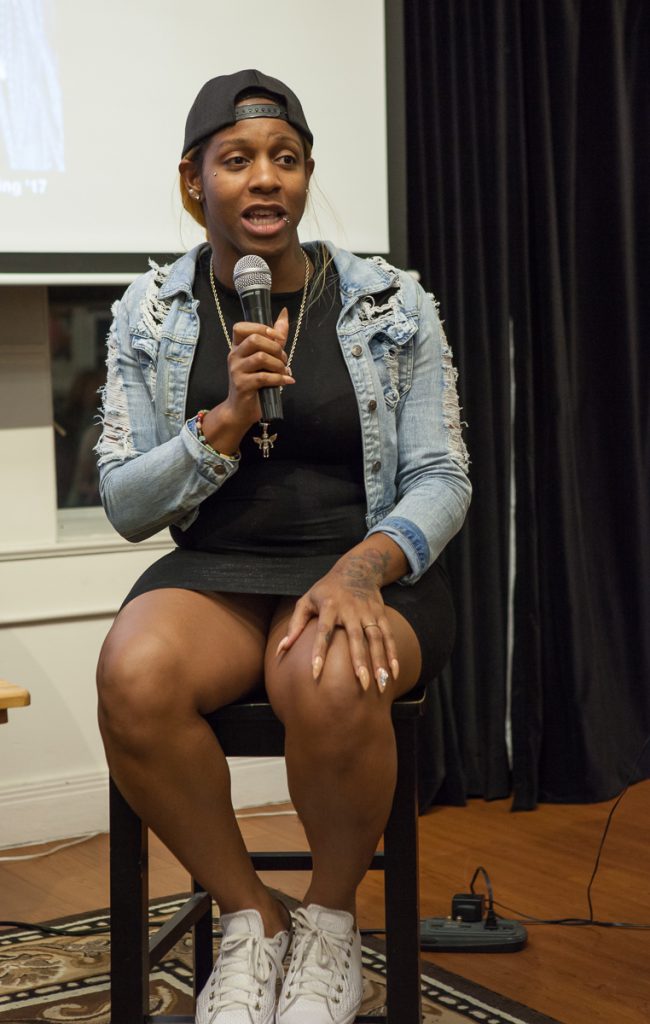 [Image: CeCe McDonald speaks into a microphone.]
I had first seen CeCe speak at the Trans Day of Remembrance last November; my photo of her speaking there is currently featured on her Wikipedia page. She is the subject of the documentary Free CeCe, which I'm attending tonight at the San Francisco Transgender Film Festival. I contributed to the fundraiser for this film, which also features Laverne Cox of Orange is the New Black; CeCe was Laverne's inspiration for her character on that show.
Hearing CeCe talk the day after the election was a great reality check. She said that she woke up that morning "unbothered"; with all the oppression she and folks like her have faced, including under the Obama administration, it was "just another day" to her.
CeCe is a woman who gives no fucks about respectability politics. She said we need to respect the people with their pants down around their knees and the heroin users as much as any other folks. This was especially poignant given the talk's location in San Francisco's Tenderloin district. The venue, Faithful Fools, offers ministry and services for the people in that troubled area. I had a good talk with Sam Dennison, one of the residents and workers there.
[Image: Joshua Allen speaks into a microphone.]
Joshua Allen spoke about their activism for queer, trans, and gender non-conforming people, and the intersections of gender, race, and class, especially with regard to policing. I asked them a question about how to cope with being non-binary in a binary world. They replied that they had hope for change, and that if others tried to force their "gendered apparatus" on us then that was their problem, not ours.
I'm very glad I went to this event, and spent time in the company of queer and trans people of color. We need each others' support, now more than ever.
My full set of photos from the event is available on Flickr. Please credit me as Pax Ahimsa Gethen if you use any of them, thanks!
ETA: A video of the event has now been posted.