[Image: Screenshot from NBC News of Donald Trump speaking in Iowa, with the caption "What did Donald Trump think of the third night of the DNC?" A quote from Trump reads, "I wanted to hit a couple of those speakers so hard… so hard their heads would spin they'd never recover."]
Last night, along with the rest of the world, I watched the election returns come in with a growing sense of dread and disgust. Unlike many of my friends reacting on Facebook with shock and horror, however, the result was not entirely surprising to me. This country was built on a foundation of exclusion and oppression of everyone except for straight cisgender white Christian men, and those are the people who Trump correctly predicted constituted the "silent majority" that would carry him to victory.
Although I did not endorse or vote for Hillary Clinton, I don't want to talk about her flaws, perceived or actual. I don't want to talk about e-mail servers or Wikileaks or Russian interference or what might have happened if Bernie Sanders had been the Democratic candidate. And I definitely don't want to talk about third party "spoilers". Anyone blaming or shaming progressives who voted for third parties, or who didn't vote at all, needs to keep your comments out of my space.
The only thing I want to address right now is that millions of US-Americans voted for a man who ran on a campaign of unbridled bigotry, bullying, and blatant dishonesty. The people who say they want to "Make America Great Again" are thinking of a time when people like me—a queer black trans atheist—were invisible and openly oppressed, and ridiculed with impunity without any fear of repercussions. A time when joking or bragging about sexually harassing women was more socially acceptable, inside or outside of locker rooms. A time when religious freedom applied only to people practicing different flavors of Christianity.
This oppression and invisibility and rape culture never actually went away, which is what many of those who were shocked with the election results didn't understand. You all need to understand it now. Donald Trump is the product—the very embodiment—of white supremacy. His people have spoken, and they want to "take back" a country that they never actually lost in the first place.
I am not willing to take this result quietly. I am a pacifist, but not passive; I support loud, angry protests and civil disobedience. Last night, people in a number of cities took to the streets, and that will continue today and likely for the forseeable future. This will not be a peaceful transition of power.
In the meantime, for anyone in the LGBT+ community who is feeling suicidal, please know that there is help out there.  You can call the Trans Lifeline at 877-565-8860 or the Trevor Project at 866-488-7386. Our community is under attack, but we are resilient, and we will get through this if we have each others' backs.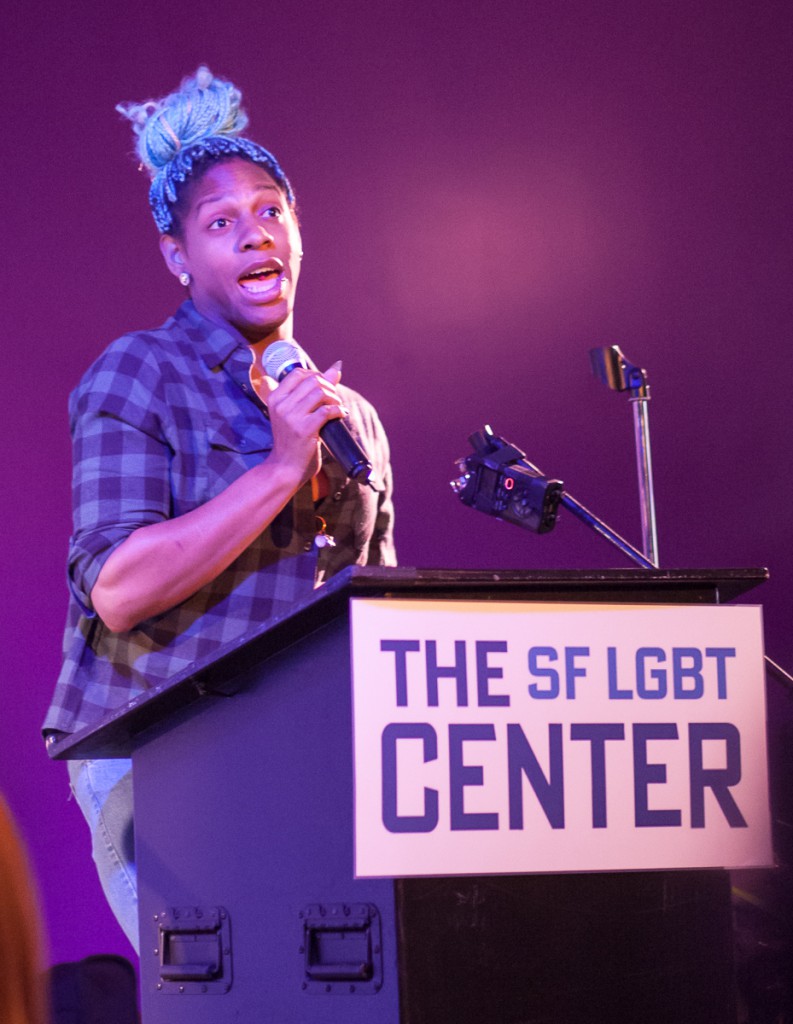 [Image: CeCe McDonald speaks at the Trans Day of Remembrance, SF.]
I had already planned to spend time with fellow black trans people (and our allies) over the next two days, tonight at the Black Excellence Tour with CeCe McDonald and Joshua Allen, and tomorrow night at the Free CeCe documentary that opens the San Francisco Transgender Film Festival. I will have to miss the Trump protests in San Francisco and Oakland tonight, but it's important for me to be with some of the people who are most impacted by his bigotry.
I am not OK. I was not OK before the election, and I don't know if I ever will be OK in the future. If you want to support me, please amplify the voices of the marginalized people who have been speaking out against institutionalized oppression all along. Make our country great, for the first time.