[Image: Overhead view of the main exhibitor area at the Cowspiracy conference, David Brower Center, Berkeley.]
Yesterday I attended Cow-Con, a conference devoted to sustainability and vegan activism, from the makers of the Cowspiracy documentary. The packed event featured concurrent talks running from 11 a.m. to 7 p.m. without any formal break periods, followed by a panel discussion. I attended six of the the talks, and took some photos.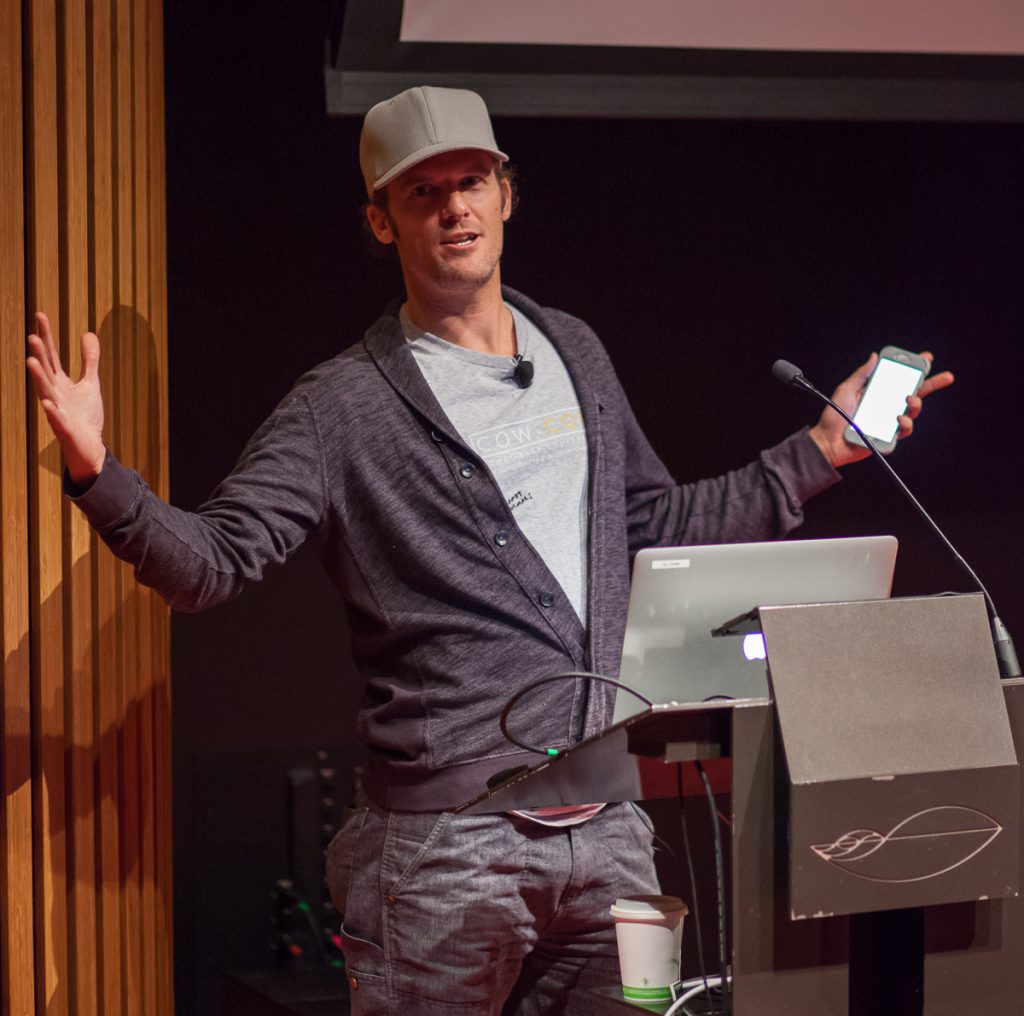 [Image: Kip Anderson speaks at the Cowspiracy conference.]
[Image: Keegan Kuhn speaks at the Cowspiracy conference.]
I'd first watched Cowspiracy at a screening in the fall of 2014, and enjoyed it so much that I went to a second screening and bought the DVD directly from the producers and directors, Kip Anderson and Keegan Kuhn. A new cut of the documentary, executive produced by Leonardo DiCaprio, was later released on Netflix; I have not (yet) watched that version.
[Image: Colleen Patrick-Goudreau speaks at the Cowspiracy conference.]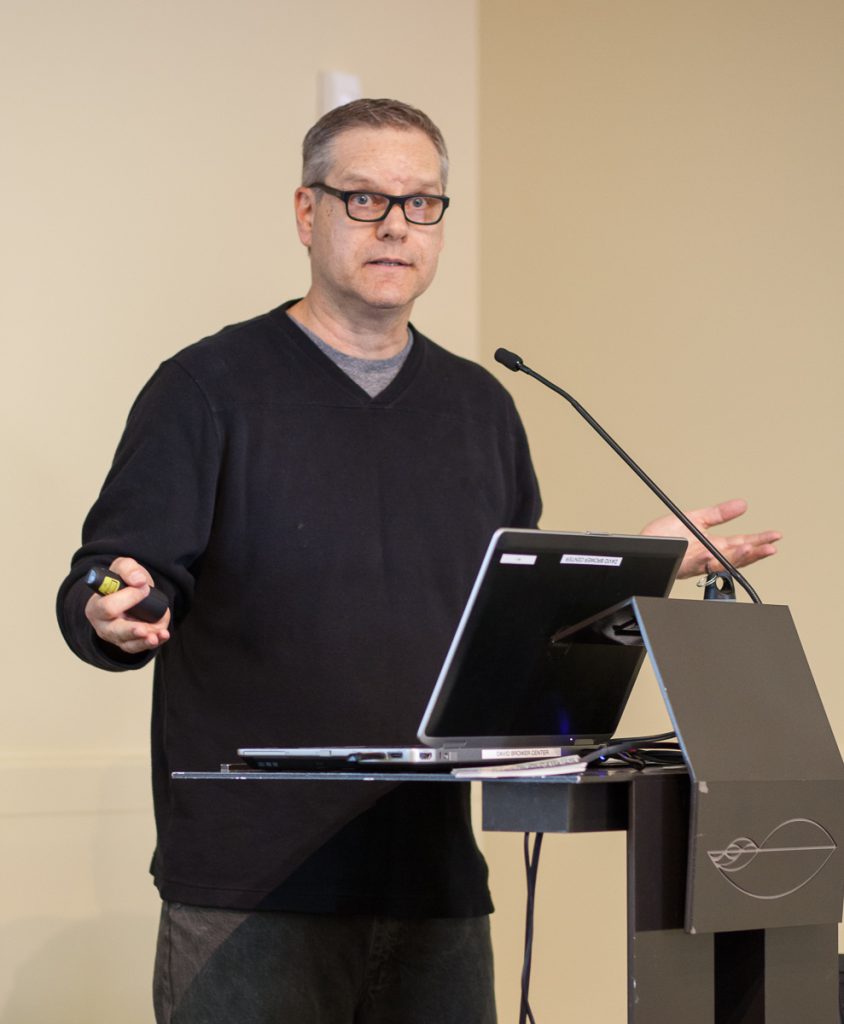 [Image: Mark Hawthorne speaks at the Cowspiracy conference.]
While Cowspiracy focused primarily on the environmental destruction caused by animal agriculture, I was pleased that most of the speakers I watched at the conference addressed the ethical aspects of veganism. Colleen Patrick-Goudreau talked about using compassion rather than aggression to be a more effective vegan activist. Mark Hawthorne gave a sobering picture of the dreadful harm inflicted upon animals raised for food, clothing, and entertainment. Marji Beach spoke movingly about the residents of Animal Place sanctuary.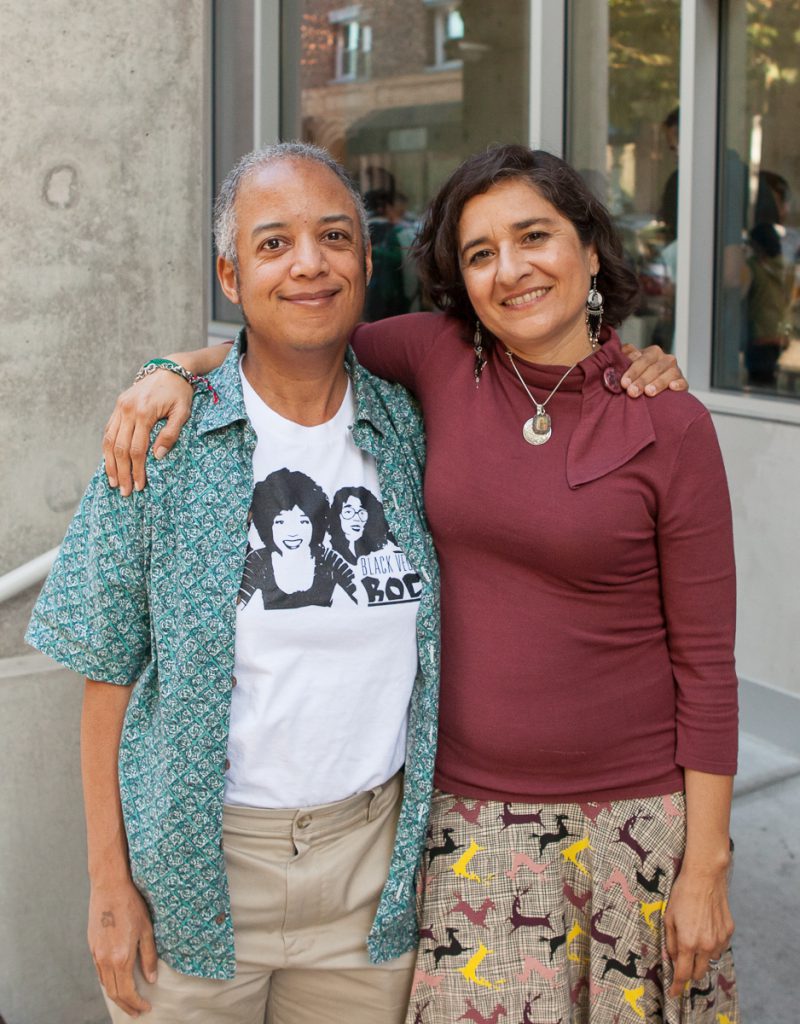 [Image: Pax stands with lauren Ornelas. Photo by Mark Hawthorne.]
But the main reason I attended this conference was to see my friend lauren Ornelas. I've written frequently about her great work with the Food Empowerment Project, and her activism not only for our fellow animals, but for humans marginalized by race, gender, class, and other factors. In her Cow-Con presentation, lauren talked about the F.E.P.'s work to help farm workers and to combat child labor and slavery in the chocolate industry. She also argued that because every animal values their own life, taking their bodies, babies, eggs, or milk from them is inherently unsustainable. (lauren and I will both be presenting at the Vegan Soul Wellness Fest this Saturday in Oakland.)
lauren was one of only a couple of people of color speaking at this conference. Since getting woke, I've become a lot more sensitive to racial dynamics in both online and offline spaces, especially in the "animal whites movement". Cow-Con felt like a white-centered event to me, not just in optics (as we must be wary of purely cosmetic diversity) but in tone as well.
One example: In the opening talk by Cowspiracy star and co-producer/director Kip Anderson, he stated that just being vegan isn't being an activist. He said that Leonardo DiCaprio, who is not vegan, has done more a lot more to help animals than vegans who just sit home on the couch and do nothing.
This activist-shaming rubbed me the wrong way, especially coming from one able-bodied, cisgender white man in reference to another such man who is also an A-list celebrity. I explained in "Dear marginalized vegans" why it is harmful to pressure vegans into "doing something" for the animals without recognizing the challenges they might face in their daily lives.
I'm not saying that Kip is racist; though some argue that all white folks are racist, all men are sexist, all humans are speciesist, etc., that's not my point here. I just want activists to acknowledge their privileges and not shame other vegans. Simply committing to unwavering veganism, and not being apologetic about it, is advocacy as far as I'm concerned; whether "advocacy" qualifies as "activism" is a matter of semantics, and ultimately a divisive debate.
As I'm still dealing with depression and dysphoria and staying home most of the time, I was overwhelmed by the crowds at this conference, and left before the final panel discussion (which consisted of four white men). Regardless, I'm glad to have spent a few hours in an all-vegan space, and glad the event was sold-out and had many attendees from outside of the already vegan-friendly San Francisco Bay Area.
I didn't take a lot of pictures (there were at least two official photographers present anyway), but I've posted my full set of photos to Flickr. Please credit me as Pax Ahimsa Gethen if you use any of them, thanks!