[Image: Partial headshot of Pax with the words: Pax Ahimsa Gethen | queer * black * trans * vegan * atheist | blogger * photographer | gender & animal liberation | pronouns: they * them * their]
Tomorrow will be the one-year anniversary of this blog. Though I later imported and backdated a couple of entries from my old blog, my first official post was on July 2, 2015. Since then, I've posted 187 entries, and my blog has had over 19,000 visitors and over 30,000 views.

[Image: A screenshot with the title "All-time posts, views, and visitors" and the text "Posts: 187; Views: 30,066; Visitors: 19,104; Best views ever: 1,859, June 3, 2016."]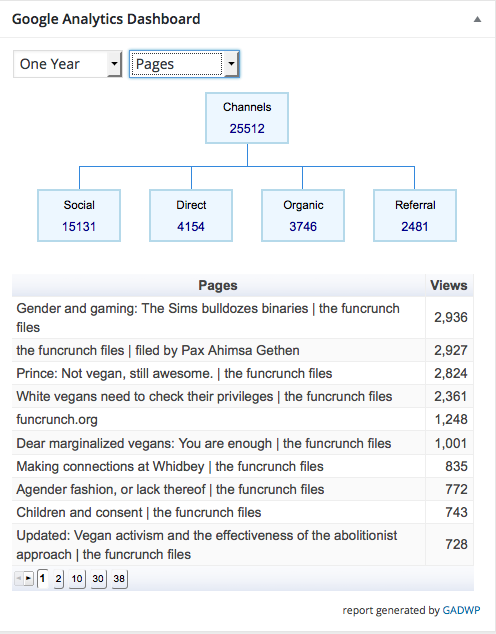 [Image: A screenshot with the title "Google Analytics Dashboard" and a list of page titles and numbers.]
As with my Flickr photos, my most popular entries do not necessarily correspond with what I consider to be my best work. My most popular entry to date was about the expanded gender customization options in The Sims video game. This got a large number of hits solely because I shared it with popular vlogger Kat Blaque on her Facebook page, and she shared it with her readers. I need to write a follow-up entry now that I've played with the updated game more, as in my initial excitement I failed to realize that the game does still enforce the gender binary in significantly problematic ways.
My second most popular post, on Prince's vegan diet (or lack thereof), was posted the day after his death, and continues to get a steady trickle of hits and occasional comments. I've added updates to that post as I've learned new information, which I've also helped incorporate into Prince's Wikipedia page. But really, part of my point in the post was that we shouldn't focus on vegan celebrities so much, so I'd rather people read my other posts about speciesism and animal rights.
My third and fourth most popular entries were on the important theme of oppression, especially anti-black racism, in the vegan movement: "White vegans need to check their privileges" and "Dear marginalized vegans: You are enough." Both received a larger number of comments than usual for my entries, including several negative for the former, all of which I published (I generally publish all comments that are not obvious spam or trolling). I got a fair amount of praise and thanks for the latter, which Sarah K. Woodcock of The Advocacy of Veganism Society also invited me to read aloud for her podcast.
For more of what I consider to be my most important blog posts, see my "Best of 2015" round-ups of animal rights and gender-related posts. Too soon to do a round-up for 2016, but I think "Dear marginalized vegans" will make the list.
If my words or pictures have educated, entertained, or moved you in any way, please consider supporting me with a Patreon sponsorship or one-time tip. Free photography isn't free to produce, and writing takes time and effort as well. So if you like my work and have the means, any amount you can give would be appreciated. Thank you to my sponsors, past and present, whether you've contributed one dollar or over a hundred.