[Image: Screenshot from Pax's Flickr account, with the current total number of views, 1,000,045, circled.]
Today, my Flickr account reached a milestone: One million views of my photos. While I've been on Flickr for nearly ten years and some celebrities probably have millions of views every day, it's still a fun number to celebrate, so in this post I'll tell the story behind each of my ten most popular photos on Flickr.
Now, my Flickr account, unlike my photography web site and professional galleries on Zenfolio, contains a mishmash of casual snapshots, screenshots, and photos taken of me by other people, in addition to some of my professional photos. (I began posting all of my photos to Flickr last summer; before that, I kept my professional work primarily on Zenfolio, and posted some personal photos only on Facebook or Google+.) So as it turns out, two of my top ten viewed photos were not taken by me, and five of them are not photos at all. As a skilled photographer I find this irritating, but also amusing, given the nature of the content.
[Image: Screenshot from Pax's Flickr account, heading "All Time views", with columns showing photo thumbnails and the number of views, favorites, and comments.]
1, 2, 3, 8, 9: FarmVille levels 22, 20, 29, 36, 28
Numbers one, two, three, eight, and nine on my top ten list are screenshots from the Zynga game, FarmVille, which I played from 2009-2010. For those of you who were fortunate enough to miss this phenomenon, the original version of FarmVille was a crudely animated but extremely popular Facebook game, where players grew and harvested crops in "real" time. Animal farming was also involved, which I'm now firmly against even though no animals were killed in this typical pastoral fantasy.
I started playing FarmVille solely because my friend and music teacher Steve Kirk, a very talented musician and video game composer, wrote the original theme song for it. Here's a video I shot of him performing the complete song live:
I'm guessing that my screenshots were popular because I put some effort into making my farm look attractive and realistic, rather than just planting the highest-value crops to level up quickly. I was also fairly active on the game's forum for a time. Regardless, I grew sick of it after a few months and ultimately blocked all Zynga games on Facebook, as that company relies on players spamming their friends to gain popularity.
4: Stradivarius cello, detail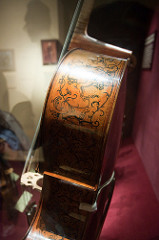 [Image: Side view of a cello, showing ornate detail.]
I photographed this Stradivarius cello at the Museum of American History on the first day of 2009, during a trip to Washington, D.C. with Ziggy. From a technical standpoint, I really don't think this is a good photo; in contrast, the photo I took of the violin in the same display case is much better (and, to be fair, just missed the top 10 list, at number 11). But people seem to like the cello, so there you go.
5: Mayan Palace pool
[Image: Pax relaxing in a large outdoor swimming pool.]
Ziggy snapped this swimsuit photo of me during our honeymoon in Puerto Peñasco, Mexico, October 2004. I'm not surprised at this photo's popularity given that I tagged it with "cleavage," for reasons that should be obvious. As I've posted previously, unlike the vast majority of transmasculine people I've encountered, I've never had a problem with my breasts. When I was heavier, I showed them off frequently. I only hide them in public now because most people assume that anyone with visible breasts must be female.
I'm not ashamed of this or any other photo that shows off my body. I'm only sad that I haven't been in a pool or any other body of water since I started my hormonal transition two years ago. Though I can't swim, I do miss hot-tubbing. But I can't bathe topless or fully nude safely unless I'm in a private space with a group of trusted friends.
6. Sculpture at UCSF Mission Bay
[Image: A large green geometric sculpture inside an office building.]
I shot this sculpture in 2005 while I was working for UCSF Public Affairs and taking video footage of the then-new UCSF Mission Bay campus. This photo was shot with the still mode of the video camera I was using, and the graininess is evident even to the untrained eye. The white balance is also off. Regardless, this photo has more "favorites" than any other I've posted to Flickr. I'll give the sculptor, Liz Larner, all due credit for this.
7. Ziggy and [Pax] at Swingers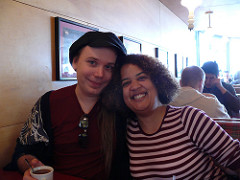 [Image: Ziggy and Pax sitting together in a restaurant, smiling.]
My friend Amy shot this photo of Ziggy and me while we were visiting her in Los Angeles in 2007. (The original title, as with many of my Flickr photos, contains my birth-assigned name; please do not mention it here.) The restaurant we were visiting is named Swingers. Most of the people searching for that term must have been disappointed to find this photo in the results. As a consolation prize, Ziggy and I are, in fact, polyamorous. Though swinging is normally associated with heterosexual couples swapping partners, the distinction between swinging and polyamory is a matter for endless debate.
10. Short shorts
[Image: Pax standing in front of vertical blinds, looking to the side, wearing shorts and a deep-necked T-shirt.]
At last, a photo I'm actually proud of! I took this self-portrait in 2009, when I was in the process of losing weight, and pleased with my figure. I liked this photo so much that I included it on an early version of my business cards, but others convinced me that it wasn't really appropriate for the kind of photography services I was advertising.
Here again, I'm not ashamed of my body, including the prominent nipples visible in this photo. I never liked wearing bras, though I usually did so in public before my transition, reluctantly. I would still wear low-cut shirts like this if they didn't guarantee that I'd be misgendered as female.
So there's my top 10. If you'd like to see more Flickr photos that I'm personally proud of, rather than screenshots of video games, check out my Best of 2011 and Best of 2012 sets. And if you like my work and want to support my efforts, please consider sponsoring me on Patreon or leaving me a tip. Thanks!