[Image: Pete Forsyth and Pax speak about transgender issues at the Wikimedia Foundation. Photo by Ziggy.]
Last night, Ziggy and I attended the inaugural Bay Area WikiSalon at the Wikimedia Foundation headquarters in San Francisco. When I was first alerted to the event (via my Wikipedia watchpage), I was intrigued by one of the featured guests: Kris Lyseggen, a photojournalist who would be speaking about her book, The Women of San Quentin: Soul Murder of Transgender Women in Male Prisons. I signed up for the event, and downloaded a sample of the book to begin reading it.
Concerned by a callous remark made on the event's discussion page, I contacted one of the organizers, Pete Forsyth, who I knew from the Wikipedia 15 birthday celebration earlier this year. Pete, Kris, and I all ended up meeting, and agreed that we would have a panel discussion, moderated by Pete and including myself, Kris, and her husband, child psychiatrist Herb Schreier. I included one of the slides from my recent presentation on gender diversity, to give basic definitions of terms such as transgender and cisgender.
While I felt somewhat unprepared and frazzled (especially after being misgendered by the building security guard), I was grateful for the opportunity to educate more people about transgender issues. I also expressed my frustration with the constant vandalism and disruptive editing on Wikipedia, particularly on the Genderqueer and Cisgender pages. Several people asked questions during and after the event, which I did my best to answer, and I pointed them to the links page on my blog for further reading.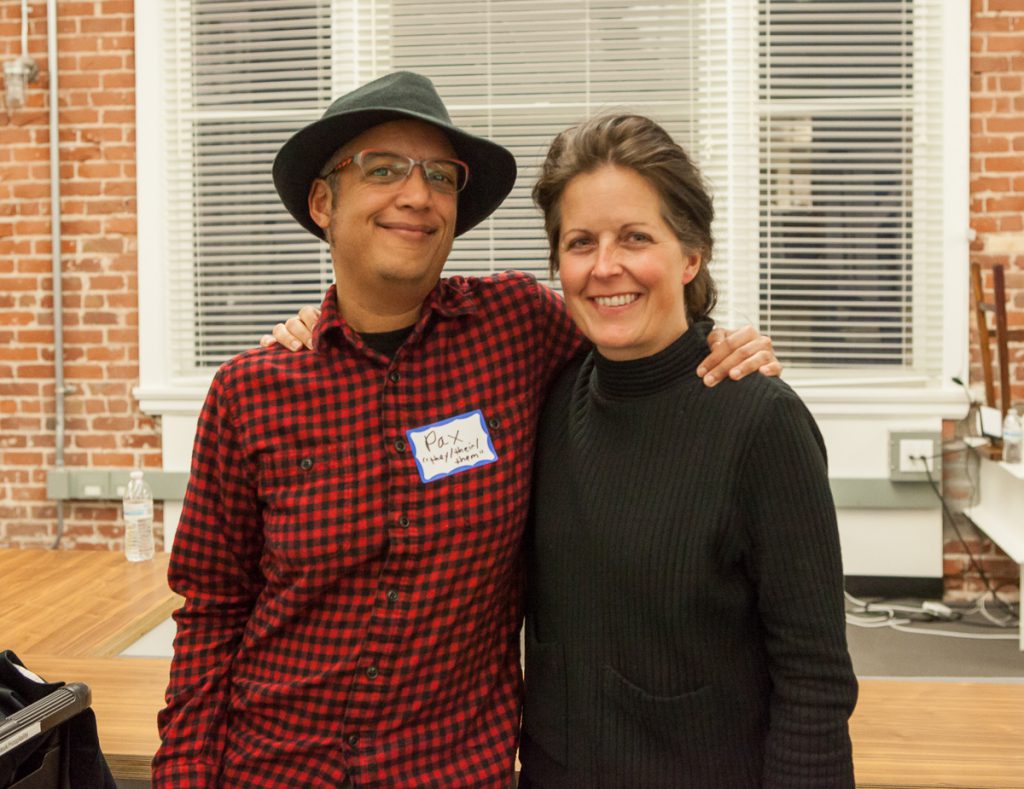 [Image: Pax with Kris Lyseggen. Photo by Ziggy.]
Kris presented a slideshow about the subject of her book: Trans women in male prisons. I read the entire book before last night's event. It was moving, heartbreaking, and infuriating. I had to keep putting it down because it was so emotionally difficult for me to read about these women having every ounce of dignity stripped from them. This book, in conjunction with all the police brutality faced by cis and trans people of color in the USA, seriously made me want to join the prison abolition movement.
[Image: Herb Schreier speaks at the salon. Photo by Ziggy.]
In his portion of the presentation, Herb talked about working with young trans children, and the criteria used to determine if they were ready to transition. He explained the harm of forcing trans children to live as their assigned sex. I asked him a clarifying question about what transitioning meant, because there's a lot of people spreading misinformation about children being given genital surgery or other irreversible treatments. He explained that transitioning meant social changes (name and gender) and, at the right age, hormone blockers.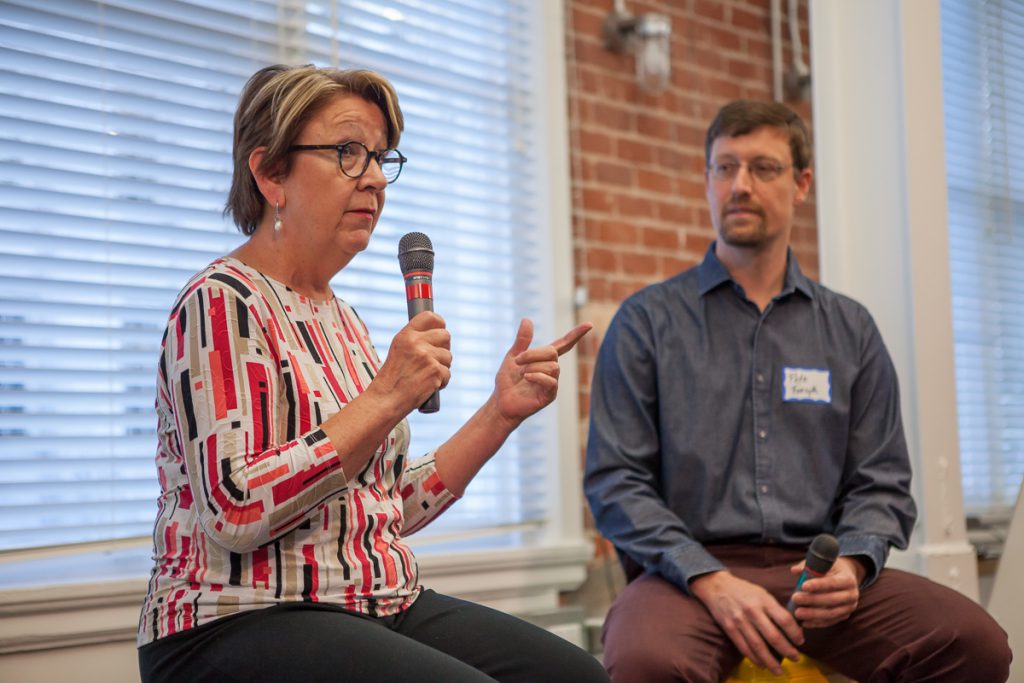 [Image: Research librarian Jan Patton speaks with Pete Forsyth at the salon.]
The other topic for the evening was a report on a high school Wikipedia edit-a-thon. Research librarian Jan Patton spoke about getting kids excited about editing an online encyclopedia. While she spoke, I thought of the printed World Book Encyclopedia set that my parents splurged on when I was in elementary school, back in the 70s. Instant online access to virtually any topic is a luxury I didn't have until long after graduating from college.
Of course, many people throughout the world still do not have on-demand Internet access. (Projects like Wikipedia Zero are trying to help bridge that gap, although they have attracted criticism from net neutrality activists.) But it is great that school-age kids are now able to not only access an encyclopedia online, but actually contribute to it, instantly.
[Image: A Nikonista takes a photo of a Canonite.]
I've uploaded a few photos that Ziggy and I took at last night's event to Flickr, as well as to Wikimedia Commons (the latter gallery may contain others' photos as well). The Bay Area WikiSalon will be an ongoing monthly event, with opportunities for collaborative editing and casual discussion as well as formal topics, so locals should check it out.
ETA 5/14: Videos of the salon are now available on YouTube as well; the transgender panel is here, with closed captions provided by me.