[Image: Lila Tretikov, executive director of the Wikimedia Foundation, speaks into a microphone in front of a screen displaying the words "Share. Inspire."]
This January 15 marked the 15th birthday of Wikipedia, one of the most popular web sites on the Internet. I've been a volunteer editor on that site for over seven years, and have been increasingly active lately, especially on the LGBT Studies project. I've also donated a small amount of money to their annual fundraising drive in recent years, as I read Wikipedia pages on a daily basis. So when I saw a banner on my list of watched pages announcing a birthday celebration here in San Francisco, I signed up to attend.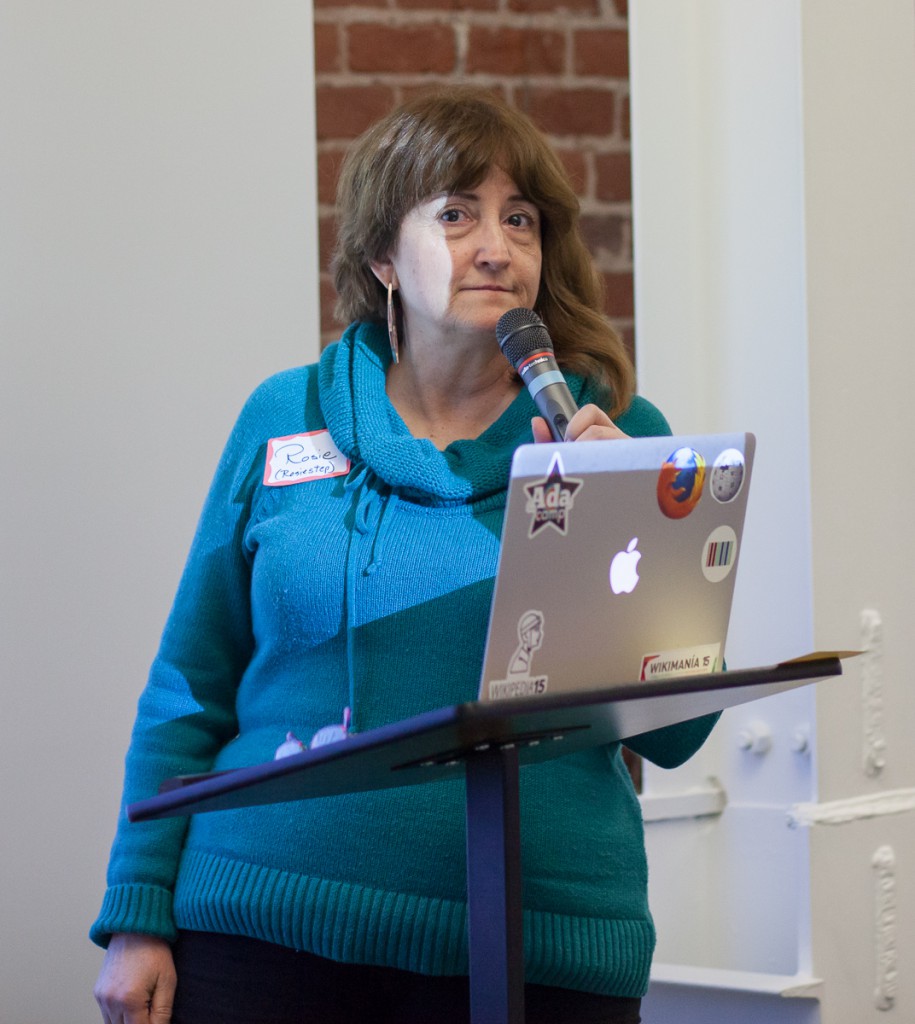 [Image: Event emcee Rosie Stephenson-Goodknight, presenting on the content gender gap, holds a microphone while standing in front of a laptop.]
One of the presentations was on the "content gender gap": The lack of Wikipedia articles on women and issues of concern to them. I've been dealing with similar frustrations regarding accurate coverage of trans people and non-binary gender identities, as non-binary erasure* is a significant concern of mine. One of the presenters, Emily Temple-Wood, mentioned that coverage of trans health issues on Wikipedia is a disaster, which I agree with.
[Image: Britta Gustafson and Stuart Geiger share a laugh while presenting in front of a projection screen.]
The event had more lighthearted moments, including a nostalgic and humorous look at the early days of Wikipedia, 2001-2003. While I wasn't an editor on Wikipedia at that time, I've been active on the Internet since the days of Gopher and I launched my first web site in 1994, so I could appreciate the humor.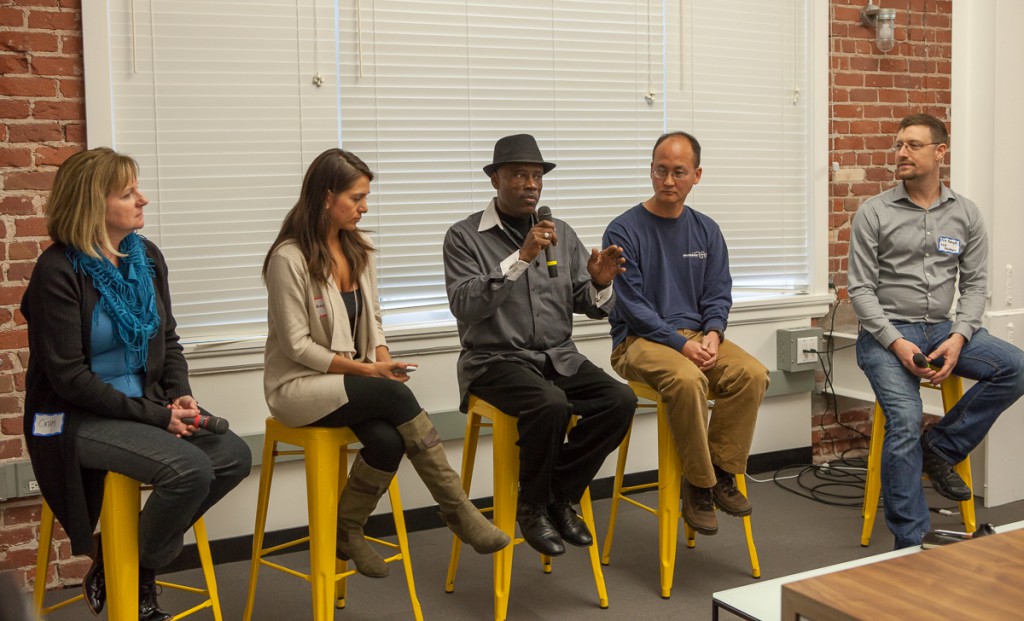 [Image: Five panelists sit on chairs; one speaks into a microphone.]
[Image: Cephus "Uncle Bobby" Johnson speaks into a microphone.]
The event concluded with a panel of speakers, moderated by Pete Forsyth, discussing the impact of 15 years of Wikipedia. As I mentioned in yesterday's post about the MLK march, one of the panelists was Cephus "Uncle Bobby" Johnson, uncle of Oscar Grant, who was killed by the BART police in 2009. He urged Wikipedia editors to consider the impact of their words on people reading their articles, as while reading the article about his nephew, he felt like Oscar was murdered all over again.
I spoke with Uncle Bobby after the event, and shared my frustrations on dealing with cisgender editors who don't understand how to write about trans people accurately, which I felt was analogous to white editors dominating coverage of events concerning anti-black racism. I explained that Wikipedia's policy of requiring reliable sources to be cited is in place for good reasons, but has the effect of shutting out marginalized people who don't have equal access to be featured in such publications.
Our lived experiences often do not reflect what is published in mainstream sources, but lived experience is considered "original research", and not allowed on Wikipedia. Again, there are good reasons for this policy, but it makes it harder to convey our truths when we share our own experiences and are accused of having an "agenda". Wikipedia requires editors to write from a neutral point of view, but in the USA, what is currently considered "neutral" is unavoidably skewed toward a white, male, heterosexual, cisgender perspective.
Attending this event made me want to learn more about the inner workings of Wikipedia, which led me to several articles in the most recent Signpost that expressed serious concerns about the Wikimedia Foundation. I'll be keeping a closer eye on these developments. Despite the flaws, I find Wikipedia to be an invaluable resource, and am glad I have the time and ability to help make it better.
I've posted my full set of photos from Wikipedia 15 to Flickr, as well as to the Wikimedia Commons (the commons gallery contains photos and videos from other attendees as well).
* As noted in my year-end gender post, I was pleased that after I sent feedback, both the MTV account creation page and the most recent Wikipedia annual survey added an "Other" option to their gender question.