[Image: Marchers hold a banner with an image of Martin Luther King Jr. and the words "Reclaim King's Radical Legacy."]
Yesterday I joined hundreds of Bay Area activists in a march from downtown Oakland to Emeryville, for the conclusion of 96 hours of direct action to reclaim the radical legacy of Martin Luther King, Jr. As with Friday's action in San Francisco, I witnessed many inspiring sights and speeches, and once again helped hold space while activists shut down a major intersection.
[Image: A crowd of people, two holding signs reading "Iranian queers for black resistance" and "White queers for black resistance".]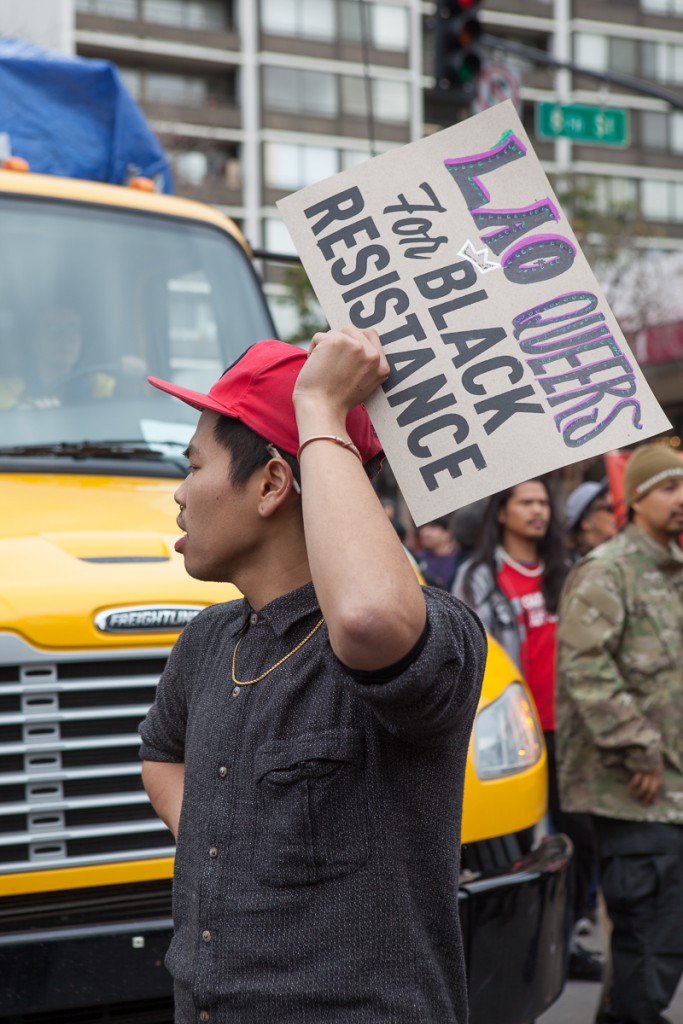 [Image: A marcher holds a sign reading "Lao queers for black resistance".]
[Image: Marchers hold a banner reading "We're here we're queer we're overthrowing white supremacy – Quagmire". ]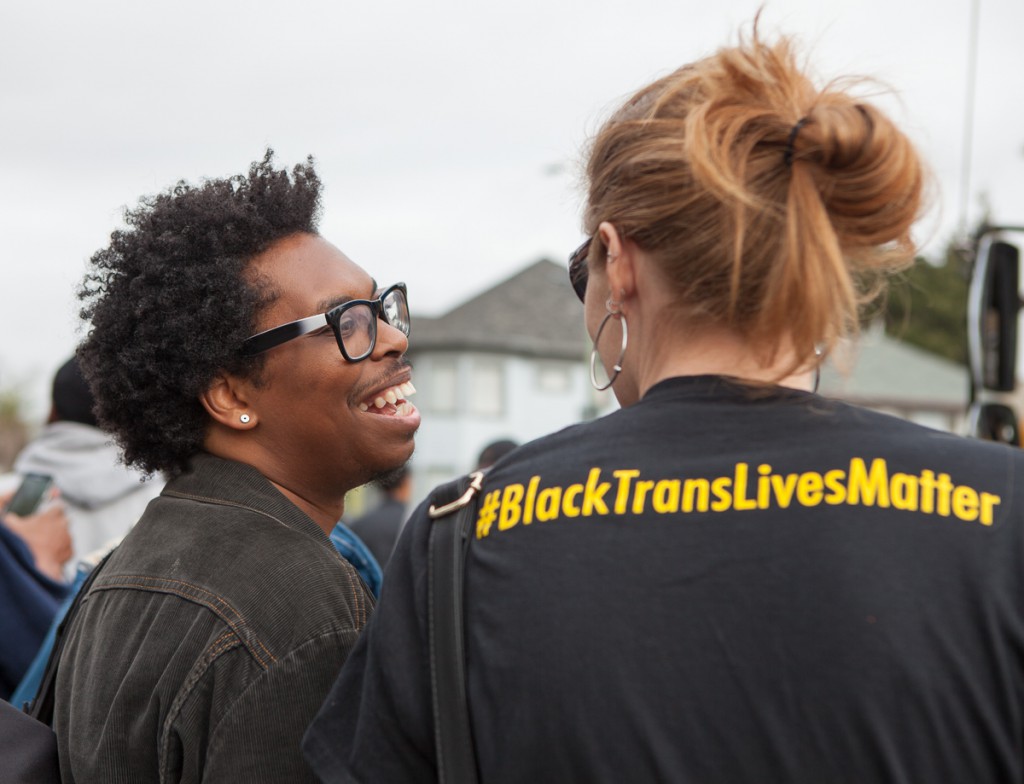 [Image: Two marchers share a laugh. One wears a shirt reading #BlackTransLivesMatter on the back.]
I was impressed and empowered by the turnout of queer and trans people of all backgrounds. The message was clear: Black Lives Matter is for all black people, not just straight cisgender men.
[Image: Pancho smiles at children, showing them a message reading "On Mondays I practice silence, but I'd like you to know that I love you."]
I saw a few familiar faces at the event, including Pancho who I volunteered with at the (now closed, sadly) Free Farm. My friend and fellow animal liberation activist Saryta marched with me the whole way; I'll be blogging soon about her great book, Until Every Animal is Free.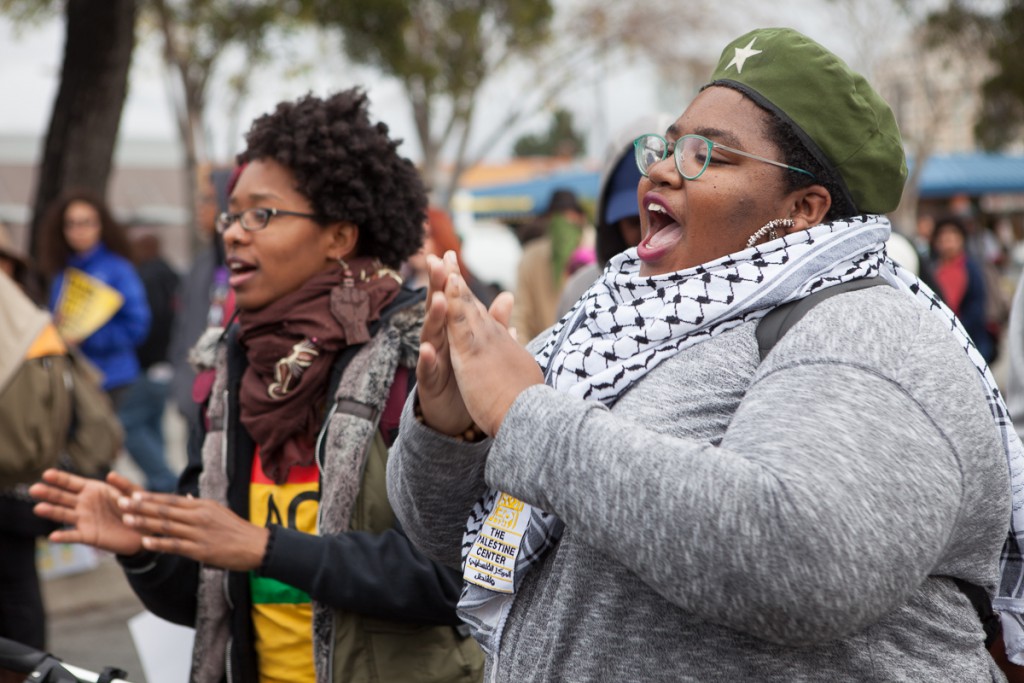 [Image: Two marchers sing and clap their hands.]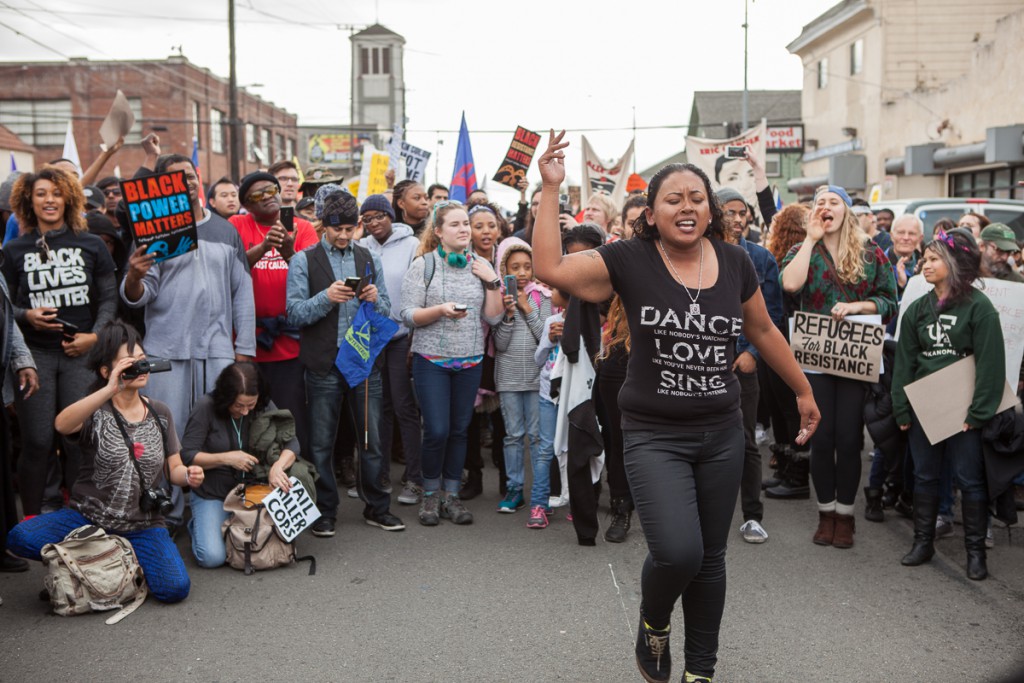 [Image: A crowd cheers on a dancer at a stop during the march.]
While the theme of black resistance was serious, the mood along the march route was often festive, with singing and dancing on multiple occasions.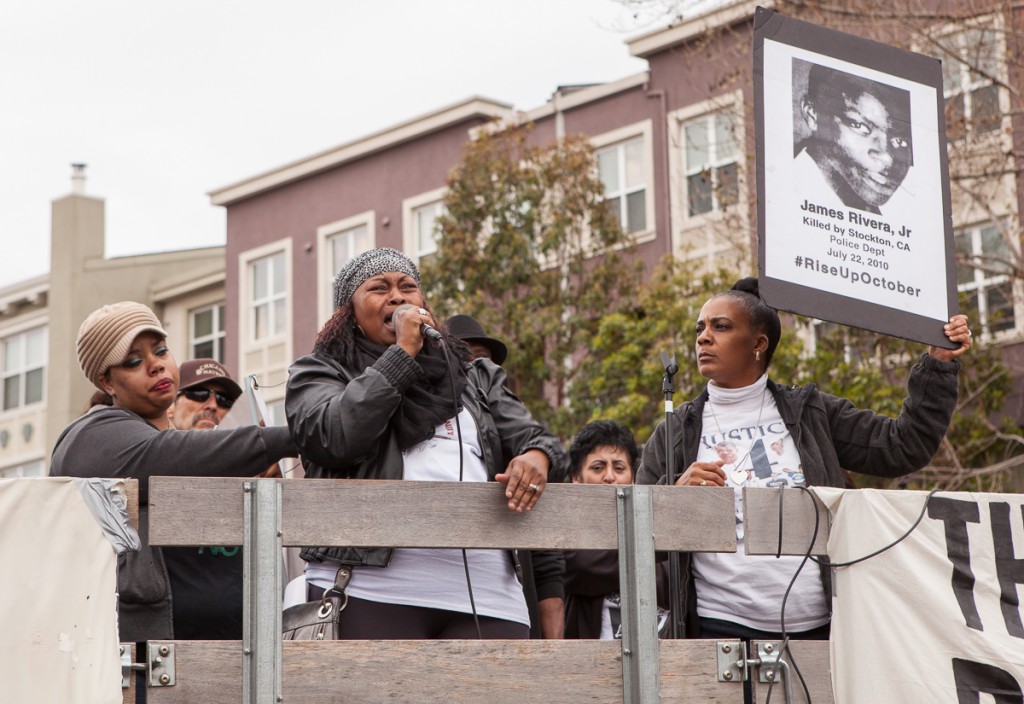 [Image: A woman looks distraught as she speaks into a microphone. Another consoles her, while a third holds a photo of the speaker's son, reading "James Rivera, Jr – Killed by Stockton, CA Police Dept July 22, 2010 – #RiseUpOctober"]
The march ended in Emeryville, a city of concrete and shopping malls. The truck stopped near the Shellmound, where marchers blocked traffic and held space at this sacred burial site for the Ohlone people. Here, mothers who had lost their children and husbands to police violence spoke out. One of them pointed to members of the crowd, saying "You could be next."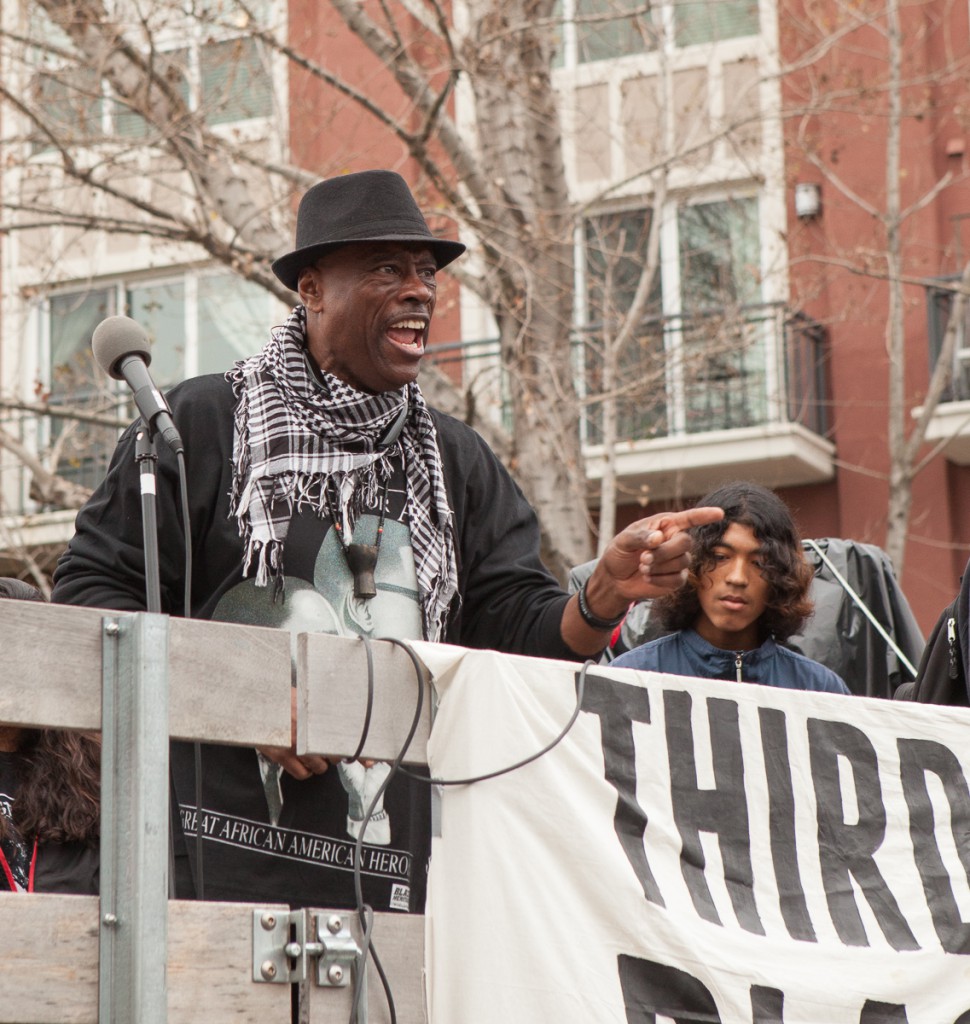 [Image: Cephus "Uncle Bobby" Johnson speaks out about the police killing of Oscar Grant.]
One of the final speakers was Cephus "Uncle Bobby" Johnson, uncle of Oscar Grant, whose 2009 killing by the BART police was the subject of the movie Fruitvale Station. I'd just met Uncle Bobby two days earlier at the celebration of Wikipedia's 15th birthday, where he stated that the initial Wikipedia coverage of his nephew's shooting "murdered him all over again." (I'll write more about the Wikipedia event later this week.)
While we were gathered at the Shellmound, we learned that the black queer liberation collective Black.Seed had successfully shut down the Bay Bridge. When I saw photos posted on Facebook, I realized that I'd met one of their activists, Thea, at Black Queer Voices Rising last year; I was happy to hear of more queer black people speaking truth to power.
I've posted my full set of photos from the march to Flickr. Please credit Pax Ahimsa Gethen if you use any of them. Glad to witness and document some of this weekend's efforts to dismantle white supremacy.