[Image: Event emcees Lexi Adsit, Mia "Tu Mutch" Satya, Shawn Demmons, and Nya (from Transcendent) stand on a stage in front of a screen reading (in part) "Trans Day of Visibility – Embracing Our Legacy. #TDOV"]
Last night I attended a San Francisco event celebrating the Trans Day of Visibility. Unlike the Transgender Day of Remembrance, which honors lives lost to trans-antagonistic violence, the TDoV—an annual, international event since 2009—highlights the vibrance and vitality of the transgender community.
[Image: The Singing Bois – three singing into microphones, one playing guitar – perform on stage.]
[Image: Opera singer Breanna Sinclairé – the first trans woman to sing the national anthem at a pro sporting event –  sings into a microphone on stage.]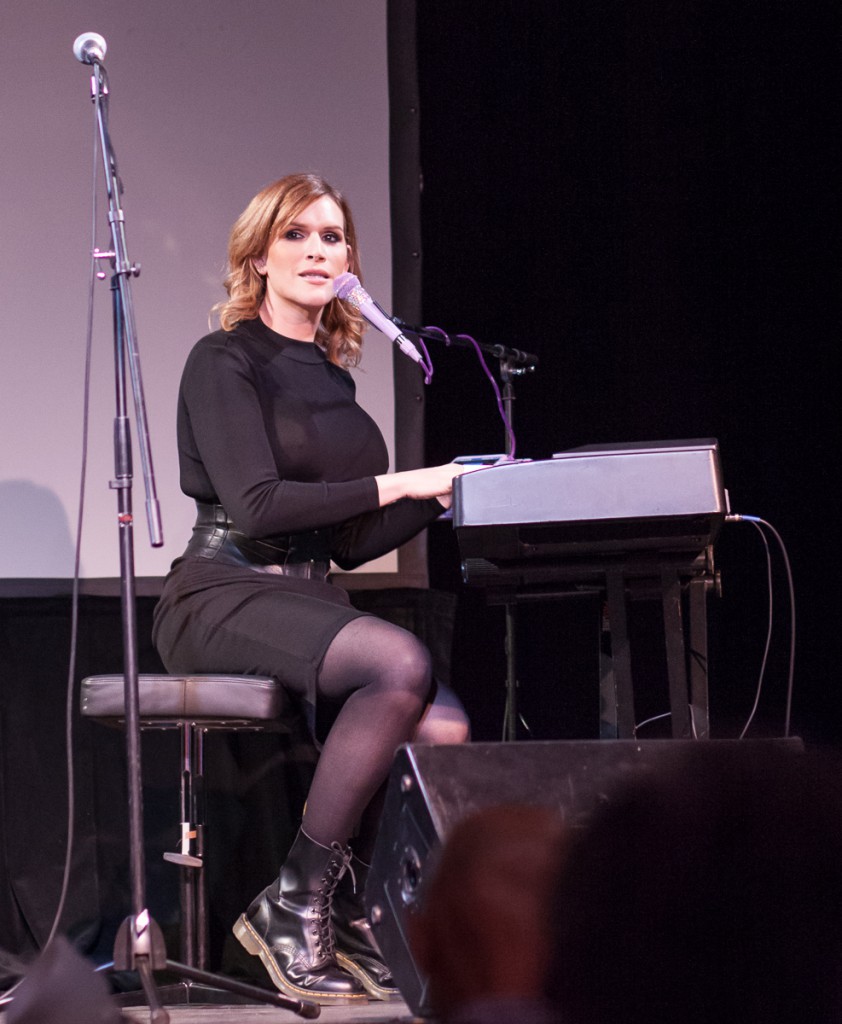 [Image: Our Lady J (the first openly transgender writer for Transparent) sings into a microphone while playing keyboards.]
This event featured video presentations, comedy, and musical performances. Awardees for 2016 were the Fresh Meat Festival, Ms. Billie Cooper, St. James Infirmary Clinic, Annalise Ophelian and StormMiguel Florez for the documentary film MAJOR!, and—to her surprise and delight—HIV/AIDS awareness activist Tita Aida.
[Image: Tita Aida speaks into a microphone while holding a trophy on stage. Others on stage are smiling in the background.]
As uplifting as events like this can be for the trans community, violence is the flip side of visibility. The non-binary performance art duo Darkmatter had some sobering words to say about TDoV on Facebook; in part:
On this day of trans visibility so many of us are left uneasy and conflicted. Yes, of course, visibility has been helpful and transformative. But visibility is not the same thing as justice. What has become increasingly evident is that the system is, in fact, much more willing to give trans people visibility than it is to give us compensation, resources, safety.
Telling our own stories is part of how we can dismantle the cisnormative framing of gender, and counter the ignorance, hatred, and fear that lead to discrimination and violence.
My full set of photos from TDoV SF is available on Flickr. Please credit me as Pax Ahimsa Gethen if you use any of them, thanks!