[Image: Protesters at the Impeachment March hold banners reading "impeachdonaldtrumpnow.org".]
Yesterday I attended yet another anti-Trump protest, the Impeachment March. Held in cities throughout the country, the San Francisco contingent gathered in Justin Herman Plaza for a rally before marching along the Embarcadero, a nice change from the usual Market Street processions.
[Image: A protester at the Impeachment March stands with raised fist.]
The tone and crowd makeup appeared similar to what I witnessed at the March for Truth: Not many black folks; a number of people sporting American flags; shout-out of thanks to the police from the stage. That's OK, but I've felt better about rallies that were more radical and/or openly socialist in nature.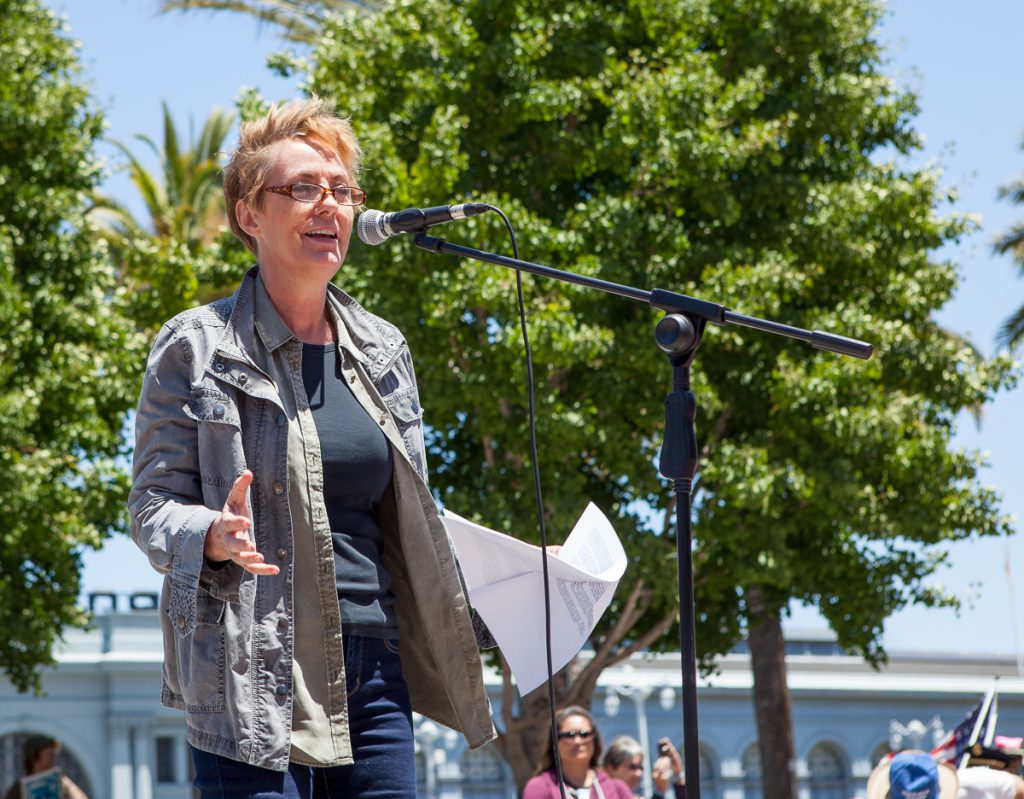 [Image: Julia Brothers speaks at the Impeachment March.]
The featured speakers were designer and actor DC Scarpelli, Alameda city councilperson Jim Oddie, activist Sita Stukes,  and actress Julia Brothers. ASL interpretation was provided. The sound quality was decent (though I wore earplugs as always).
[Image: Protesters at the Impeachment March hold various signs.]
I've now attended about a dozen anti-Trump protests since the election. I'm feeling… not burnout exactly, as I haven't spent a great deal of time or energy compared to the organizers of these rallies, but generally demoralized. I think the administration is just laughing at us while the bigot-in-chief tweets away any semblance of dignity or responsibility in serving the highest elected position in our country. It feels like a nightmare that I just can't wake up from.
[Image: The Impeachment March proceeds along the Embarcadero.]
My full set of photos from the event is available on Flickr. Most of the photos are also on Wikimedia Commons, alongside those of other contributors. Please credit me as Pax Ahimsa Gethen if you use any of my photos, thanks.