[Image: A hanging banner with the Wikipedia globe logo and the words "Wikipedia: The Free Encyclopedia".]
This past weekend, Ziggy and I attended WikiConference North America 2016 in San Diego. As I wrote previously, my abstract for a presentation on "The Transgender Gap: Trans and non-binary representation on Wikipedia" was approved, and I also received a scholarship to cover part of my travel expenses.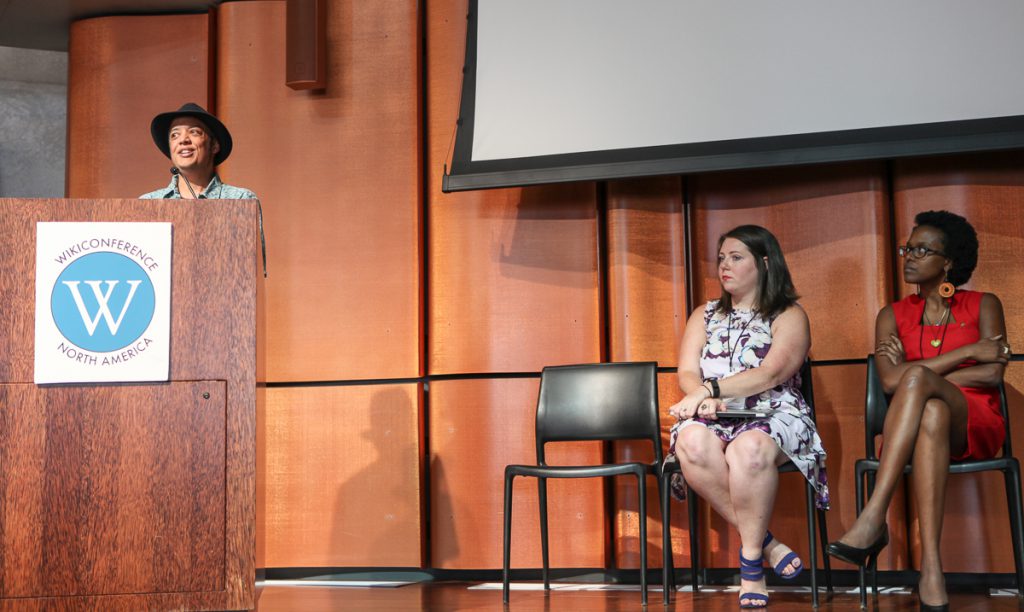 [Image: Pax speaks at a podium while fellow presenters Jami Mathewson and Wynnie Lamour look on. Photo by Ziggy.]
[Image: Wikimedia Foundation Executive Director Katherine Maher speaks at a podium.]
While I was nervous about how my talk would be received by this audience, the reception far exceeded my expectations. Numerous attendees came up to me throughout the conference, thanking me for my presentation. Those thanking me included Wikimedia Foundation Executive Director Katherine Maher, who posted about my talk on Twitter. Another attendee said that he'd be updating the software of a web site he manages for thousands of people, based on my recommendations for more accurately representing gender diversity.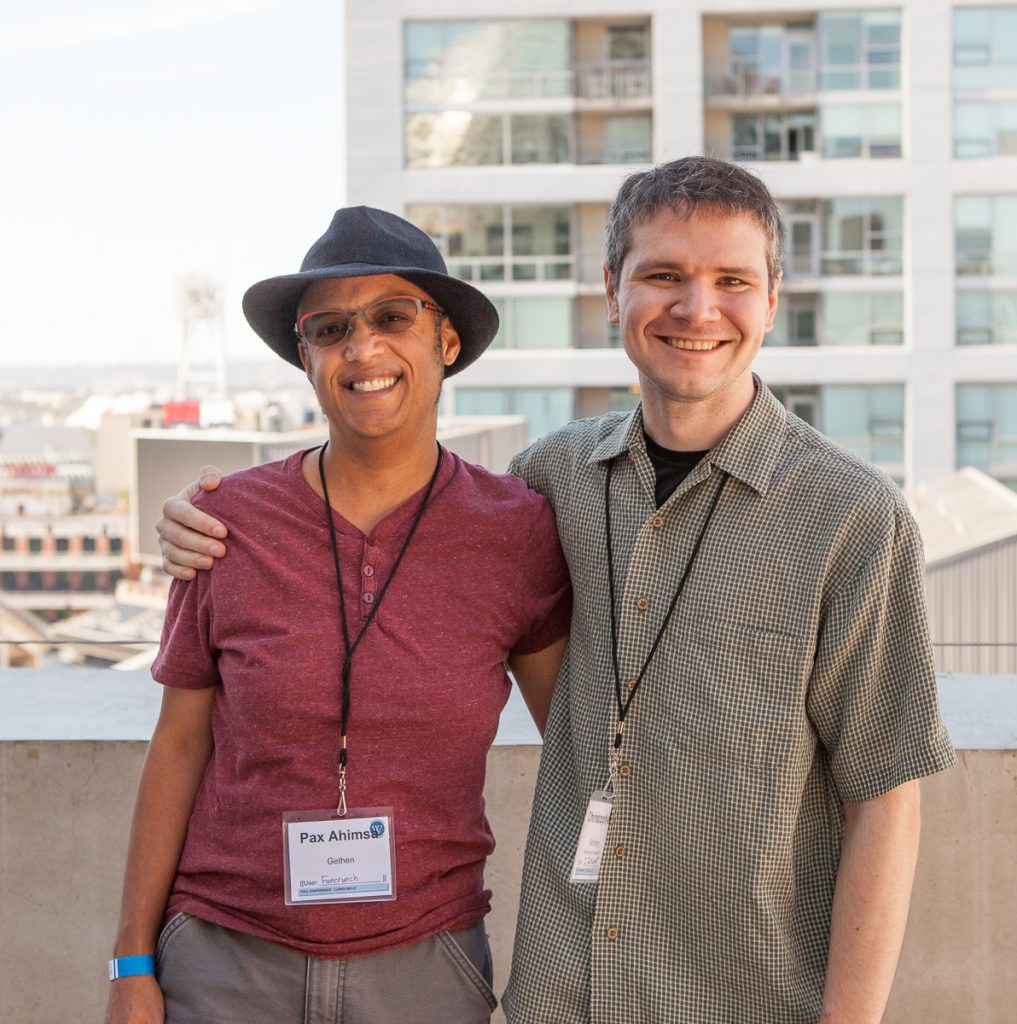 [Image: Pax and Chris "Jethro" Schilling pose for a photo. Photo by Ziggy.]
[Image: Lane Rasberry moderates a discussion at the WikiConference.]
In addition to the positive feedback, I also enjoyed meeting a number of Wikipedians I'd only interacted with online, including Chris "Jethro" Schilling, Jake Orlowitz, Jason Moore, and Lane Rasberry. I was far more social than I expected to be, considering the stress of travel and the sleep deprivation from our noisy hotel room.
I attended a number of sessions at the event, and was impressed that the organizers made a sincere effort to represent diversity, at a deep rather than superficial level. "Inclusivity" was the theme of the conference, and several talks addressed gender and racial disparities, not only on Wikipedia but in society at large. Indigenous People's Day occurred during the conference, and several talks (including a keynote) and an edit-a-thon centered on Native American history and culture.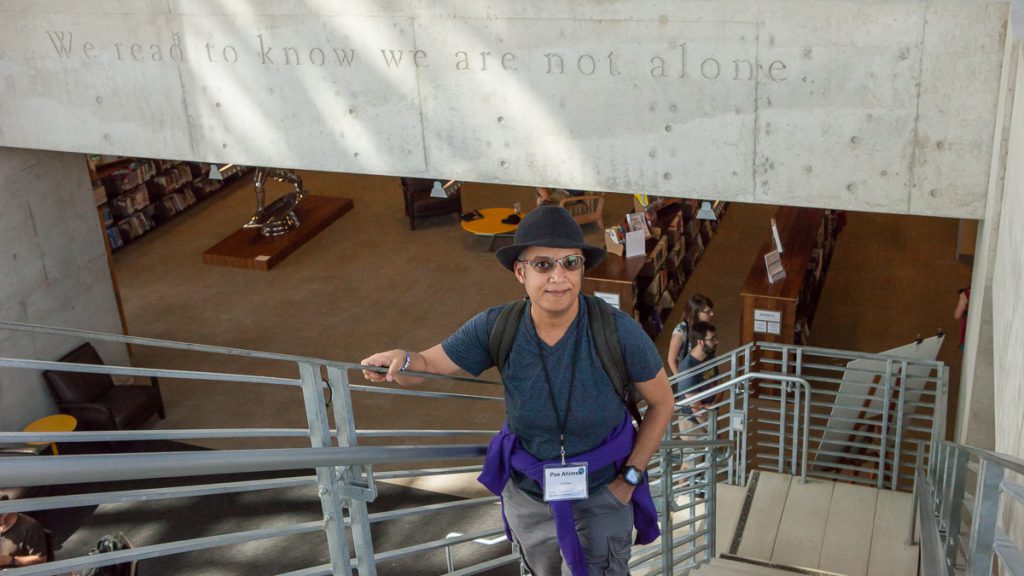 [Image: Pax stands on a staircase inside the San Diego Central Library, under the words "We read to know we are not alone." Photo by Ziggy.]
As welcome as I felt at the event, I was still marginalized by my trans status during the trip. The only gender-neutral restroom I saw at the conference facility (the beautiful San Diego Central Public Library) was a locked "family restroom" that required patrons to ask staff for access. (I used the men's room.) The San Diego airport did have an all-gender restroom right across from my gate, but on the return trip both Ziggy and I were both misgendered and briefly detained by the TSA. The TSA staff at SFO had called me "Sir" and had a male agent pat down my legs, but in San Diego three agents stared at me until one of them pointed to their pink-and-blue monitor and said, right in front of my face, "It's a female!" I responded, "Actually I'm male, but I don't care who screens me." (I just really, really wanted to get home.)
Regardless, I am glad I made this trip, and grateful that my concerns about transgender representation on Wikipedia are being heard and taken seriously. Ziggy is encouraging me to pursue paid public speaking gigs based on this and other talks I've given on transgender issues. I'm skeptical about doing these talks on a regular basis, as I dislike travel and strongly prefer writing over speaking. But I do agree that trans folks should be compensated for sharing our stories and expertise. (Here are some other things to keep in mind when booking a trans speaker or performer.)
My Transgender Gap talk is available on Google Slides (with notes) and as a PDF on Wikimedia Commons. A video should be available soon as well. My photos from the trip are available on Flickr; many are also on Wikimedia Commons, along with photos from other attendees. Please credit me (as Pax Ahimsa Gethen), Ziggy, or whatever other photographer is listed if you use any of the photos, thanks!
P.S. The second presidential debate was shown at the conference during a scheduled reception. I only watched part of it; the less said about it, the better. (Obligatory reminder of my independent political status.)