[Image: Pax speaks at a podium on a stage. Photo by Wayne Calhoon.]
Yesterday, I gave a keynote speech at the Vegan Soul Wellness Festival at Laney College in Oakland. As I blogged previously, this presentation was an updated and expanded version of the Welcoming Gender Diversity talk I gave at the Intersectional Justice Conference earlier this year. In this talk, I focused more on the intersections of race and gender, and promoted Black Vegans Rock. My presentation wasn't filmed (to my knowledge), but the slides are available online.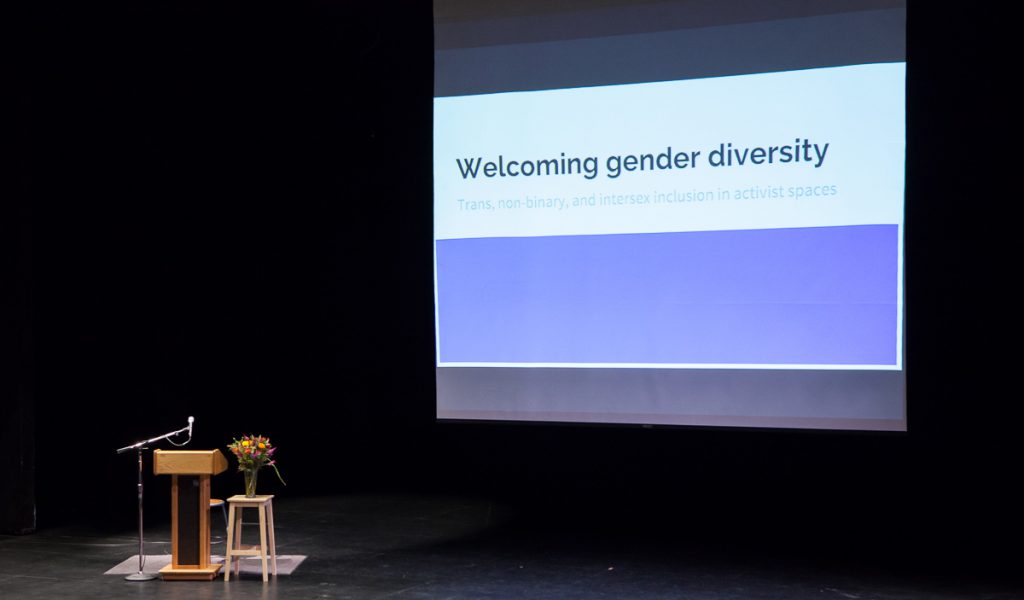 [Image: A stage with an empty podium and screen showing the words "Welcoming gender diversity."]
I was a bit intimidated when I entered the theater and saw hundreds of seats, as I hadn't given a presentation of this nature to that large of an audience before. The festival was initially sold out (tickets were free but there were limits to venue capacity), but the day of the event it was re-opened to all. Unfortunately, only a couple dozen people watched me speak, but a number of attendees approached me afterward to thank me and ask for more information.
[Image: David Carter speaks at a podium on a stage.]
The keynote speech of football player and vegan activist David Carter, aka The 300 Pound Vegan, followed mine, and had a much higher turnout. David and his wife Paige (who is also a photographer) spoke about vegan nutrition and systemic racism, among other topics.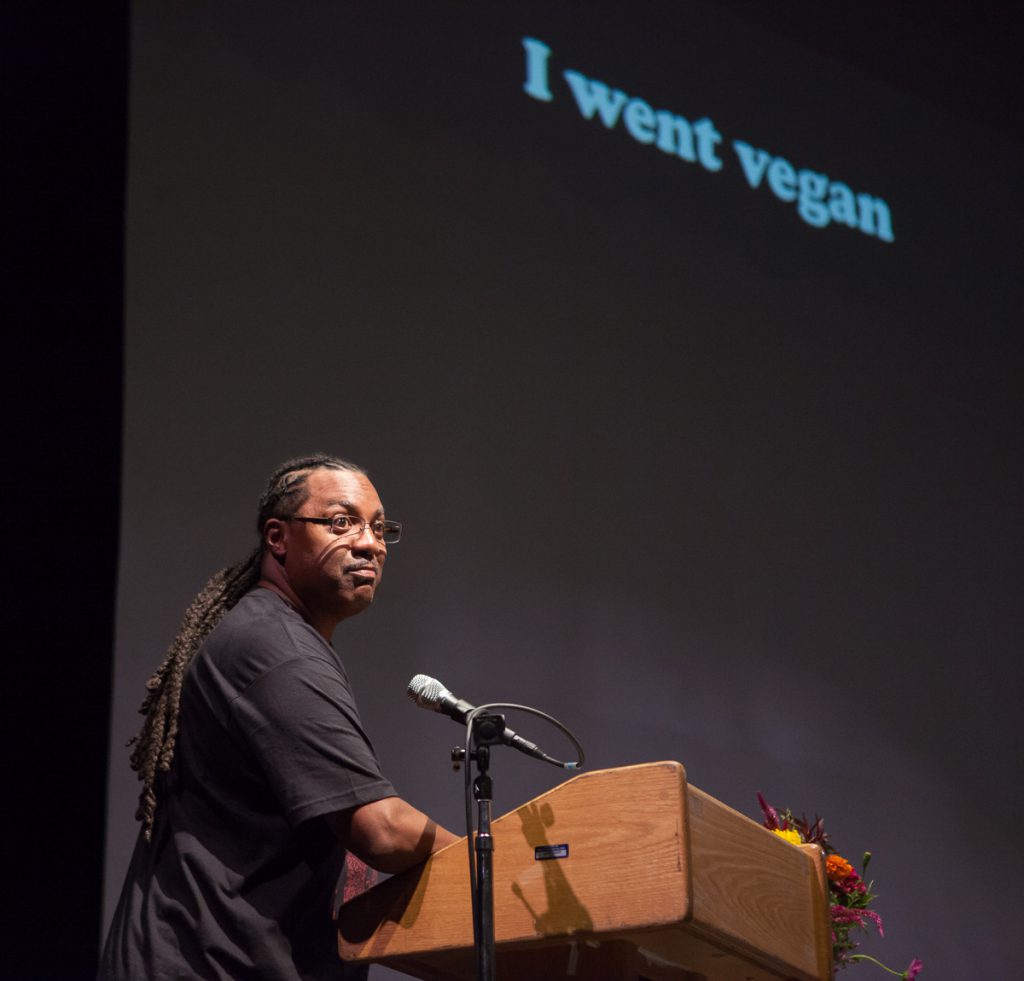 [Image: Keith Tucker stands at a podium on a stage, in front of a screen containing the words "I went vegan".]
Other speakers included lauren Ornelas of the Food Empowerment Project, Nassim Nobari of Seed the Commons, and Keith Tucker of Hip Hop is Green. A number of workshops and cooking demos (which I did not attend) were held simultaneously, and vendors served up tasty vegan food and other vegan-friendly products. I especially enjoyed a chocolate parfait from Sanctuary Bistro, which the owner assured me was not sourced from countries that enslave children on cocoa farms.
My full set of photos from the event is available on Flickr. Please credit me as Pax Ahimsa Gethen if you use any of them, thanks!