[Image: Musicians perform on an outdoor stage. An adult dances on the stage with a child while another child watches.]
Yesterday I returned to the Yerba Buena Gardens Festival to take photos of two son jarocho bands, Cambalache and Tarimba. This performance also marked the close of the fourth annual San Francisco Son Jarocho Festival. As that page notes, this folk music comes from the Mexican state of Veracruz, and has indigenous and African elements.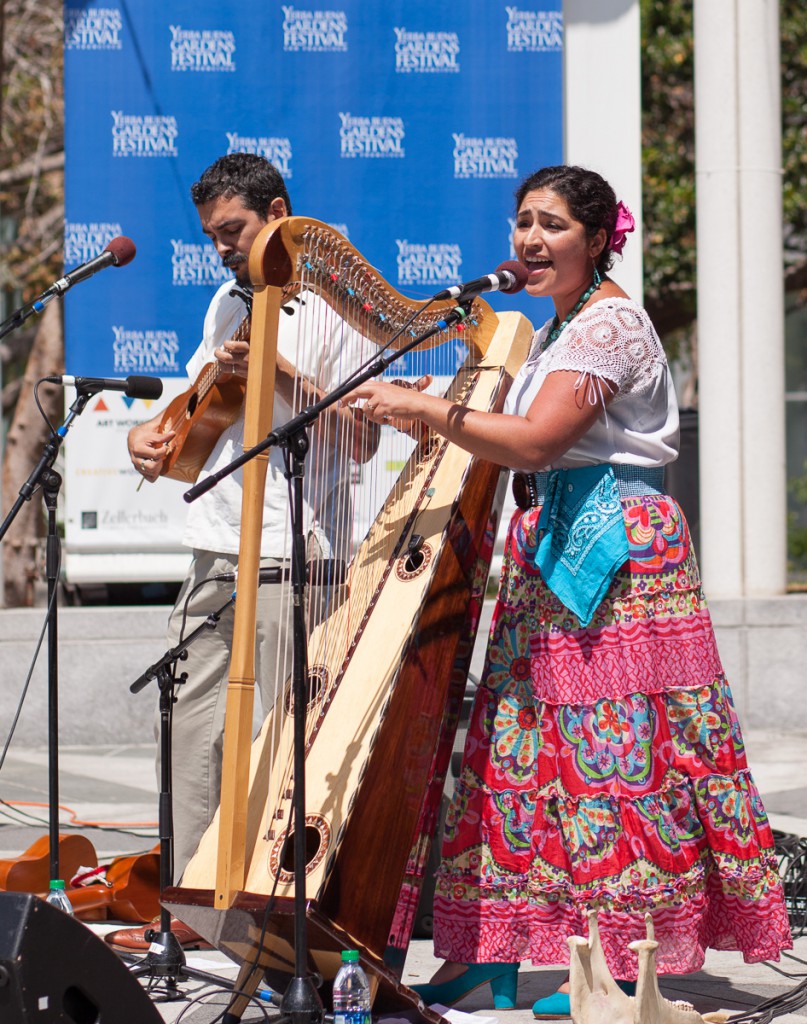 [Image: A musician sings into a microphone while playing a harp on an outdoor stage.]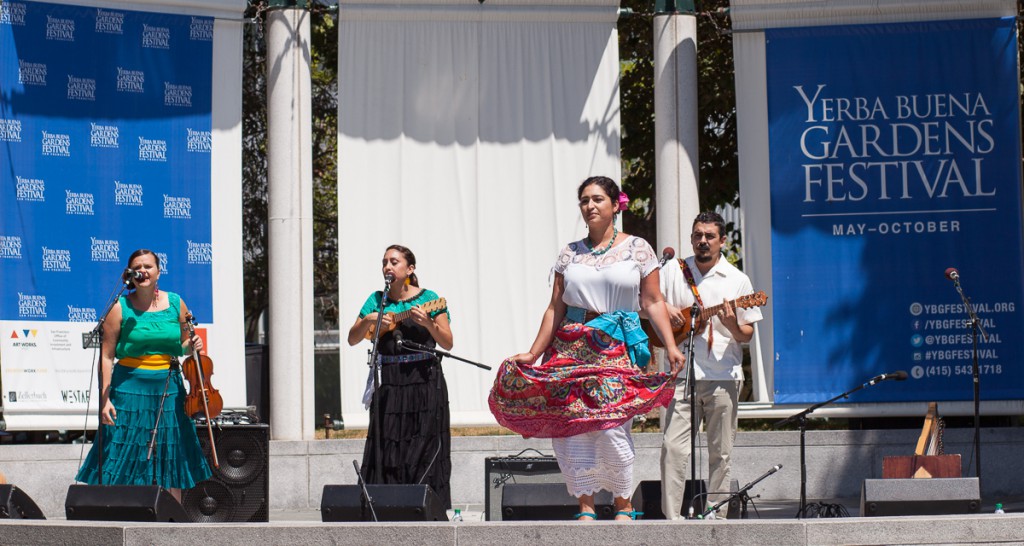 [Image: A dancer and musicians perform on an outdoor stage. A large banner reads Yerba Buena Gardens Festival.]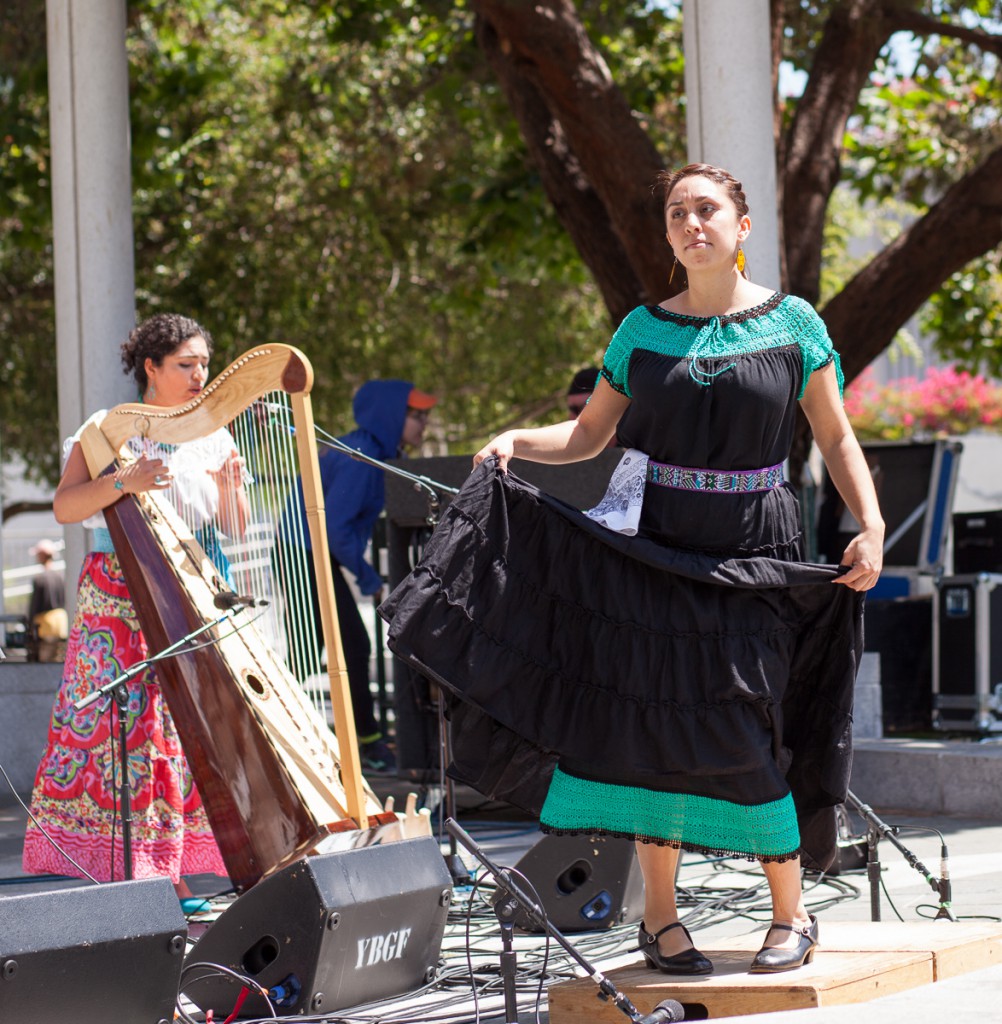 [Image: A dancer and a harp player perform on an outdoor stage.]
Tarimba opened the set. They sang and played a variety of instruments, both traditional and modern. Two of the musicians danced as well.
At intermission, I really enjoyed the music played over the PA system, and was happy when the MC announced the name of the artist: Meklit. She'll be performing at the festival in October.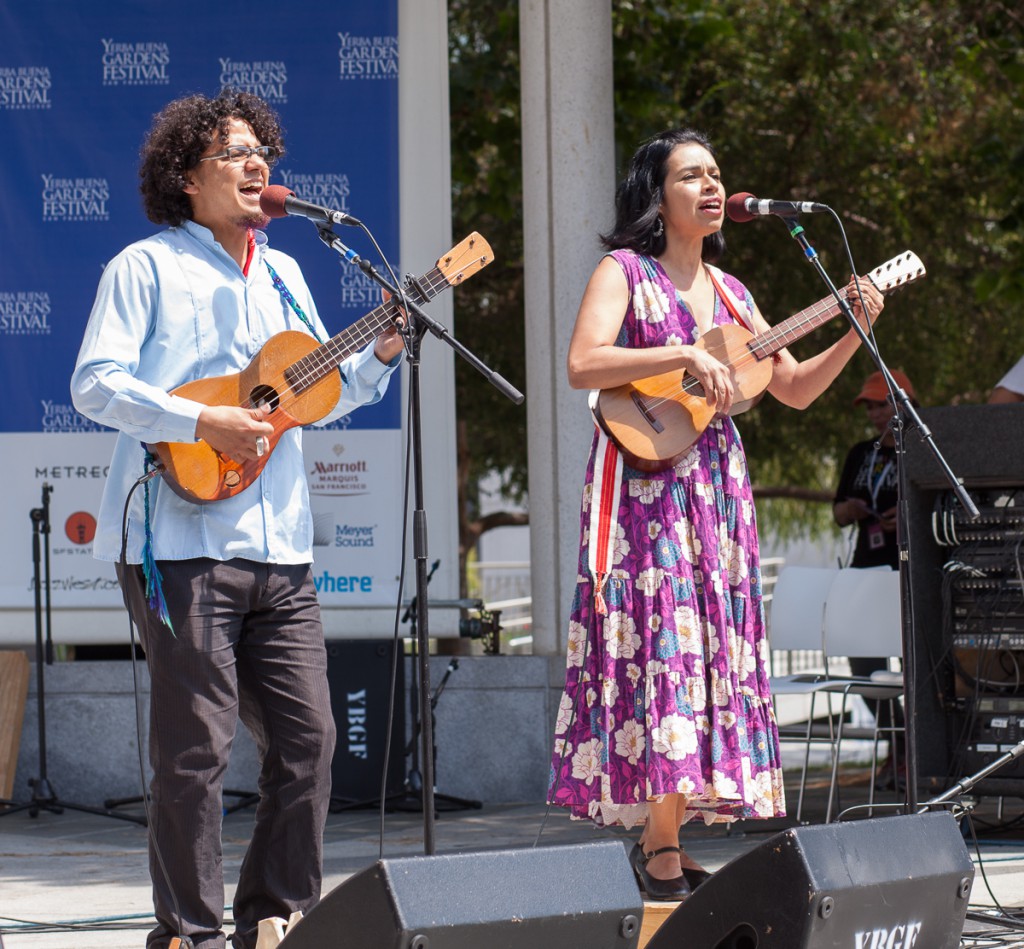 [Image: Two musicians play jaranas and sing into microphones on an outdoor stage.]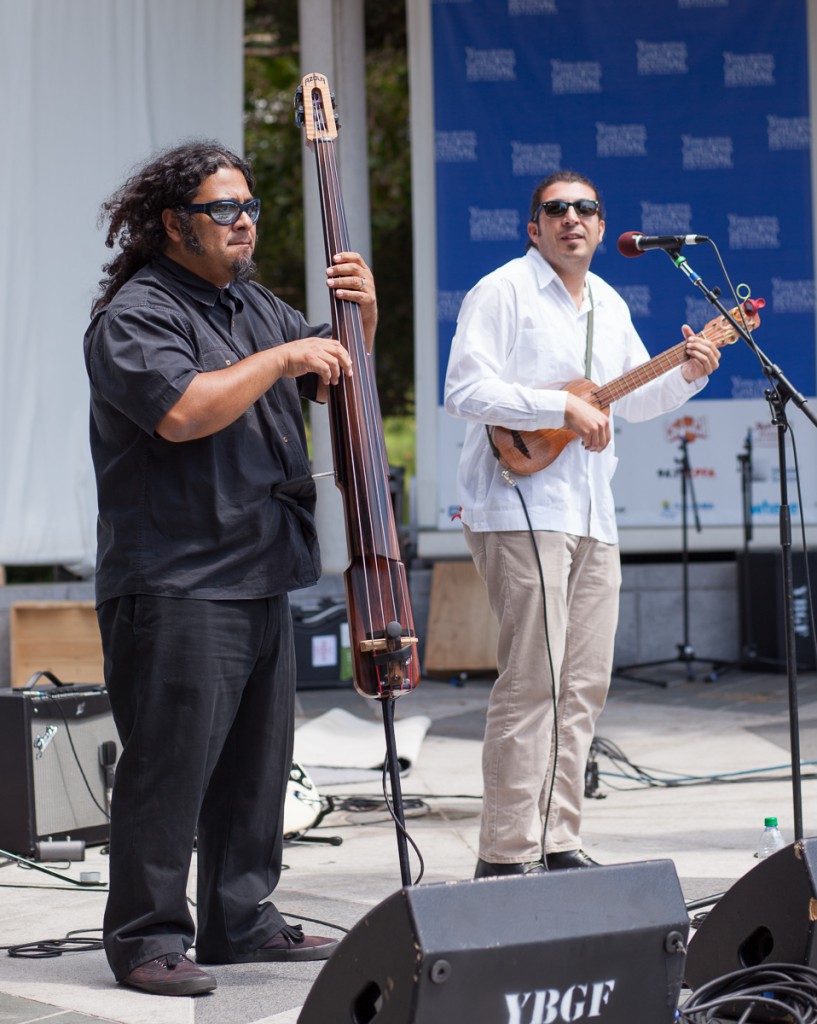 [Image: An upright electric bass player and a jarana player perform on an outdoor stage.]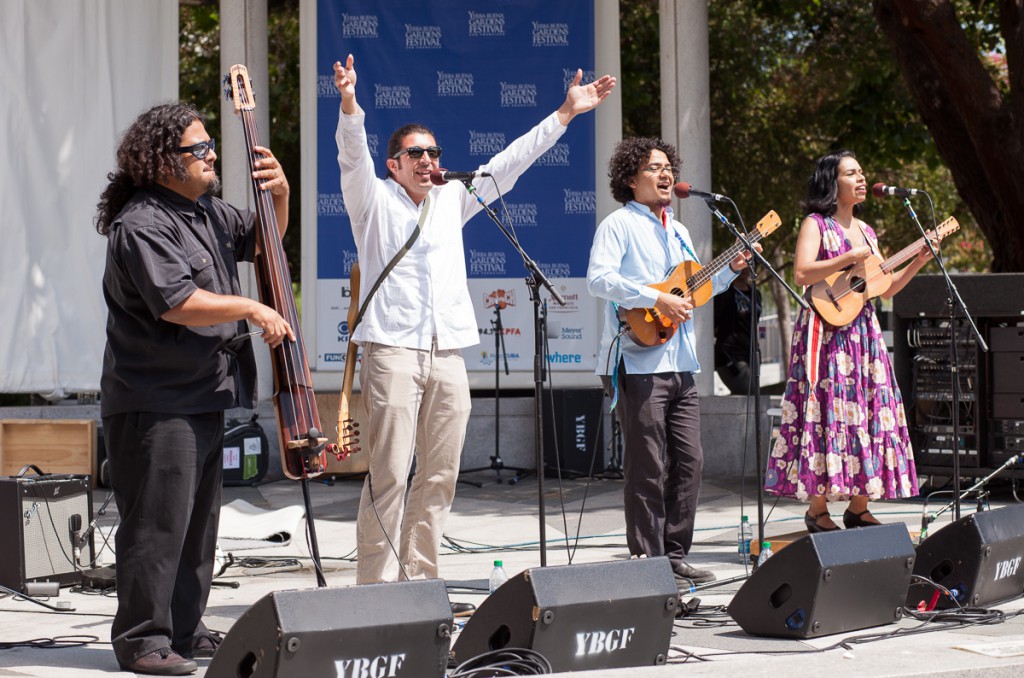 [Image: A four-piece band performs on an outdoor stage, one smiling with upraised arms.]
Cambalache took the stage next. I greatly enjoyed their performance, especially the beautiful singing voice of César Castro. The band encouraged the audience to join in on the chorus of "La Iguana." I tried to understand as many of the Spanish words as I could. (I'm nearing a 600-day streak on DuoLingo, but my listening comprehension of native speech is still very weak.)
As an aside – for those like myself who ever wondered about the difference between Hispanic and Latino, check out this handy comic. I love that it's written by a gay biracial ex-Mormon.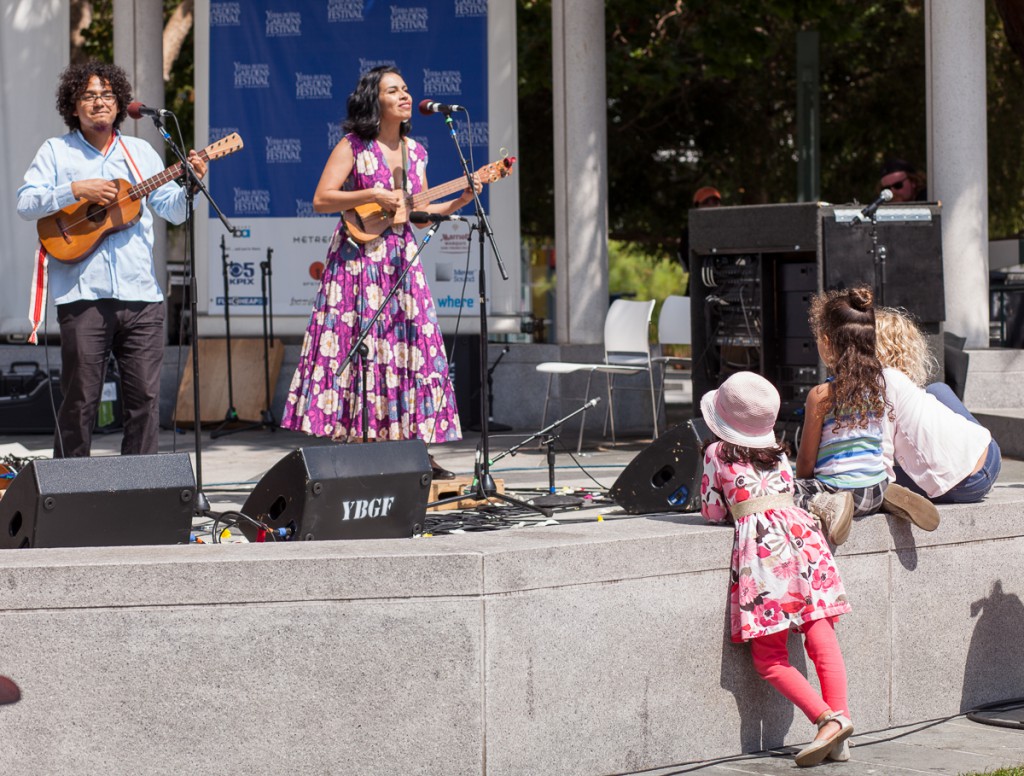 [Image: Children sit and lean on the edge of an outdoor stage, watching musicians perform.]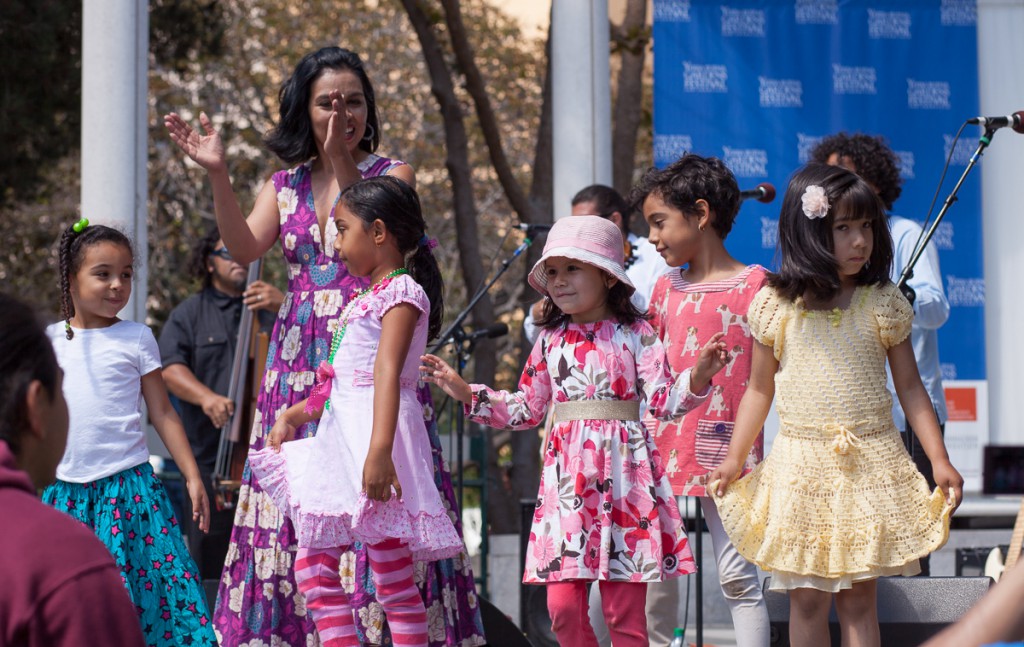 [Image: Children dance on an outdoor stage, an adult clapping behind them.]
While I normally don't take photos of audience members at concerts, a lot of adorable children crowded the stage at this performance, some of them throwing rose petals. At one point the band invited the kids (and adults) to come dance on the stage.
The set closed with both bands joining forces for a rousing rendition of La Bamba, with more dancing (pictured at the top of this post). I'm glad I stayed for the entire show.
As usual I've posted the full set of photos on Flickr. I want to keep doing these concert shoots on a regular basis, but I really need a long lens to work more effectively. I've added this goal to my Patreon page. Please consider sponsoring me there or leaving me a tip. Thanks!